Best Travel Time Lhasa
Tibet is a vast land and can be divided into the tropical, the subtropical and temperate and the frigid zones with climate and temperature varies greatly in different areas within a single day. Right located in the central part of Tibet, Lhasa enjoys an astounding annual sunshine time of 3,000 hours and known as "sunshine city". It is usually rains at night in Lhasa while sunshine during a day.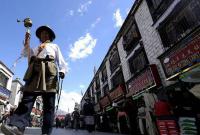 Lhasa Safety Tips
Right located in the Tibet Highland, Lhasa is high above the sea level and there is a considerable risk of altitude sickness, especially you fly into Lhasa and your body don't have much time to get used to it. Certain drugs are available to reduce the risk of high altitude reactions, so prepare something like acetozolamide (Diamox), salmeterol (Serevent), temazepam…or just ask your tour guide or travel consultant to be of help on this.
But all these drugs bring significant side effects so you can get professional advice from your doctor before obtaining medicines; or it is advisable to prepare any necessary medications at your home country with detailed ingredients listed.
Lhasa Shopping Tips
Tibet is a fascinating place, with stunning natural scenery, interesting ethnic culture, historical relics as well as amazing religious sites. Compared to other tourist cities, Lhasa boasts more products like Tibetan medicine, Tibetan joss sticks, Tibetan strolling paintings, Tibetan bags, jewelry, garments and accessories, etc. Barkhor Street is the most ideal place to buy excellent crafts of ethnic flavor at reasonable prices since most sellers are mostly Tibetans.
Eating in Lhasa
Lhasa cuisine is affected by the high altitude and harsh climate. Tibetan food is not only sustenance, but also helps Tibetan people survive the harsh climates. Their food keeps them warm, gives them energy, helps them with the high altitude, and gives them nutrients essential to the harsh climate. The high altitude of Tibet makes water boils at 90 degrees and cooking with water is difficult; vegetables are scared on the high land and the most common ingredients are meat and dairy products.
Yak meat is the must dry dish in Tibet which available in all supermarkets or stores; and the Tibetan tea is some kind of black tea with yak butter. Some restaurants to try local Lhasa dishes here
Nightlife / entertainment in Lhasa
There are not too much night activities in Lhasa while some hotels have night clubs or KTV entertainments; other choices like enjoying the Tibetan performances, sit around and chat with friends, as well as stroll around at a night market.
Lhasa Festival
Losar - Tibetan New Year is celebrated from December 29 through January 15 according to Tibetan calendar. It's interesting to learn these Tibetan folk customs through Losar, lasting for 15 days; it is an important religious festival in Tibet, with the main celebrations comes at the first 3days. Although it often falls on the same day as the Chinese New Year (sometimes with one day or occasionally with one lunar month difference), it is generally not thought to be culturally directly connected to that holiday. It is culturally more related to Tsagaan Sar in Mongolia than to the Chinese New Year festivity.
Shoton Festival is held the late sixth month to the eighth month by the Tibetan calendar (about August every year) and lasts five days. It is also known as "Tibetan Opera Festival" or "Buddha Exhibition Festival" since traditional Tibetan operas is performed and large Buddha paintings displayed. The main contents include Tibetan operas and gala parties, as well as wonderful yak racing and horsemanship display.