About 245km (155 miles) as the crow flies from Chengdu, 100km (62 miles) from Jiuzhaigou, Huanglong valley is studded with terraced, colored ponds (blue, yellow, white and green) and waterfalls. It wins its fame for its breathtaking beauty of lime formations, made up of 3400 multi-colored ponds, interlace along the valley. Besides, five waterfalls, four stalactite caves and three ancient temples, are all in the same valley, which looks like a dragon winding down from snowcapped peaks of Mt. Minshan, hence its name Huanglong – Yellow Dragon.
Huanglong Scenic and Historic Interest Area was listed a UNESCO World Heritage in 1992, along with Jiuzhaigou.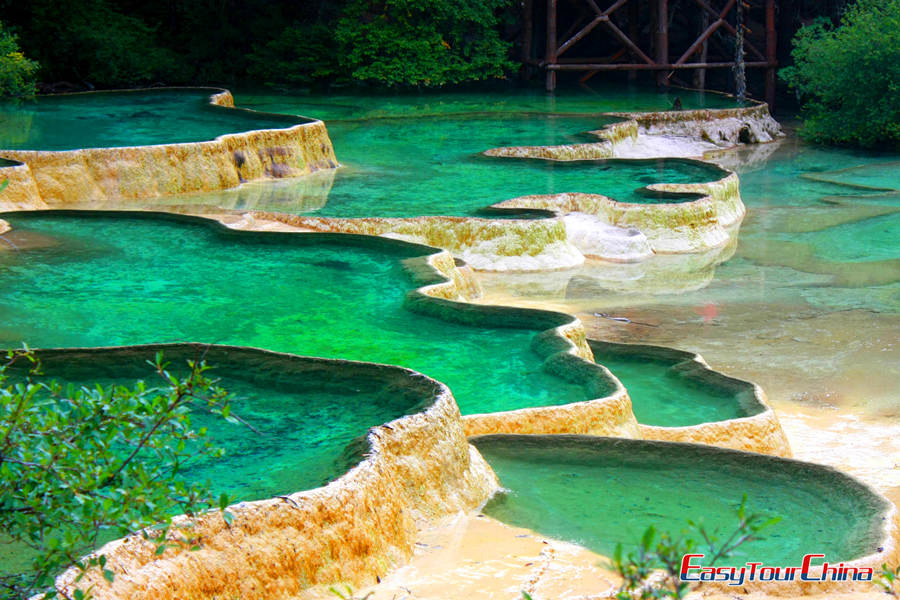 Huanglong National Park Facts
Chinese name: 黄龙风景名胜区
Location: Songpan County, Aba Tibetan and qiang autonomous prefecture, Sichuan Province
Average Elevation: 3,300m / 10827ft
Total Area: 700 km²/ 70000 hectares
Entrance Fee: CNY170 from Apr. 1 to Nov. 15, CNY 60 from Nov. 16 to Mar. 31
Opening Hours: 8:00am -5:00pm
Airport: jiuzhai huanglong airport at Chuanzhusi Town
Suggested tour length: 1 day
What to See
Huanglong is known for its "four wonders" of colorful lakes, snowy mountains, deep valleys and virgin forests, plus featured calc-sinter flow, ancient temples and folk customs. It is mainly consisted of Huanglonggou Valley, Danyun Valley, Muni Valley (Mounigou Valley), Xue Baoding, Xueshan Liang, Red Star Rock and Xigou Valley. The main scenic spots are located in the Huanglong Valley, which is full of calcium carbonate deposits arranged in a terraced field. It is famous for its rich animal and plant resources, and enjoys the reputation of "a fairyland on earth". In addition to the alpine landscape, a variety of forest ecosystems can be found here, as well as glacial relics, limestone formations, waterfalls and hot springs. Huanglong Scenic Valley is also home to many endangered animals, including the giant panda and Sichuan's snub-nosed golden monkey.
The local people are as much of an attraction as the primeval forest and the scenery. Composed of more than 20 nationalities, the major ones are the Tibetan and Qiang people. An annual Temple Fair is held around the middle of the sixth lunar month, which attracts large numbers of traders from different communities.
Best Time to visit Huanglong Scenic Area
The best time to travel to Huanglong is from September to the end of October, on the autumn season. You will slid into a brilliant golden world. Besides, Huanglong in winter is also very beautiful and enchanting, when the whole world is carpeted with heavy snow, dotted with rime, and the lakes are frozen with ice.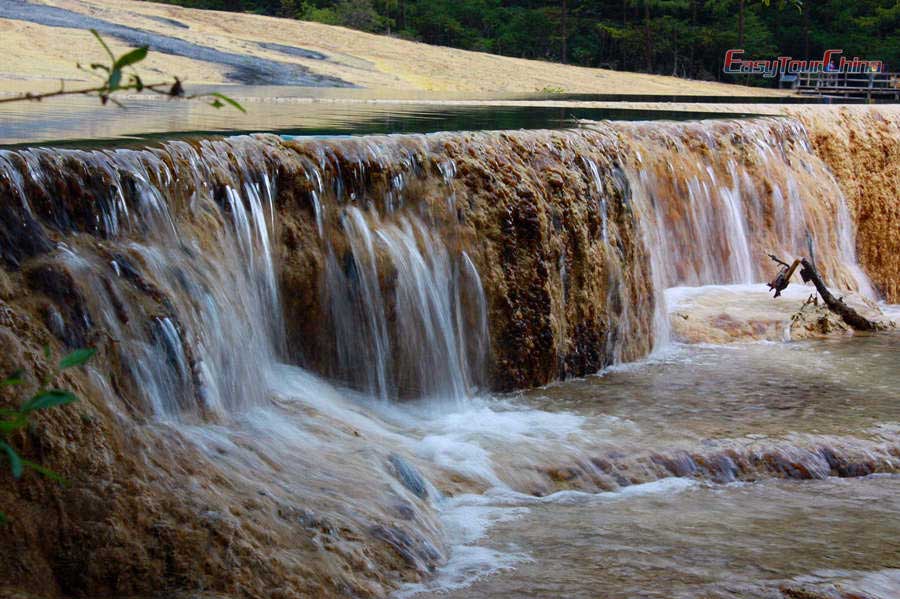 Major Huanglong Attractions
Huanglong Valley
Located on the top of Xuebao Ding, the main peak of Minshan Mountain Range, Huanglong Valley is a gently sloping gully, 7.5 km long and 1.5 km wide. The valley is filled with creamy yellow rocks, looking like a yellow dragon winding through the dense forest, hence the name. In the Ming dynasty (1368-1644), Huanglong Temple was built here to worship Huanglong (Yellow Dragon). The continuous calcification section of Huanglong Valley is up to 3600 meters long. The longest calcification flow is 1300 meters long and the widest is 170 meters. In addition, more than 3,400 colorful lakes can be found in Huanglong Valley.
Yingbingchi (Welcome Guest Pool) – It is a beautiful set of crystal lakes of different sizes and shapes, surrounded by lush forests and wild flowers.
Feipuliuhui (plunging waterfall groups) – Walk along the plank road, you can see a group of waterfalls flowing hastily and powerfully downhill from a 10-m-high and 30-m-wide rock step.
Xishen Cave (Washing Body Cave) – It is located on the second step of Huanglong Valley. The calc-sinter flow from the Golden Beach suddenly collapse into a wall 10 meters high and 40 meters wide. It is the longest calc-sinter wall in the world.
Penjing (miniascape) Ponds are consisted of around 100 small natural lakes. The rocks, plants, fruits on trees and flowers on shore are reflected on the water, making the pools colorful, elegant and peculiar.
Huanglong Temple is 3.5km from the mouth of the valley, built into three parts. The architecture is well remained, with the hall of Avalokitesvara Buddhisatva and 10 statues of Arhats.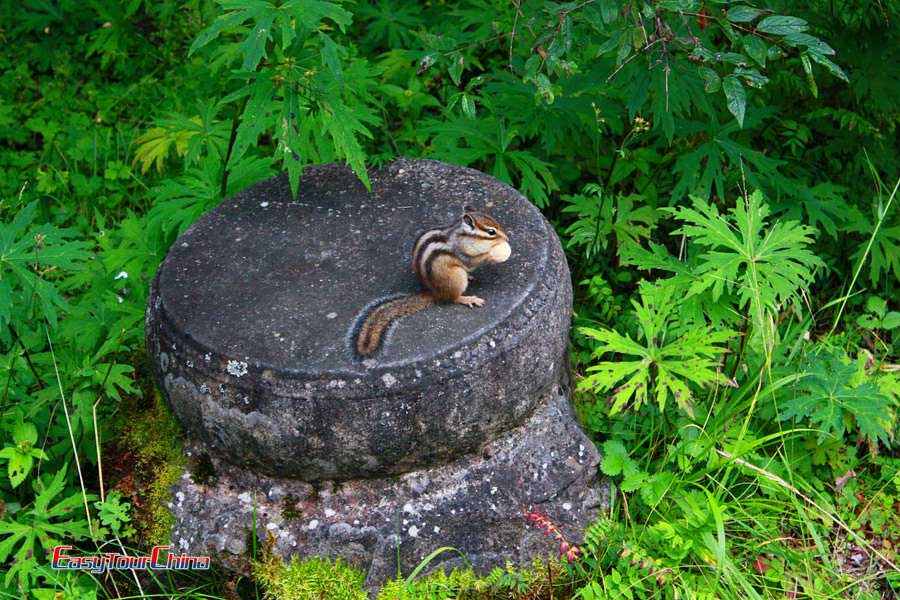 Mounigou Valley
Munigou Valley Scenic Area is located in the southwest of Songpan County. A new scenic area of Huanglong National Park, Munigou Valley combines the featured beauty of jiuzhaigou valley and huanglong valley, but more pristine and serene. Besides, travelers don't have to worry about that the mountains will be frozen, thus closed in winter.
Zhaga Waterfall
In the primeval forest of Mounigou Valley, there is a huge water flowing from the 104-meter-high platform calcified rock mass, roaring like a straight down from the heaven, with spectacular momentum - that is Zhaga Waterfall, the largest calcification waterfall in China. Located at 3,270 meters above sea level, the waterfall is 93.2 meters high and 35 meters wide. The upper reaches are lakes and the lower reaches are a series of stepped river beds.
Erdao Lake
Walk away from Zhaga Waterfall, through a hill, you find Erdao Lake, which is a narrow and long gully, as long as 5 kilometers, connected by plank road. Here you can see various sizes of shapes of lakes: Swan Lake, Jade Lake, Rhinoceros Lake, etc., looking like a pearl or a gem hidden in the forest. In summer and autumn, the lakes are dotted with pure and beautiful white water lead flowers.
Pearl Lake
Pearl Lake is also known as Boiling Pearl Lake. There is myth goes that the fairy from heaven used to boil pearls here and turned it into a bath pool to heal the disease. Even in the severe winter when the land is covered with snow and ice, the water temperature of Pearl Lake is still around 25℃.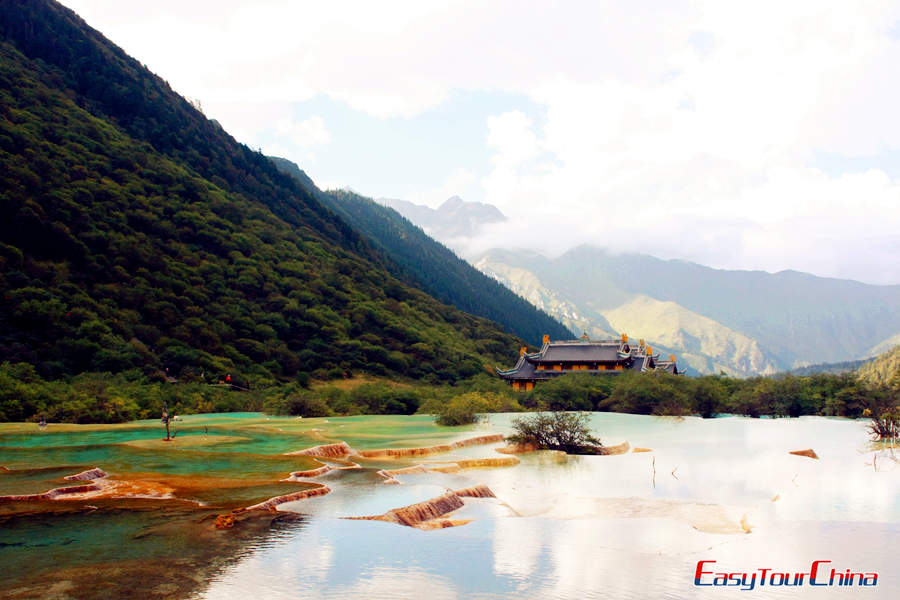 How to get to Huanglong Scenic Reserve
By air: There are scheduled daily flights to Jiuzhai Huanglong Airport from Chengdu. The airport is 43 kilometers away from huanglong. During the peak season (from April to November), there are regular shuttle bus from airport to Huanglong Scenic Area every day. The bus stops at Huanglong for 4 hours and then leaves for jiuzhaigou valley.
By bus: Travel from Chengdu to Huanglong by bus? You can get in the regular bus at Chengdu Xinnanmen (New South Gate) Bus Station.
Jiuzhaigou to Huanglong bus/taxi: There are taxi and regular buses to Huanglong from Jiuzhaigou, very convenient. Travels can also hire a chartered vehicle.
Recommended Jiuzhaigou and Huanglong Tour
Here we list the popuar China tours to Huanglong and Jiuzhaigou for your reference. Please be free to request the quotation or customize your own trip.
8-day Sichuan Highlights Tour with Jiuzhigou
15-day Zhangjiajie & Jiuzhaigou Tour
8-day Guilin Chengdu Jiuzhaigou Tour
Recommended China Tours Including Huanglong National Park Jiuzhaigou