Deep in the heart of perpetually snow-clad Min Shan Range of the Tibetan Plateau, Jiuzhaigou Nature Reserve encloses one of the most spectacular landscapes. It was settled centuries ago by ethnic Tibetans, whose fenced villages gave Jiuzhaigou (nine stockades gully) its name. And legend has it that the goddess Semo accidentally smashed her mirror here, the shards forming the hundred or so incredibly vivid blue lakes, which descend the valley in a series of broad steps.
Along with Huanglong, Jiuzhaigou Valley Scenic and Historic Interest Area was listed a UNESCO World Heritage Site in 1992, and the status of UNESCO Man and Biosphere Reserve later in 1997.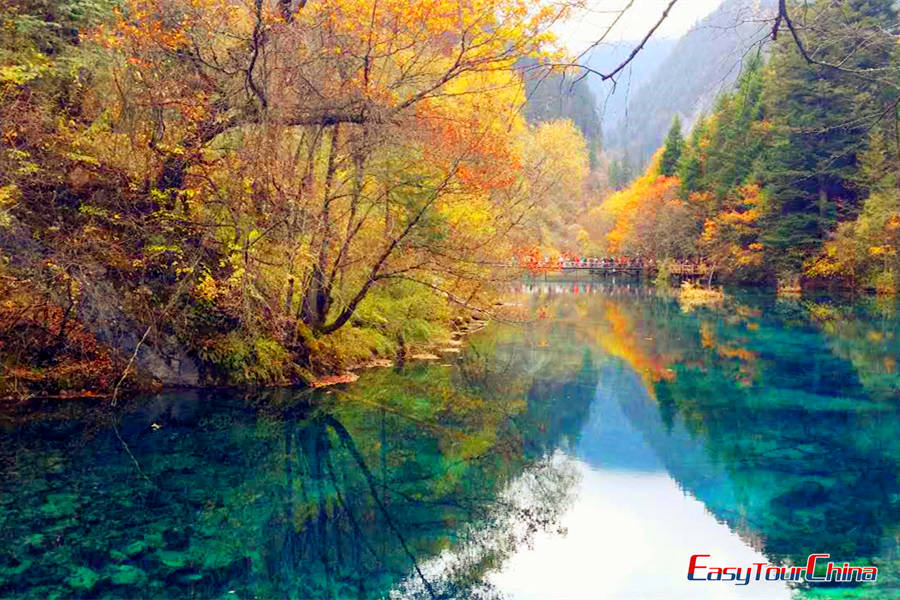 Jiuzhaigou Facts
Chinese name: 九寨沟国家级自然保护区
Location: Zhangzha Town, Jiuzhaigou County, Aba Tibetan and qiang autonomous prefecture, Sichuan Province
Highest Elevation: 4,593m / 5069ft
Total Area: 64297 hectares
Entrance fee: CNY 169 from Apr. 1 to Nov. 15, CNY 80 from Nov. 16 to Mar. 31
Jiuzhigou airport: Jiuzhai Huanglong Airport at Chuanzhusi Town, Songpan County
Best Time to Visit Jiuzhaigou
The autumn season, especially September and October, is regarded as the best time to visit Jiuzhaigou, when the weather is mild and the scenery is at its prettiest with breathtaking fall foliage. Besides, with snow-covered landscape, Jiuzhaigou in winter turns to be a pure frozen ice world, very enticing.
What to See at Jiuzhaigou National Park
Jiuzhaigou Valley can be considered a natural botanical and zoological garden, a home of densely growing conifers and broadleaf trees, and of rare and endangered animal species such as the giant panda, golden-haired monkey, and white-lip deer. Usually we can see the lakes swarm with fish and birds including waterfowl, kingfisher, shrikes, hoopoes and pheasants. At the reserve, there is also rich paleontology fossil and ancient glacial landform.
The beautiful and various forms of water is the highlight of Jiuzhaigou, including spring, waterfall, streams, rivers and 108 colorful lakes. Changhai, Jianyan, nuorilang, Shuzheng, Zharu and Black Sea are the top six scenic areas, in a "Y" shape distribution. Emerald green lakes, multi-layer waterfalls, colored forests, snow peaks, Tibetan customs, and blue ice landscape are known as the "six wonders" of Jiuzhaigou Valley. All of the incredible natural beauty makes Jiuzhaigou a "fairytale world" and the "king of waterscape".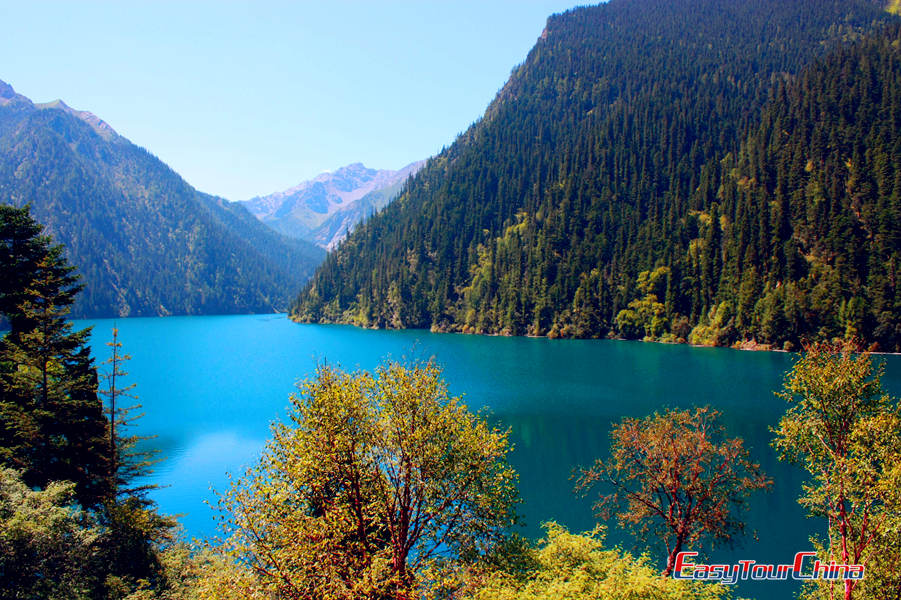 Major Jiuzhaigou Attractions
Five-Color Pool
Five-Color Pool is located in the Zechawa Valley, and remains unfrozen all year round. It is famous for its beautiful color, purity and transparency. The water is rich in calcium carbonate, with quatic plant communities such as spirogyra, dinoflagellates and ferns growing, therefor reflects the amazing light and shade when the sun shines upon.
Five-flower Lake
Five-flower Lake is located on the middle section of Rize Valleys and the upper reaches of Peacoc River. The deposition of Calcium precipitation on the bottom of the lake, together with the colorful algae and the tree reflections make the lake appear yellow, navy, dark green, sapphire and other colors, hence the name. Walk along the mountain road southeast direction for a while, you will see a huge stone, named Tiger Mouth or Tiger Stone, where you can obtain a panoramic view of Five-flower Lake.
Nuorilang Waterfall
Nuorilang Waterfall is at 2365 meters above sea level, located near the Nuorilang Tourist Center. With a width of 270 meters and a height of 24.5 meters, it is one of the largest calcification waterfalls in China and also the widest waterfall in China. Nozilang waterfall was partly damaged in the 2017 earthquake.
Long Lake
More than four kilometers long, Long Lake is the longest lake in Jiuzhaigou, in the "S" shape and dark blue color. At 3000m, it is surrounded by dense forest, snow-capped mountains and glacier landscape, looking very magnificent.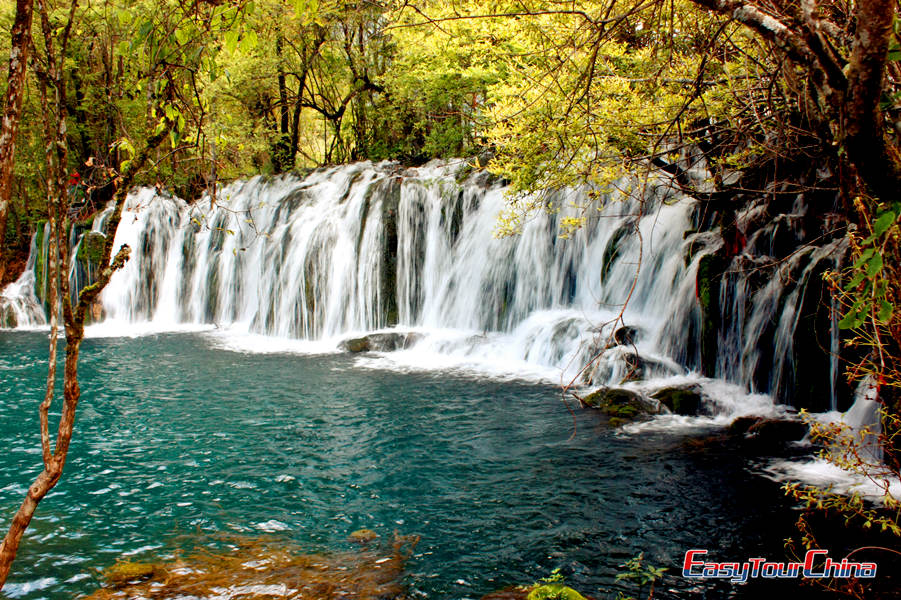 Rize Valley
Rize Valley is the essence of Jiuzhaigou scenic area, lying as long as 18km between Nuorilang and the Primeval Forest. There are beautiful scenic spots, such as Mirror Lake, Pearl Beach Waterfall, Five-flower Lake, Panda Lake, Arrow Bamboo Lake, Swan Lake, Grass Lake and so on. Meanwhile, there is the biggest drop of the waterfall, treasure-bowl-like calc-sinter flow, primeval forest with towering ancient trees. A trip to Rize Valley allows travelers to experience a unique fresh natural charm.
Shuzheng Valley
Shuzheng Valley is one of the three major valleys of jiuzhaigou. There are many scenic spots, including Reed Lake, Shuzheng Group Lakes, Spark Lake, Rhino Horn Waterfall and Shuzheng Waterfall. Along the 14-kilometer-long valley, there are more than 40 lakes of all kinds, accounting for about 40% of the total lakes in Jiuzhaigou Scenic Area, thus .Known as the epitome of jiuzhaigou,
How to Get to Jiuzhaigou
By air: Currently, visitors can fly into Jiuzhaigou from Chengdu only. Jiuzhaigou is 88km away from Jiuzhai Huanglong (Jiuhuang) Airport. In the next years, flights from Xian, Beijing, Guangzhou and other places are expected to reopen.
By bus: Travels can take regular bus from Chengdu to Jiuzhaigou. The bus stations are Chengdu Xinnanmen Bus Station, Chengdu General Bus Station, East City Bus Station and Shiyangchang Bus Station. The buses depart between 7:00 and 8:00 in the morning, and take about 10 hours. You're suggested to buy the bus tickets in advance.
By train: Chengdu-Jiuzhaigou bullet train is scheduled to be operated at the end of 2019. Then it takes only around 2 hours to travel between the two places.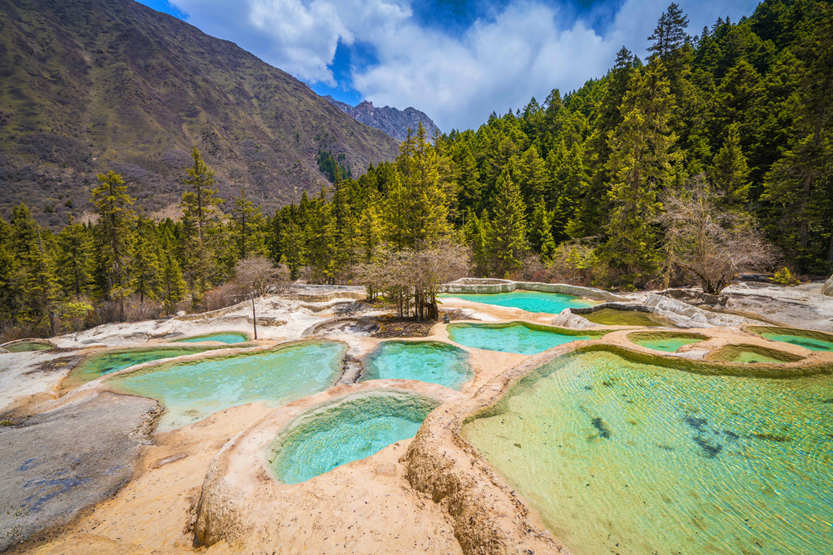 Jiuzhaigou Weather
The hottest months of Jiuzhigou are July and August with temperature reaching 29 °C (84 °F). The coldest months are December and January, with temperature as low as -1 °C (30 °F).
| | | | | | | |
| --- | --- | --- | --- | --- | --- | --- |
| | January | February | March | April | May | June |
| Average High | 8°C (46°F) | 11°C (52°F) | 16°C (61°F) | 21°C (70°F) | 24°C (75°F) | 26°C (79°F) |
| Average Low | -1°C (30°F) | 1°C (34°F) | 5°C (41°F) | 9°C (48°F) | 12°C (53.6°F) | 16°C (61°F) |
| | | | | | | |
| --- | --- | --- | --- | --- | --- | --- |
| | July | August | September | October | November | December |
| Average High | 29°C (84°F) | 29°C (84°F) | 23°C (73°F) | 19°C (66°F) | 14°C (57°F) | 9°C (48°F) |
| Average Low | 18°C (64°F) | 18°C (64°F) | 15°C (59°F) | 10°C (50°F) | 4°C (39°F) | 0°C (31°F) |
Travel Tips
Visitors can pre-purchase the entrance ticket and shuttle bus ticket online, following the online real-name system. There will be not purchase window in the scenic area. All visitors must log in the Aba tourism website (www.abtour.com) and input the second-generation ID card or household register, passport or other identity information to purchase the tickets. Visitors to Jiuzhaigou should also purchase accident insurance.
Recommended Private Jiuzhaigou Tours
If you plan to take a trip to Jiuzhaigou with private local guide and vehicle, these are the popular tours for you to choose from.
8-day Sichuan Highlights Tour with Jiuzhigou
15-day Zhangjiajie & Jiuzhaigou Tour
8-day Guilin Chengdu Jiuzhaigou Tour
Or please consult with your travel advisor at ETC to create your own tour to Jiuzhaigou.
More Attractions in Chengdu
Recommended China Tours Including Jiuzhaigou National Park Jiuzhaigou