Mounigou Valley is a new scenic spot of Huanglong Scenic Spot; consist of Zhaga Waterfall and Erdaohai Scenic Area. It is not so famous as Jiuzhaigou, so more original forest is preserved. The beauty of a number of pools here can be compared with those of Jiuzhaigou, and calcification pool waterfall is as elegant as Yao Pool in Huanglong. Other than fantastic natural scenery, Mounigou Valley is surrounded by strong religious culture. Tibetan Buddhism blends with natural beauty here. The main monasteries are Xiaobao Monastery and Mounihou Monastery, which are influential monasteries in Huanglong district.
The scenery of Mounigou Valley is mainly featured by primeval forests, alpine lakes, hot springs, great calcification waterfall, circular waterfall and colorful calcification pool. Mountain, water and forest are wonderfully integrated here. Mounigou Valley is no worse than Jiuzhaigou. Because of its stronger ethnic customs, it coalesces the advantages of Jiuzhaigou and Huanglong together, but more halcyon and peaceful than Jiuzhaigou. In particular, it will not be frezon in winter, even if the snow is heavy, visitors still can enter and catch the beauty of it.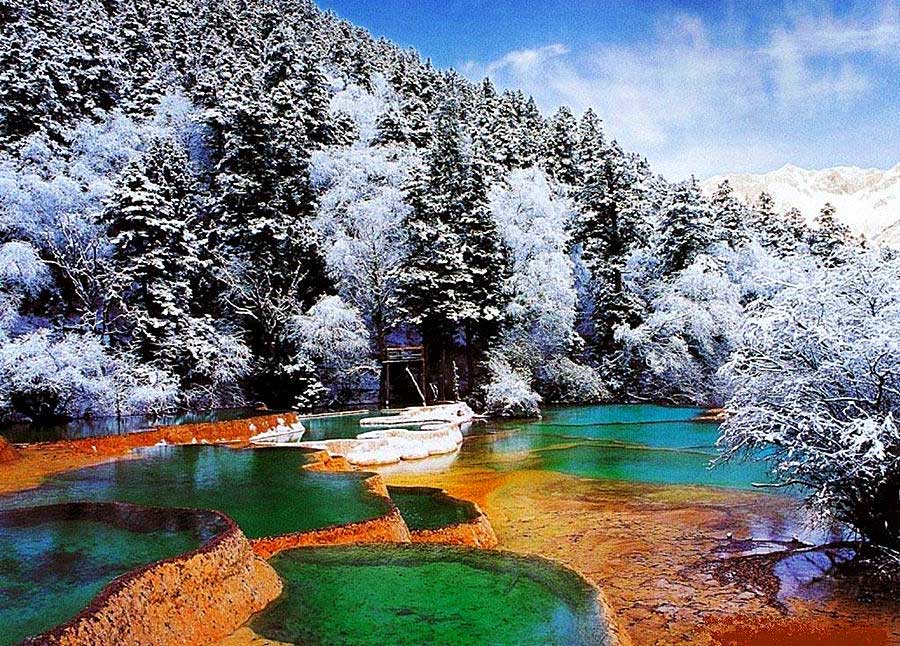 Facts
- In Chinese: 牟尼沟
- Address: Mouni Valley, Songpan County, Aba Tibetan and Qiang Autonomous Prefecture, Sichuan Province (36 km away from the west of Songpan County; 336 km away from Chengdu)
- Opening time: 08:00 – 17:00
- Best time to visit: just avoid Chinese public holidays
- Ticket price: RMB100 (from Apr 1st to Nov 15th); RMB60 (from Nov 16th to the next Mar 31st)
What to See?
Zhaga Waterfall and Erdaohai Scenic Area are the major scenic spots of Mounigou Valley, and there's just a mountain between them.
Zhaga Scenic Area has a dense forest, a 104-meter-high and 35-meter-wide waterfall falls from the sky, like a white Hadda, showing welcome to the guests from afar. Zhaga Waterfall is a bench cut waterfall with overlapped steps; the entire bed is calcified, and it is the biggest calcification waterfalls which has the highest fall, owns the reputation of "the top one calcification waterfall in China".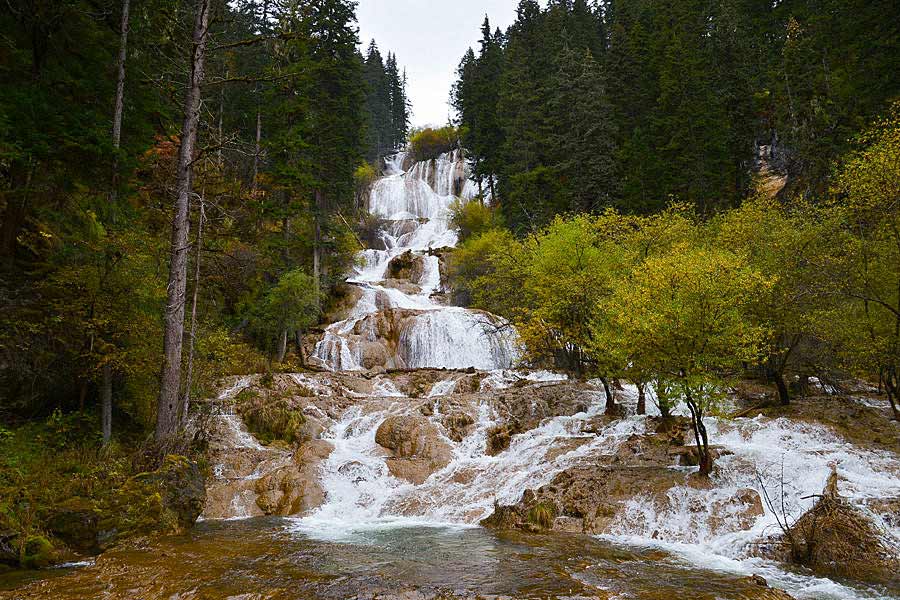 The upper part of the waterfall is a lake, and the lower part is a stepped bed. The water falls rapidly from the huge calcified terrace and falls down by the three-stage calcareous steps. The sound of it can be spread to miles away, what a grand momentum!
Erdaohai Scenic Area is famous for its high mountain lakes (commonly called Haizi in Chinese), which are composed of a series of small pools. It's a long and narrow gully on the north part of Mounigou Valley, scattered with thousands of small and big Haizi, caves and hot springs.
Strange flowers and plants grow in the lake. The sulfur hot spring under the ancient pine called Pearl Lake is the most peculiar and full of legends. It's said the spring is the place where the fairy bath, the water on it can stronger their body and make them beautiful.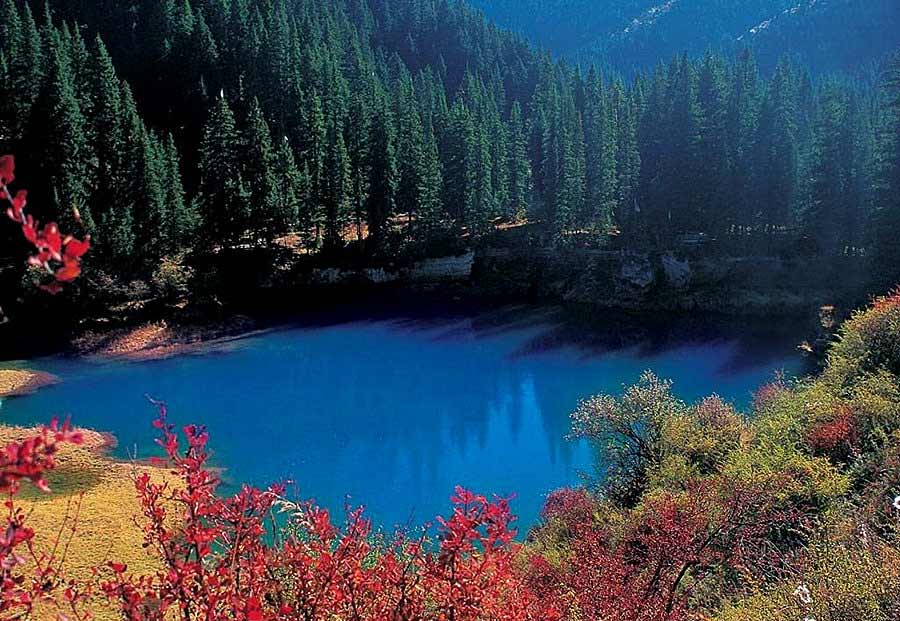 How to Get There?
As Mounigou Valley is far from city, we recommend booking a vehicle for convenience; the driver will escort you to the scenic spot directly, so you won't worry about losing your way.
If you prefer to explore the way by public transports, you can take a coach from Chadianzi Bus Station in Chengdu to Songpan Station. After your arrival, take a taxi to the destination.
If you visit Mounigou Valley in winter, the best way to enter to scenic spot is riding a horse so that you can enjoy the beauty of it slowly.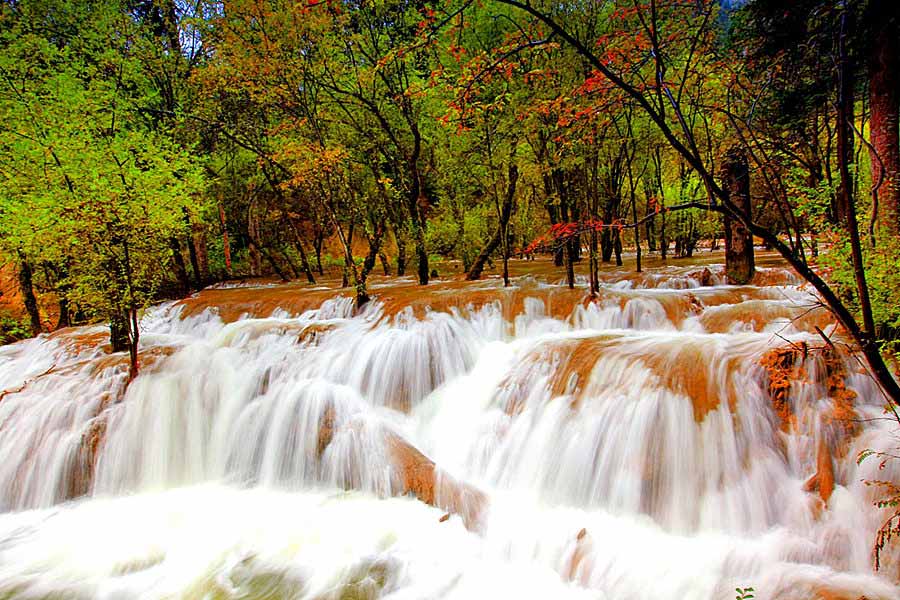 Other Attractions in Songpan:
Recommended China Tours Including Mounigou Valley Jiuzhaigou