Located at the southern foot of Mount Zijin in the eastern suburb of Nanjing, is the burial site of Zhu Yuanzhang (1328-1398, reigned 1368-1398), the first emperor of the Ming Dynasty. It is an architectural masterpiece that represents the paramount craftsmanship of the Ming Dynasty.
With an area of 3 square kilometers, the mausoleum is within the boundaries of a national park containing Dr. Sun Yat-sen's mausoleum. The park covers an area of 31 square kilometers. Construction of the tomb started in 1381 and was completed in 1413, taking more than 30 years to finish. From Xiama Archway (dismount horse site), the entrance of the mausoleum to Treasure City, where the Underground Palace lies, it extends over 3000 meters in length. All constitute a large area of tomb relic culture with great historical significance.
Authenticity of the original buildings and the integrity of the layout have been well maintained. The stone sculptures along the Sacred Way of the Mausoleum are solemn and extremely lifelike. They represent the supreme artwork of stone-carving in the early Ming Dynasty.
Xiao-ling Mausoleum embodies the ancient Chinese philosophic thinking of "unity of humans and the universe". It inherited the advantages of the systems of imperial mausoleums of the Han (206BC-220AD), Tang (618-907) and Song (960-1279) dynasties, while creating a new system of its own. The system developed during the construction of Xiao-ling became the general structure of mausoleum architecture for more than 500 years. As a result, Xiao-ling has been the leading mausoleum system in the Ming and Qing dynasties, possessing a fabulous and cherished position in the development of Chinese imperial mausoleum. On July 3, 2003, Xiao-ling Mausoleum was inscribed on the list of World Heritage by UNESCO.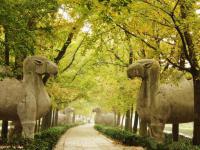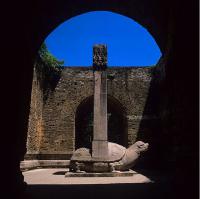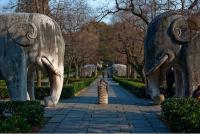 More Attractions in Nanjing
Recommended China Tours Including The Ming Tomb in Nanjing (Xiao-ling) Nanjing