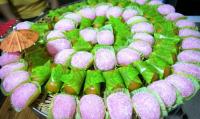 Nanjing cuisine (also known as Jing-su cuisine) is the important component of Huaiyang Cuisine, which is the four most famous cruises in China (other three are Sichuan, Guangdong and Shandong). Traditional Nanjing cuisine is notable for the emphasis on original flavor and carefully selected raw ingredients. Nanjing dishes are usually bright in color and use only a moderate amount of seasoning but a significant amount of oil.
The characteristics of flavor lie in its mellow taste, neither too salty nor too light, which suits the appetite of everybody. The sumptuous course preserves its natural flavor with fresh and good smell, crisp, soft and tender tastes as its main features.
As a local saying, "A banquet is not complete without duck dishes". Nanjing people love the duck dishes. The most popular local specialties include Jinling roast duck, steamed duck cutlets, salted duck, Longchi carp and "Eight delicacies soup". There are numerous classical restaurants serving up these delicacies and the area around the Confucius Temple (Fuzimiao) has some great places to taste good Nanjing food.
For western food, you can go to Shanghai Road, the area around Nanjing University. Otherwise, Xinjiekou and Confucius Temple are good places to find restaurants. For Chinese snacks like noodles, Sichuan hotpot, jiaozi and wonton soup, you may go to the following areas: Ninghai Lu, just north from the main entrance of the Normal University, the area just west of Fuzi Miao, and the area immediately southeast of Xinjiekou.
Recommended Nanjing Tours