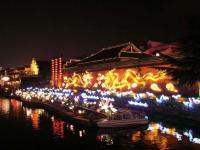 Nanjing, historically, served as the capital of six dynasties. Today, most of Nanjing's major attractions are reminders of the city's former glory under the Ming. Some useful and practical travel tips are listed below for your Nanjing tour.
Best Time to Nanjing
1. There are four distinct seasons with very hot summers and cold winters in Nanjing. So the best time for a visit should be in spring and autumn if you want to stay comfortably outdoors and go sight-seeing during your stay.
2. Do remember to avoid the period, from 1st May to 3rd May and from 1st October to 7th October, which are the long national holidays. It's extremely crowded everywhere!
Body Health & Safety
1. Tap water is usually potable, but drinking bottled water is recommended, and it's widely available.
2. Nanjing is now officially the safest city in China - this was the honor of Hangzhou. This doesn't mean there is no risk. Pick pocketing is a problem in Fuzimiao as well as on crowded buses, the subway and around the main transport hubs.
Shopping & Recreation
1. Nanjing is famous for three treasures - cloud brocade, paper-cuts and imitations of ancient ivory carvings. Other famous products and handicrafts include rain flower pebbles, velvet flowers; Jinling folded fans, Wood carvings and jade objects.
2. the most famous shopping areas in Nanjing are: "Xinjiekou Commercial Area" with large shopping centers and brand-name stores; "Hunan Road Commercial Area" clothes shopping during the day; "Confucius Temple Commercial Area" with souvenirs and antiques for sale.
3. Visit Nanjing Confucius Temple, and wander about the nearby area – the city's main amusement quarter; or cruise on a painted boat along the Qinhuai River, and view its beautiful scenery in the daytime or magical floating lights at night.
Recommended Nanjing Tours