As one of the state-level scenic spots, Hongfeng Lake, where there are varied small islands, is popular among the people at home and abroad. Its water area covers 57.2 kilometers and sluice volume reaches 600 milion cubic meters. Hongfeng Lake is characterized by the landscape of lakes and mountains which combines the beauty of mountain and water in Guilin and the charm of island country in plateau.
Hongfeng Lake is 33kilometers from Guiyang. It only takes less than one hour by bus. The lake area is 2 kilometers from east to west and 25 kilometers from north to south. It is surrounded by red maple, especially in autumn, the fire-alike leaves and the gentle water; they add charm to each other. Hence the name of Hongfeng Lake is idyllic and romantic.
Located between qing town and pingba county, Hongfeng Lake is like a glittering mirror. It is a man-made lake in the watershed of Yangtze River and Zhu River. The lake includes four lake areas: north lake, center Lake, south lake and rear lake. These four lake areas are different: widespread green wave of north lake, narrow water as well as amazing mountains of Center Lake, compounding water and mountain of south lake, mountain-surround water of rear lake.
In Hongfeng Lake, there are folk villages including three stockade villages, such as, Dong, Miao, Buyi, which are settled in islands. They can look at each other in the lake. In folk villages, tourists can enjoy all sorts of dances and songs from different folks.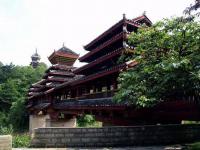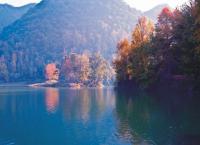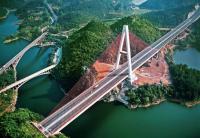 More Attractions in Guiyang
Recommended China Tours Including Hongfeng Lake Guiyang