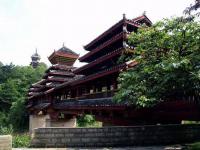 Guiyang is the capital of Guizhou and heart of politics, economics, culture, as well as science and technology in Guizhou province. Located in the east of Yun-Gui (Yunnan-Guizhou) plateau, Guiyang is regarded as a peal in plateau due to its center location in southwest of China.
It is said that in ancient times Guiyang was rich in bamboo and famous for the production of "Zhu" (it is a kind of musical instrument). Therefore it was named Zhu for short. Surrounded by groups of mountains and jade green forests, forming a ring forest belt, the city is also called Forest City.
Guiyang is plotted out six districts, one city as well as three towns in administration and covers 8,034 square kilometers area, accounting for 4.56% of the total area in Guizhou province. Except for Han, the city gets together more than 30 minority ethnic groups, such as, Buyi, Miao, Hui, Dong, Yi, etc.
As a typical region of karst topography, Guiyang owns abundant tour resource characterized by amazing mountain, beautiful water and strange cave. The city has subtropical mild moist climate, neither too hot in summer nor too cold in winter. Enough sunshine and rainfall, clouding air and clear seasons, all these make the climate in Guiyang is delightful.
Guiyang lies in mountainous area of low latitude so climate takes on sharp differences in vertical direction; accordingly, solid climate is obvious. So there is an old saying among residents, there are four seasons on one mountain, and different climates every ten miles.