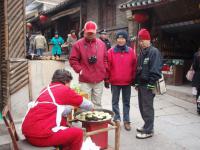 Guiyang is mixed with cross culture combined modern atmosphere with unique local Minority specialty. Thus, Guiyang forms a typical area with different culture characteristic. Here is a list of travel tips for your Guiyang Tour.
Best time to Guiyang
The best time to visit it is from March to April, when you may come up with the traditional festivals of the Miao nationality.
Body Health & Safety
1. Guiyang has a pleasant moist subtropical climate, with no intense heat in summer and severe cold in winter. But, Mornings and evenings can often be rather cool, so a windproof coat is necessary.
2. Due to the changeful weather on the Yunnan-Guizhou Plateau, it is recommended to take umbrella or rain wear with you whenever you go out.
3. Due to its topography, the things for anti-solar radiation should be fully prepared.
4. be sure to bring raingear and shoes with good traction as the Huangguoshu Waterfalls can be dangerous when the water flow is heavy.
Shopping & Recreation
1. Guiyang offers great souvenirs for visitors, like Wax-dyed fabrics, Miao Embroidery and Cross-stitch, Guiding Yunwu Tea, Yuping Flutes, and Ethnic Silver Articles.
2. Guiyang is rich in entertainments and cultural activity. Tourists can easily find bars, pubs or tea houses to relax and enjoy the unique culture of the city.