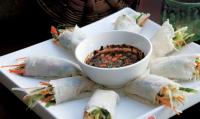 Guiyang is the capital city of Guizhou (Qian). Qian Cuisine is one of the major ones in China, with more than 250 popular dishes. In Guiyang, whatever in the day or evening snack booth is star-studded along streets and lanes. With the bright color and elaborate cooking, the fresh dishes in Guiyang are also regarded as the fine work of art. The flavor of the food here is spicy and sour, which is similar to the Sichuan cuisine in some way. Tourists can enjoy them at the two famous streets - Hequn road and Shaanxi road, which is near the Binhe Park.
Here below are some special local dishes:
Bean curd (Tofu) in love (lian ai dou fu)
It is one of the most famous snacks. The curd bean is fermented through buck first then baked. When eating it you can add cayenne, shallot, garlic, sauce, vinegar to it. It tastes peppery, slippery and delicious.
Thin moppet (si wa wa)
Varied vegetable is chopped thinly, which is used to make condiment with sugar, sauce, vinegar and oil cooked. Then do up it with spring roll (a local food). The way of bagging is like bagging a baby.