Located in Zunhua, 125 kilometers northeast of Beijing, the East Qing Tombs is one of the largest existing tombs with better design and reasonable layout in China. It is also a world Culture Site and a national 4-A tourist Scenic spot, covering an area of 78 square kilometers. Since Shunzhi -- the first Qing emperor to reign from Beijing was buried in the East Qing Tombs, altogether 5 emperors, 15 empresses, 136 concubines, 3 princes, and 2 princesses had been buried in 15 tombs here.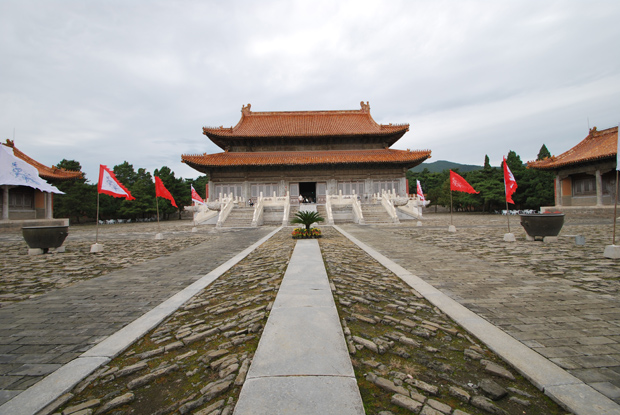 The East Qing Tombs is centered in Xiaoling, the tomb of Emperor Shunzhi with Zhao Xiling (Empress Dowager of Emperor Shunzhi), Jingling (Emperor Kangxi), Huiling (Emperor Tongzhi) in east side and Yuling (Emperor Qianlong), Dingling (Emperor Xianfeng), Ding Dongling (Dowager Empress Cixi and Empress Ci'an) in west side. Xiaoling is the biggest and most elaborate of all the tombs, standing as the focal point of the entire structure. Yuling is regarded as the most splendid one of all royal tombs in Chinese history. More delicate than the Ming Tombs in Beijing which has only one scared way, every Qing tomb has its own sacred road with splendid memorial gateways, decorated pillars and pairs of animal statues. The architectures in the East Qing Tombs are huge, majestic and refined.
To get to the East Qing Tombs, you can take the special Qing Dong Ling bus departs from northeast of the Xuanwu Men (206) metro stop (summer only, daily 7:30am; 3-hr. trip; ¥80/$11/£5.35) which is about 3 hours driving. If you want to explore by yourself, you can hire a cab or take a rickety local bus. Remember to take lunch with you as no restaurants are nearby.
More Attractions in Chengde
Recommended China Tours Including East Qing Tombs Chengde