Shanhua Temple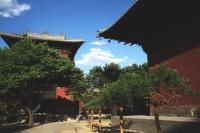 First founded during the early 8th century, Shanhua Temple(also called Nan Temple or South Temple)is a Buddhist temple located in Datong, Shanxi Province. It was destroyed in the war in late Liao Dynasty (1271-1368) and rebuilt in the 6th year (1128) of the Tianhui reign of the Jin Dynasty (1115-1234).
Shanhua Temple is the most intact and largest preserved temple of Liao and Jin dynasties in China. Occupying an area of over 15,000 square meters, Shanhua Temple has three main buildings: the Temple Gate, Three-Sage Hall and the most important building, Da Xiong Bao Dian, which is arranged along the central axis and ascends one after another gradually. Besides the main building, there is Wenshu Pavilion (deserted) locating in the east and the the Puxian (Samantabhadra) Pavilion locating in the west.
The Temple Gate ,which is also called Heaven God Hall, is a large hall that was built during the Jin dynasty in the 12th century, It is 5-bay long, and 2-bay wide with a single-eave roof, covering an area of 278 square meters. On the east and west side locate statues of the Four Heavenly Guardians, which look majestic and furious. The Three-Sage Hall, which is also called Passage Hall, is the middle hall. It was built in the Jin Dynasty (1115-1234).
In the Three-Sage Hall stand three statues, representing Sakyamuni, Bodhisattva Puxian and Bodhisattva Wenshu--the Three Saints of Huayan in Buddhism. Dating from the Liao Dynasty (916-1125), the Da Xiong Bao Dian is the largest hall of Shanhua Temple. It is 7-bay wide, 5-bay deep with three doors at the front of the hall. On the east and west of Da Xiong Bao Dian stand 24 statues of heavenly gods with different expressions. The Buddha statues are 4.05 meters high, made of earth and gold-plated. The admission fee is 20RMB.
More Attractions in Datong
Recommended China Tours Including Shanhua Temple Datong
Discover the glorious past of Datong - once as an ancient imperial capital - with some historical sights. This 3-day t ...

This is the round china trip which revealing the amazing landscapes in western China to the ancient capital of north. ...

The 16 days China tour is a perfect balance of history and scenery. From culture, architecture, religion, UNESCO ...
Google Search
Find something useful to you at Easy Tour China website.