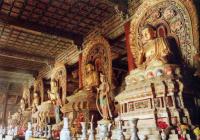 Datong is situated in the north of Shanxi Province, at the eastern edge of the loess plateau, consisting of 11 counties with a population of 3 millions (1.21 millions in urban district). Followed by the capital - Taiyuan, Datong is the second largest city of Shanxi Province. It was also listed as one of the 24 historical and cultural cities in the first batch by the State Council in 1982.
Datong is an ancient city with a history of more than 2400 years. In history, Datong had a luminous past as the capital of the Northern Wei dynasty (383-534 AD). The city is endowed with rich cultural relics left from different periods like Yungang Grottos, Huayan Temple and Nine Dragon Wall.
Datong has two sections of the Great Wall. The outer wall served as a dividing line between agricultural and nomadic life in the past. The inner wall was the second line of defense. Situated between the inner and outer Great Wall, Datong has been a witness to ancient wars waged between tribes on both sides of the wall.
Nowadays Datong has become the domestic leader in coal production and a transportation hub in North China, dozens of railroads crisscross the city.