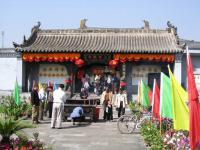 Datong is an ancient city with a history of more than 2400 years. The city is endowed with rich cultural relics left from different periods like Yungang Grottos, Huayan Temple and Nine Dragon Wall. There is some useful information below for your Datong tour.
1. The best time to visit Datong is from April to September, when the annual average temperature is 6.3C (43.34F) despite the sharp temperature swings from day to night. Clothing to protect against the cold weather is highly recommended.
High season: April, May, Sept and October
Shoulder season: June, July and August
Lower season: November to March next year
2. Summer is the rainy season of Datong; please take an umbrella with you whenever you go out.
3 Dadong's local specialties include the art porcelain, copper wares, embroidered figurines, egg-engraving, paper-cutting, glazed objects and dough figurines.
4. Yungang & Mt. Hengshan Tourism Festival is held in July or August every year in Datong. During the festival, there are many activities related to Datong culture, such as the exhibition of the local handicrafts and products, opera, dance and a food festival.