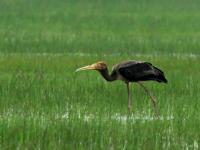 As the largest and most important wetland of Southwest China, Caohai National Reserve is situated on the Weining Mountain, at the outskirt of Weining County, Guizhou Province. The whole reserve area is 120 km2 (46 sq mi) with an average depth of 2 m (6 ft 7 in) and an altitude of 2,200 m (7,200 ft) above sea level.
The lake's original area was 4,666.2 square kilometers (1,801.6 sq mi). In 1971, the people in the area were so desperate for food that the authorities drained the lake and trees in the surrounding hills were cut in an attempt to provide more land for the farmers. This was a disaster as the soil was not suitable for agriculture, and the fish, hitherto an important source of protein, were gone, soil erosion increased, weather patterns changed. As a result of drainage,cultivation and climate changes during the last decades, the lake area has shrunk to only 5 km2. In 1982, the bad situation was improved as a dam was built to restore the lake - and unexpectedly many of the birds returned. Then, by 1985 so many birds had returned that Cao Hai became an official nature reserve.
Now Caohai National Reserve has become an internationally important winter home for more than seventy thousand migrating water birds, including approximately four hundred endangered black-necked cranes, the only plateau crane left in the world, up to 184 bird species, including Common Cranes, Hooded Cranes, White Storks, Black Storks, Bar-headed Geese, Golden Eagles, Eastern Imperial Eagles, White-tailed Sea-eagles and Ruddy Shelducks.
More Attractions in Guiyang
Recommended China Tours Including Caohai National Reserve Guiyang