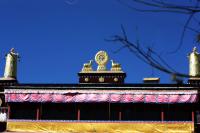 Ani Tsankhung Monastery is a yellow building located in one of the busy back alleys south of the Barkhor area, standing on a rocky promontory, isolated from the rest of the city and overlooking the Arpa(Akhurian)River. Ani Tsankhung Monastery is a Buddhist nunnery in Lhasa with unique traditions and architecture styles, named after the virgin martyrs of Saint Hripsime. It was built in the 7th century by Songsten Gampo who used its meditation chamber. Since the 12th century the monastery has been used chiefly by Buddhist nuns.
Ani Tsankhung Monastery is not only the paradise of female Buddhists inside, but also the place for females outside to study Buddhism, culture and other knowledge. This Monastery has cultivated many influential females, including the famous Tibetan Living Buddha Samding Doje Phagmo, who started her Buddhist life here. Now Ani Tsankhung Monastery is home to more than one hundred nuns. Every morning on 8`o clock, the nuns chant sutras in the scripture hall on time.
The nunnery's main hall contains a beautiful image of Chenrezi, the multi-armed bodhisattva of Compassion. The sacred meditation chamber lies behind it. Thirteen Tangkas of Buddhas and Bodhisattvas from Ming and Qing Dynasty also collected here. An air of quiet serenity pervades the ancient place with its flower bushes and spotless compound and is one of the quieter tourist locations in the Tibetan capital.
More Attractions in Lhasa
Recommended China Tours Including Ani Tsankhung Monastery Lhasa