Luoyang Museum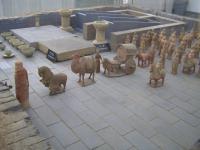 Luoyang Museum is a local historical museum in Luoyang, Henan Province of China. Located in the Luoyang downtown area,it offers exhibits of the rich cultural heritage of Luoyang. As a major Chinese cultural centre, Luoyang used to be the capital more than a dozen ancient dynasties, such as the Xia (2,100 -1,600 B.C.), the East Chou (770 - 256 B.C.). It ranked as one of the most affluent cities of the Tang Dynasty after prosperous growth. Luoyang Museum was first built in 1958 in Guanlin, the south of Luoyang City in Henan Province, and then moved to the north side of Zhongzhou Road in 1973. It was eventually opened on May 1, 1974, covering more than 200,000 square meters.
The museum was built in ancient Tang Dynasty Chinese architectural style, with four display halls, and five exhibition rooms, Displays of the Museum mainly reflects Heluo Culture, together with Yangshao Culture, Longshan Culture, and the culture of the Xia (21st century-17th century BC), Shang (17th century-11th century BC) and Zhou (11th century -256BC) period, related to the profound culture of the ancient capital City of Luoyang. Among its excellent selection of thousands of culture relics, the best exhibits in the museum are a Gold Seal crafted during the West Jin Dynasty, a Ceramic Glazed Teapot, Tang tri-colored glazed potteries such as Painted pottery maid servants and Tri-color figures of horses and groom, a replica of 'Golden Throne' sent by the Beijing Forbidden Palace Museum etc.
More Attractions in Luoyang
Recommended China Tours Including Luoyang Museum Luoyang
The trip presents a panorama of Henan's history, culture, religions, art, picturesque landscape, ancient Chinese scie ...

Anyang, Zhengzhou, Kaifeng and Luoyang, which once served as ancient Chinese capitals. They are known as the important ...

Luoyang has a glorious past in Chinese history. This weekend tour will present you a feast of knowledge regarding Chin ...
Google Search
Find something useful to you at Easy Tour China website.