Luoyang Best Travel Time
Luoyang, located at the northern part of China, enjoys north temperate continental climate zone with clearly four seasons. Spring is dry and windy, and the occasionally little sandstorms but in April, there's a great festival - Peony Festival held with thousands of beautiful peony on display.
Summer in Luoyang is hot and rainy and autumn (from October) is the most recommended season to visit Luoyang with pleasant climate.
Luoyang Safety Tips
Luoyang is a safe place to visit while keeps an eye on your bags or belongings since pick-pocketing is also reported in public. Train station of Luoyang is crowded and chaotic, try to prepared yourself for the uncomfortable feelings and be care your belongings.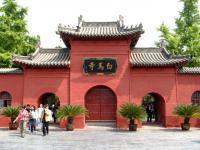 Luoyang Shopping Tips
Been a cultural and historical center, Luoyang offers kinds of old and traditional stuff for sales, like old coins, swords, art supply, and porcelain and so on. The antique market is nice venue to walk around.
Eating in Luoyang
Luoyang water feast or water banquet is known for over 1,000 years, noted for kinds of soups with sour with spicy flavors. There are 24 courses served for the meal and served continuously like flow of water. Representative food in Luoyang is carp dish, Zhangji Roast Chicken and Tangmian Jiao (Steamed dumplings).
Nightlife/ Entertainment in Luoyang
Luoyang has fewer night activities compared to that of Beijing or Shanghai, but there are still some activities for travelers in this ancient city. Take a night stroll around the hotel and you have great chances to taste varied local snacks; or just enjoy the performance "He Luo Feng" which shows the thousand years of history of the city, with ancient dance and music on display. Young tourists would prefer to have a relaxation in KTV, bar or pubs on the Zhujiang Road.
Luoyang Festivals
Luoyang Peony Festival is held on April to May, to celebrate the charming beauty of peony. The venue for the celebration is at the Luoyang National Peony Garden.
Luoyang Culture Tourism Festival falls within Sep 27th to Oct 27th, activities organized as Weibei International Calligraphy Festival Guan-Lin international pilgrimage ceremony, Funiu Mountain Autumn Leaves Festival, Luoyang Delicacy Festival, Western Henan mountainous area local specialty fairs, Longtan Canyon rock climbing competition, the Yellow River Wonder Stone Exhibition and Autumn Peony Show.
Recommended Luoyang Tours