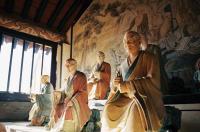 Unlike most Chinese sightseeing destinations, Mianshan Mountains is not thousands of years old but the site itself holds a history dating back to about 700BC. With a history dating back some 2,500 years ago, Mianshan Mountains boasts enchanting natural scenery and cultural significance. You can learn about Cold Food culture, Buddhist culture, Taoist culture, military culture or health preservation culture in the Mianshan Mountains, which shows a combination of Buddhism, Taoism and Confucianism.
The Mianshan Mountains are like a beautiful picture or a poem. It has fresh and clean air in early morning. The sky is blue and the clouds are light. The mountains are magnificent and grass is green. In such an atmosphere, you can feel the broadness of the heart of human beings under the holy halo of Buddha. Atop the mountains you will see they are so magnificent that they seem to embrace the universal, everything on the earth. Also you can have a wonderful view of numerous low peaks around the Mianshan Mountains which stand out of them.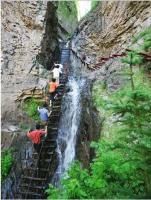 Covering an area of 75 square kilometers, the Mianshan Mountains is a national scenic spot with 14 tourist areas and 400 attractions. It features a 20 kilometers long drive around the top of the mountain with countless of beautiful temples scattered around the steep walls. Dragon Head Temple is the best place to watch sunrise or sunset in a sea of clouds. It is also a landmark of Mianshan Mountains with its exquisite architecture. Daluo Palace is the largest Taoist temple in China. It was built and restored during the Tang Dynasty, and the supreme spirit of Taoism and other folk gods are worshipped there. Other famous scenic spots are located nearby such as Wangfeng Gate, Four Dragon Gods Temple, Three Emperors Pavilion, Five Sacred Mountains Temple, Mazu Temple, Saintly Mother Hall and the temple of five dragon brothers paying respects to their mother.
Surrounded by clouds and mist, the Sky Bridge is suspended over 200 meters from the mountaintop and over 300 meters from the bottom of a gully. Walking along the bridge amidst clouds and mist will make tourists feel the bliss of strolling in the clouds. Besides, there are many other amazing natural scenic spots are located within a short distance, such as Elephant Trunk Hill, Deer Bridge, Gushan Rock or Mountain Fixing Rock.
More Attractions in Pingyao
Recommended China Tours Including Mianshan Mountains Pingyao