Suzhou Museum founded in 1960 was originally located in the national historic landmark, Zhong Wang Fu palace complex. The new museum was designed by world illustrious architect I.M.Pei as a tribute to his mother's hometown Suzhou. The gem museum combines the brilliant creativity of I.M.Pei's simplicity architectural style with the traditional features of Suzhou. The design of this new museum visually complements the traditional architecture of Zhong Wang Fu. The new museum was completed in October 2006, covering over 10,700 square meters and located at the cross of Dongbei Street and Qimen Road.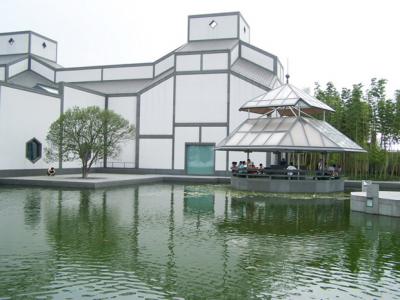 Suzhou Museum is a highly-regarded regional museum of ancient Chinese art, ancient Chinese paintings, calligraphies, and hand-made crafts. With a display area of 2,200 square meters, the museum houses more than 15,000 pieces in its collections, most of which are ancient paintings and calligraphy, ceramics, crafts, unearthed relics and revolution relics. In addition, it possesses more than 70,000 books and documents, and over 20,000 rubbings of stone inscriptions. Most of the calligraphy and paintings are works of masters from Song Dynasty to Ming and Qing dynasties. Signs and placards are in both English and Chinese.
A good buy here is the Museum's own DVD which documents how the building was conceived by I.M.Pei and constructed under his firm's supervision.
More Attractions in Suzhou
Recommended China Tours Including Suzhou Museum Suzhou