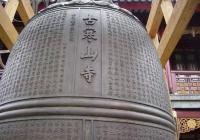 Located at the town of Fengqiao, about 5 kilometres west of the old city of Suzhou, Hanshan Temple is a famous Buddhist temple and monastery China. Built during the Southern and Northern Dynasties period, Hanshan Temple was originally named Miaolipumingta, and was later given its present name because Han Shan, a legendary monk and poet in the Tang Dynasty who had lived there with his disciple Shide.
Hanshan Temple is famed in East Asia because of the poem "A Night Mooring by Maple Bridge" by Tang Dynasty poet, Zhang Ji. He describes the melancholy scene of himself as a dejected traveler, moored at night at Fengqiao, hearing the bells of Hanshan Temple:
Moon's down, crows cry and frost fills all the sky;
By maples and boat lights, I sleepless lie.
Outside Suzhou Hanshan Temple is in sight;
Its ringing bells reach my boat at midnight.
Covering an area of about 10,600 square meters, the temple presents the architectural style of the Qing Dynasty. Buildings in it are in an unadorned and natural style and the temple compound is a scene of luxuriant green creating a secluded atmosphere. Representative buildings in the temple include Grand Prayer Hall, Sutra-Collection Building, Bell Tower, Fengjiang Pavilion and Tablets Corridor, etc. A five-storey Buddhism Puming Pagoda built in 1995 has became the symbolic building of the temple, which is as high as 42 meters.
Hanshan Temple boasts about its bell rings as the famous poem above mentioned. Two bells, both dating from the late Qing Dynasty when the temple was last rebuilt, are currently used at Hanshan Temple. They were forged around 1906 in China and Japan respectively. Every year on New Year's Eve in China's lunar calendar, the bell in Hanshan Temple is tolled to pray for the happiness and safety of the coming New Year.
More Attractions in Suzhou
Recommended China Tours Including Hanshan Temple Suzhou