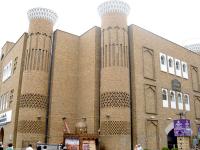 Looking for Uyghur hand-made carpets? Fancy some Russian woodcarvings? How about silverware from the United Arab Emirates? Favor various dried fruits and nuts? Interested in traditional musical instruments from Xinjiang, Pakistan and other countries? Then come to Grand Bazaar and you must be dazzled in a mind-boggling array of international and Chinese goods. With a total area of 100,000 square meters, Grand Bazaar is the largest bazaar in the world and the largest retail and wholesale market for ethnic minority goods, dry fruits, jade articles and snacks in Xinjiang. As long as you can think of, you will find what you want here.
With a history of over 130 years, Grand Bazaar used to serve as a trading hub for goods from both Xinjiang and central Asian. In 1982, a covered market which is 330 meters long and occupies 6,756 square meters was opened. More than 660 stalls sell over 1,600 Uygur goods there and each day more than 20,000 people including vendors, merchants, visitors and customers make this place a prosperous and bustling bazaar. In 2001, a new market which covers 35,000 square meters was set up as an extension of the old one. Altogether they form a lively tourist and trading center.
As a must to get a feel for the local life, the Grand Bazaar is a magnificent commercial complex with a strong Islamic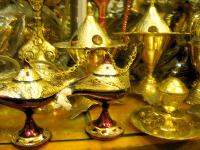 architectural influence that includes No.1 Sightseeing Tower, Erdaoqiao Mosque, Banquet-Performance Grand Theatre, Merry Square, Sunny Pedestrian Street. In addition to shopping and appreciating the unique architectures, the Banquet-Performance Grand Theater offers visitors the opportunity of appreciating ethical culture full of fascination as well as enjoying cuisine of the Western Region.
More Attractions in Urumqi
Recommended China Tours Including Erdaoqiao Market Urumqi