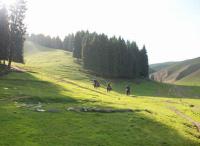 Best Travel Time Urumqi
Urumqi has a semi-desert climate, with hot summers and cold winters, short spring & autumn season. The hottest months are July and August with average temperature of 25.7 degree Celsius, the coldest January is about -15.2 degree Celsius.
The best time to visit Urumqi is between May and October.
Urumqi Safety Tips
Watch out your valuables when in big bazaar or on public transportation since pick pocketing are common.
There are many police or military presence in the city since the riots in summer 2009; also be prepared to be stopped by security personnel suspicious of foreigners. But anyway, Urumqi is a rather safe place.
Urumqi Shopping Tips
Urumqi is a destination along the famed Silk Road and the huge difference in temperature from morning and evening as well as long hours of sunshine make it the "home of fruits and melons". There are hundreds of species of grapes, muskmelons, watermelons, apples, pears, apricots…and most of these fruits could be found on local markets.
Other local products: carpets, Atlas Silk, Uygur-style hats, knitted sweaters, ethnic costumes, hand-made embroideries, jade carvings and so on.
Eating in Urumqi
Urumqi is a pleasant place to try Uygur food like kebab (BBQ of local style), Nang, roast stuffed buns, noodles and hand-picked rice. Hui and Uyghur food can be very spicy and just state that if you are not a fan of spicy food.
See more details of Urumqi food and restaurants.
Nightlife / Entertainment in Urumqi
Nightlife in Urumqi is active and diversified, with many restaurants, cafes, open-air bars and clubs catering the needs of local people; the may the First Night Market for the local food or travelers can go to the entertainment square for Uygur dancing and singing performance….
Urumqi Festivals
Corban festival in Urumqi is known as "Sacrifice Festival", which is held on every December 10th by Islamic people. All the Muslim should dress up to attend the ceremony at Great mosque and during this holiday, people would exchange greetings by going door to door.
Other important festival is the Lesser Bairam which held early 70 days than Corban festival.