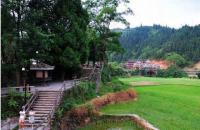 Best Travel Time Sanjiang
Sanjiang is located at the base of rugged and rolling mountains with humid monsoon climate. Spring comes from mid March to mid May with humid, rainy and cold days; while summer lasts to the end of September with heavy rains and high temperature. It has dry and comfortable autumn and cold & frosty winter.
Sanjiang Safety Tips
Wearing comfortable shoes when traveling in Sanjiang areas
Take raincoat or umbrella to protect you from the rain in mountain areas Sanjiang
There are many minorities groups in Sanjiang, respect their customs and habits.
Eating at Sanjiang
Baijiayan Feast is a traditional custom in Sanjia; to treat people from other villages or distinguished guests, each family of the whole village will prepare food and present on the long tables on a spacious ground; and guests and villagers would eat, chat and sing together and have a wonderful feast.
The famous foods in Sanjiang are namely sour taste, eating raw meat, glutinous rice and oil tea.
Check detailed information of Sanjiang Food here
Shopping in Sanjiang
Dong embroidery is the local handy craft works that shows minority flavors; it is another form of embroidery technique and not priced high. It is a nice item for decoration, or you can find it comes on scarf patterns, baby slings, clothes and so on.
Recommended Sanjiang Tours