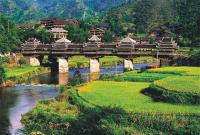 Sanjiang Dong Autonomous County, under the jurisdiction of Liuzhou City, is situated in the north of Guangxi Zhuang Autonomous Region, bordering Guizhou to the northwest and Hunan to the northeast. This region covers an area of 2454 km², and is traditionally inhabited by the Dong people, who comprises over 50% of the county's 300,000 inhabitants.
People of Dong ethnic group are known for their spectacular festivals, wooden houses, towers and bridges which dot the countryside. It is also worth exploring the many ethnic villages around Sanjiang. Besides the Dong ethnic group, there are also many other ethnic groups in Sanjiang, such as Zhuang, Yao, Miao, Hui, Manchu, Maonan, Yi and Gelao.
The topography of Sanjiang features rolling hills with lush vegetations. The ethnic characteristics of Dong People, lovely natural scenery, rich and colorful traditional festivals have made Sanjiang become one of the ethnic and scenic hotspots in Guangxi.
Entering whichever of the stockade villages, you will enjoy an eyes' feast of unique and delicate buildings interlaced with surrounding idyllic sceneries. Dong people have erected many bridges covered with porches and pavilions, which act as shelter when it rains. Chengyang Wind and Rain Bridge is the biggest amongst them.
The major tourist attractions in Sanjiang include Chengyang Wind and Rain Bridge and Mapang Drum Tower.
Recommended Sanjiang Tours