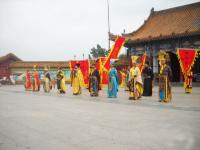 Best Travel Time Zhengzhou & Kaifeng
The two cities are very close and connected by a express way, about 65 km in distance. They have a continental climate with 4 distinct seasons. The annual average temperature is about 14.4 degree Celsius. The hottest July is about 27.3 degree Celsius, and coldest January about 0.2 degree Celsius.
Summer comes with rich rainfall and autumn is usually sunny and warm, so it is the best time to travel these two cities.
Zhengzhou & Kaifeng Safety Tips
Zhengzhou & Kaifeng are safe cities, just use your normal sense when traveling these cities, don't leave your belongings unattended and watch out the traffics from both sides when crossing the street. Don't drink tap water directly.
Zhengzhou & Kaifeng Shopping Tips
Some of the most interesting gifts can be found at the city's antique market. Bargain hard but make sure those real antiques over 200 years ago can't be taken away from China according to some rules.Other local products in Zhengzhou are jade sculpture, Honeysuckle, Yellow River Inkstone and Yellow River Cyprinoids.
Local special products at Kaifeng:
Embroidery - dates back to Northern Song Dynasty, over 1000 years ago
New Year Posters - Showing the rural scenes with persons from ancient legends.
Watermelon, spiced bean curd and peanut cake are delicious and worth a taste.
Eating in Zhengzhou and Kaifeng
You should not miss the local breakfast in Zhengzhou, Hulatang, some kind of soup and a little spicy; and there are many kinds of dumpling shops and noodle joints on every street or back alley. Noodles like mutton noodle and beef noodle are of local flavors.
Nightlife / Entertainment in Zhengzhou or Kaifeng
Take a night walk to some squares of Zhengzhou and see the local activities around, with music fountain at Er'qi Square, water screen film at Lvcheng Square and Chinese surname culture at Guangda square. Discos, TVs, bars, pubs, cinemas and other entertainment venues are available till to early morning.
Festival in Zhengzhou & Kaifeng
The ancestor worship ceremony in Zhengzhou held on March 3rd of Chinese lunar year annually annually in Xinzhen of Henan province, to worship Xuanyuan Huangdi, the primogenitor of humanities of China. There are nine programs fixed for the Ancestor worship ceremony. They are salute to Flourishing Age, Flower Bouquets Presentation, Hands washing to incense offering, obeisance, pray, chant praise, dancing, support of universe and people and pray for China.
China Zhengzhou International Shaoling Wushu Festival is held on Sep. 1st to Sep. 5th; it is a grand events for Chinse Shaoling Konfu; During the festival, enthusiasts or travelers can appreciate the impressive opening ceremony as well as the fantastic Kungfu Demonstrations.
Kaifeng Festivals:
held on Mar. 25 to Apr. 25, Yuwang temple fair is a magnificent event, fake emperors & queens of Tang, Song, Yuan, Ming and Qing dynasties(dressed in the costume of the dynasty) and show the officials of military and civility(also dressed to be) of the past years. Performances are magic shows; Sichuan opera face changing and other folk art shows and so on.
The Chrysanthemum festival held on Oct.18 to Nov.18 for tourists to admire the beautiful chrysanthemum and learn the history of Southern Song Dyansty.
Recommended Zhengzhou Tours