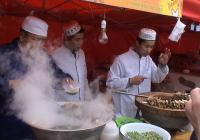 Zhengzhou and Kaifeng are the major source for Henan cuisine (also called Yu cuisine). As the capital of the province, Zhengzhou has a diverse array of fine Chinese cuisine. Its location at China's center means you can find almost any type of Chinese food here. Some of the finest restaurants are located on Jingsan Road. To find these restaurants, ask a taxi driver to take you to a restaurant called Xiaonanguo. You'll find a number of options about. Xiaonanguo itself is an excellent restaurant featuring regional dishes from all over China.
The night market in Erqi Square is an ideal place for a snack and scenery. There's the usual assortment of dumpling shops and noodle joints on every street and back alley. There's a good number of Sichuan restaurants, which make sense considering the proximity to the Province of Spice. Noodles, especially the mutton noodle are the must-try in Zhengzhou.
A specialty of Kaifeng is "Bao Zi" (steamed dumplings stuffed with meat and vegetables) . The famous place to get them in best quality is the "Di Yi Lou" Restaurant in Kaifeng. These Bao Zi contains hot soup. So the eaters have to be careful when having it at mouth.
Due to an important presence of Muslims in the town, you can also find a lot of restaurants serving Islamic dishes
Recommended Zhengzhou Tours