Must-knows Before Making a Train Travel Plan in China
China Train Travel Must-knows Before Making a Train Travel Plan in China
If you are inspired by the idea of traveling by train in China, it is important to have a better understanding of the rail service in China before you plan the trip. Here below are some must-knows for your reference.
Flight or train?
Before the high speed rail system was set up, the international travelers used to travel by flight. After 2010, more and more destinations have been connected by high speed rail. Passengers can have more options when traveling in China.
By air or train, some international travelers are confused and not sure of what to do. We can take the transport of Beijing-Xian as an example. If you choose to take a flight, then 3 hours before flight departure, you have to leave for the airport from hotel, then 2 hours on the plane if there is no delay. After landing and luggage claim (30 minutes), transfer to the hotel (1.5 hours), the total door-to-door time is about 7 hours. If by bullet train, you may leave for the train station 1.5 or 2 hours before, then 4.5 hours on train, transfer to the hotel (1 hr), the total time is 7-7.5 hours. The bullet trains are always punctual, while sometimes the flights can be postponed.
The train fare is a lot cheaper than airfare, no matter that it is a first class or second class train ticket. The luxury business class ticket costs nearly the same as the discounted airfare of Beijing – Xian. To see more benefits of taking a train ride, please read the webpage at 7 reasons to travel by train in China. You will also see some drawbacks of train travel in the same page to evaluate if it fits you well.
For long-distance trips, air travel is a recommended transportation mode. If the duration of a train journey is 6 hours or more, then we usually choose a flight for our clients unless they prefer train travel, or there is no flight available.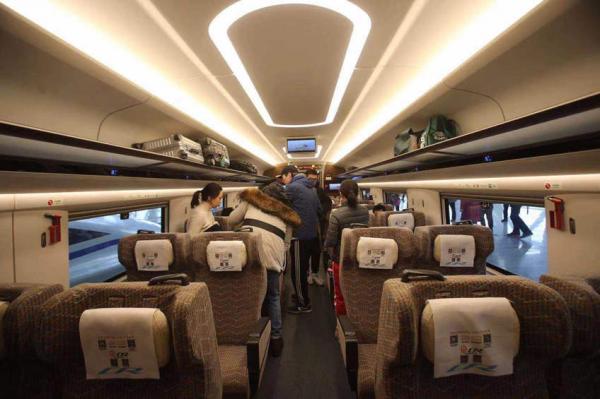 Who need to give a second thought if taking trains in China
Though the rail service in China has been well improved in the past years, it was designed for mass transportation in China, which can also meet the demands of most international travelers. However, some people should give it a second thought.
1. Senior travelers or persons with limited mobility
At certain railway stations, the can/van/bus can't park close to the entrance. People have to walk a relatively long way to enter the station with their luggage. Some stations at small cities are not equipped with escalators and elevators, then it will be a little tough for seniors to carry the suitcases up and down the stairs when redcap porter service is not available. Another reason is that the high-speed trains usually stop only 2-4 minutes at many smaller stations, the passengers have to be very clear where to get off and get prepared in advance.
2. A family with 3 or more young children
If you have a big family with 3 or more children, all of them are younger than 12 years old. Technically there won't be any problem for families to enjoy a train ride together in China. Just in case of the busy season, the train stations are packed with passengers. If the parents have to carry an infant/toddler as well as the luggage, and look after other two children, it could be a tough job in a crowded train station. >> More info on travel by train in China with children
Various types of trains in China
With the fast development of Chinese rail system, we can see a mixture of old and new trains running on the rail network of China. Before really taking the specific train, we can distinguish all of them from the letter prefix of the train numbers.
Easy Tour China has crafted a series of China train tour itineraries which are meant to inspire you create your own trip in China by train.
| Train type | Speed | Description |
| --- | --- | --- |
| G (pronounced as Gao in Chinese) | 250-350km/h | Long distance service. G-Series High-speed train refers to the EMU train with a design speed of more than 300km/h (max.350km/h). New model sleeper carriages available for some overnight train journeys. |
| D (pronouncedas Dong in Chinese) | 160-250 km/h | Long and short distance service with the EMU (Electrical Multiple Unit). New model sleeper carriages available for some overnight train journeys. |
| C (pronouncedas Cheng in Chinese | 100-300 km/h | Inter-cityrail service connecting the neighboring cities, short distance service only. |
| Z (pronounced as Zhi in Chinese | Maximum speed 160 km/h | Direct express service between two major cities with few or no stops on the way. Old model sleeper carriages available. |
| T (pronounced as Te in Chinese) | Maximum speed 140 km/h | Long distance service stopping only at provincial capitals, sub-provincial-level and major prefecture-level cities. Old model sleeper carriages available. |
| K (pronounced as Kuai in Chinese | Maximum speed 120 km/h | Service stopping at prefectural, major county-level or above towns, usually long distance service. Old model sleeper carriages available. |
| No letter prefix, 4 digits only, 1001-5998 | Maximumspeed 120 km/h | Service stopping at county-level and higher-level towns. Some train carriages are equipped with air-conditioners, some not. |
| No letter prefix, 4 digits only, 6001-7598 | Maximumspeed 100 km/h | Regular service stopping at all passenger stations along route. Usually most of the trains don't have air-conditioning and sleeper cars, only few exceptions. They are the real slow trains in China. |
| L (pronounced as Lin in Chinese) | | Temporarily added holiday service, especially during the Spring Festival travel season. |
| Y (pronounced as You in Chinese) | | Seasonal service to certain tourist destinations. |
Based on the above table, international travelers are recommended to take the top 4 options: G, D, C and Z. Those starting with G, C and D prefix are bullet trains, run by CRH EMUs, while Z trains are electric loco-hauled conventional ones. It is a unique experience for travelers to try on the overnight train journey at the soft sleeper class from one city to another.
Tips: the train number of G+1 or 2 digits (e.g. G5 or G17) means the train will only stop at few provincial capital cities, so these trains will finish the same trip with less time, compared with other G trains with 3 or 4 digits behind. The train fares are usually the same.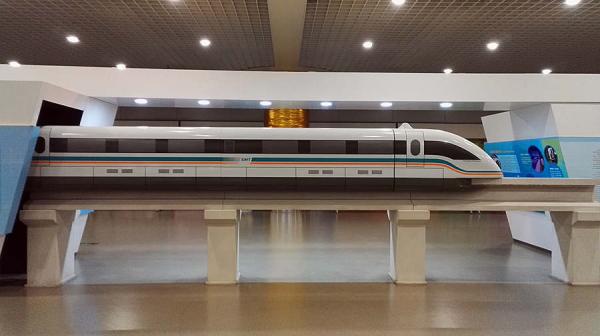 (A maglev train in Shanghai)
Types of train cars (carriages)
High speed train service (G, D and C trains)
Having been fast developed in the past 10 years, the China's EMU trains offer 4 classes: second class, first class, business class and sleeper class. Since most of high speed trains run in the daytime (usually without sleeper cars), only a small number of trains with sleeper cars were put in use, operating the overnight rides.
Second Class
These are the cheapest seats available on high-speed trains, five seats in each row with 2 restrooms at the end of the cars (one is western toilet style). The standard cars have a capacity of 85-101 passengers based on different models.
First Class
It is recommended for most international travelers, who tend to have a more comfortable train trip. The standard cars have a capacity for 28–162 passengers with partially reclining plush seats, four seats in each row.
Business class
It will ensure you a luxury trip on train with a capacity for 10–24, which can only be found on certain high-speed train sets. There are reclining sofa seats with flat screen TVs and other amenities, like the first class cabin on plane. The fare is expensive, usually higher than the airfare of economy class. It is quite popular among the business travelers in China, they can work on board by using the mobile phones and accessing the internet.
High-speed sleeper class
There are 2 types of soft sleeper carriages in old model bullet trains, which follow the original design of soft sleeper carriages of conventional train: deluxe soft sleeper (2 berths sharing) and soft sleeper (4 berths sharing). There are 10 private soft sleeper compartments in one carriage, and 6 deluxe sleeper class compartments plus 2 soft sleeper class ones in one carriage. At the soft sleeper compartment, no private restroom is available, while yes with deluxe soft sleeper compartment. In 2017, the new model sleeper cars have been launched, which have an absolutely innovative design, with upper and lower berths on each side of aisle (shared restrooms).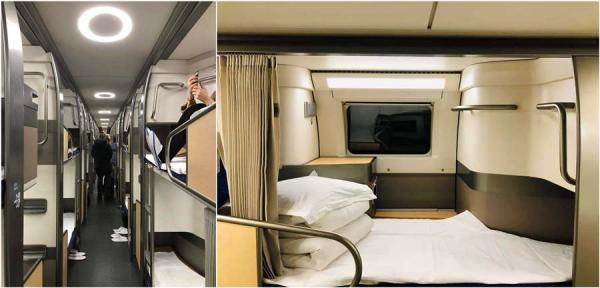 (The high-speed train sleepers)
Conventional train service
With the rapid development of high speed train system, now we seldom arrange the conventional train service for our clients from abroad, which is not as comfortable as the modern and fast bullet train. Possibly we only consider those "Z" and "T" trains for an overnight ride with fewer stops along the route, which run between the 2 major cities. If so, we would book the train tickets of soft sleeper/deluxe soft sleeper classes. Unless they have a low travel budget, few international travelers take the hard sleeper class based on our experience. For more details, you may read our webpage of China travel by train.
Train stations
For foreigners, it is quite challenging to take train travel in China due to the language barrier if without any help. Sometimes the train station can be a latent problem as it is common to see 2 or 3 stations, even more in one city. For example, Guilin has three stations, Guilin Railway Station at the city downtown, Guilin Bei Station (North Guilin Station) on the outskirts, Guilin Xi Station (West Guilin Station) out of urban area. You should take departure/arrival time and location of train stations into consideration before booking the tickets, especially when your schedule is tight, or you need to change trains at a certain station.
When walking into the lobby of a new and modern high speed train station located in some prosperous cities, many of you might be amazed by its grandeur, modern design and bustling state. Although you can find some English indications, sometimes it is not that easy to find the correct waiting lounge or site in a huge station after going through the security check and ticket check with your passport at the entrance of the station. So if you will travel on your own, please get prepared for it as most of the station staff can't speak proper English. A translation APP installed in your smart phone will be a solution if you get stuck somewhere and need some help from locals.
Please note that those big train stations are equipped with the elevators and escalators, while some others may not. Passengers have to walk up and down to reach or leave the platform. For the people with limited mobility, we do not recommend them to take trains. ETC team can hire the redcap porter service for the clients with big suitcases when boarding the train. But the service is not always available at every station.
Facilities and amenities on board
| Facility | High Speed Train | Conventional Train |
| --- | --- | --- |
| Luggage rack | √ | √ |
| Luggage closet | √ | √ (sleeper only) |
| Dining car and snack trolley | √ | √ |
| Restroom | √ | √ |
| Internet | √ | √ |
| WiFi | √ (not all) | √ |
| Air conditioner | √ | √ (not all) |
| Boiling water supply | √ | √ |
| Baby care room | √ | × |
| Fire extinguisher/emergency hammer | √ | √ |
| Power outlet | √ | √ |
| Wash basin | √ | √ |
| Dustbin | √ | √ |
| Facilities for the wheelchair users | √ | × |
| Smoking Area | × | √ (not all) |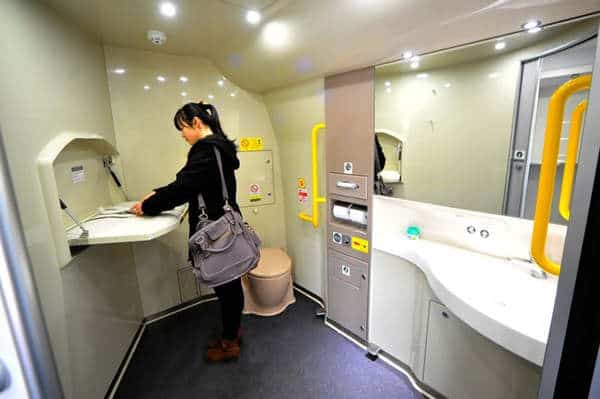 (
Baby care room on China's high-speed train
)
As we have already known the benefits of taking trains in China, now it is time to take actions! Due to the cultural difference, Chinese rail service adopts a ticketing system with its own features. International travelers will have to face some practical issues when booking train tickets. So it is suggested that you understand all the things you should know before taking trains in China.
When to book train tickets in China
According to the rules of China Railway Corporation, the advance train tickets go on sale online 30 days before the date of departure, while at the ticketing offices and outlets, tickets are available for sale 28 days before.
Where to book train tickets in China
At ticketing offices and outlets
You can go to the ticketing office in the train station to buy the tickets, or find an outlet selling train tickets at the different corner of city. If you are an international traveler, we don't suggest that you go to buy the tickets at the last minute unless you are sure of enough vacant seats on that train in the timeframe. Sometimes we need to take an alternative train if the preferred one is not available, especially during the high seasons like the national holidays, or school summer break period.
If you travel independently, it is recommended to write down the names of your destination station name, date, preferred ticket class and train number in Chinese (even seat preference: window or aisle), and show it together with your passport. Most of the staff at the ticketing office has little command of English.
BTW, it is usually busy at the ticketing office. Different ticket windows may specialize in the different direction of trains. Please figure out where to wait in line. Please also keep alert, possibly there are pickpockets roaming around to look for the undiscerning passengers. Watch over your mobile phone and wallet, though theft doesn't happen so often in China now.
Other offline ticket booking methods like ticket service line 95105105 or automatic ticketing machine are not suitable to the international passengers. The telephone system doesn't offer English version, it will be too challenging for foreigners to operate. Automatic machines can't read passports, only accept the Chinese ID card currently. Hopefully in the future, there will be a passport reading device available for the reservation of train tickets on the ticketing machine.
Online booking
The official ticketing website of China Railway is 12306.cn, Chinese version only. So it is only recommended to the expats living in China, who can read Chinese or ask for the help of their Chinese friends. Passengers also need a Chinese payment method to pay online like Alipay, Wechat Pay and China Unionpay. Therefore, these special requirements of the ticketing system block most of the international travelers from booking the train tickets at 12306.cn.
For the majority of the international travelers, we would suggest that you may book the train tickets with online travel agencies like trip.com or others if you only need ticketing and delivery service. ETC team crafted various train tours covering all over the country, the ticket booking service is included in the package. We don't offer the ticketing service solely.
Train tickets for the children
From January 1, 2023, new ticket policy for children taking train has carried out in China. Children should buy train tickets according to their age on the boarding day and not according to their height any more. For children boarding with adults, child discount tickets shall be booked for those over 6 years old and under 14 years old; full-price tickets shall be booked for those over 14 years old.
Each adult passenger with a paid ticket, may board together with a child under the age of 6 bearing a free child ticket with no reserved seat. Only one child may board with a free child ticket (with no reserved seat) together with each adult passenger, other children shall board with a discount child ticket.
Further reading: