How to Book China Train Tickets in 2023
China Train Travel How to Book China Train Tickets in 2023
Latest China Train Tickets News (Updated on May, 2021):
According to the China Railway's new policy of COVID-19, the presale period of train tickets in China was adjusted down to 15 days from February 12. For example, tickets for train journeys on June 4, 2021 will go on sale no sooner than May 21, 2021. As for train tickets refund, if passengers cancel tickets 8 days before a train's departure, they can get a full refund. This policy started from January 14, 2021.
There are several different ways to book China train tickets online and offline, depending on you are outside China or already traveling in China. You can buy China train tickets online with online travel agent like us, from the train station in China, or from a train ticket outlet. You can use these methods to book both China bullet train tickets and normal-speed train tickets. Read the details before for better understanding.
1. Book Online with Easy Tour China
The most convenient way to buy China train tickets online is to book with an online travel agency based in China like Easy Tour China. If you read or speak very little Chinese, this is the easiest way to get your China train tickets without dealing with all of the hassles. Our professional and experienced China travel specialists with excellent English available are able to help you with China train tickets booking, seat selecting, changing, canceling and all of the other problems of train travel in China. Please feel free to contact us at any time for further assistance or information about China train travel.
Good to Know:
China Train Tours Packages at Easy Tour China (such as China high-speed train tour from Beijing to Shanghai and normal-speed train ride to Tibet) include China train tickets booking service. Our recommended train travel itineraries in China are:
See more China Train Tours or tailor make your own China train travel itinerary. Simply tell us your interests and our China train travel experts will assist you design an ideal China train travel tour.
2. Book Online at 12306.cn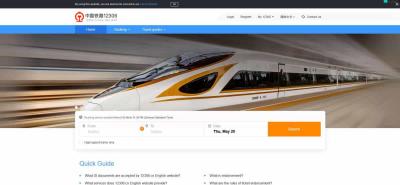 www.12306.cn is the China Rail official website for China train tickets booking (both high speed and normal speed trains). It became more foreigner-friendly now by launching an English version in late 2020. This China train tickets official website operates daily from 05:00 AM to 11:30 PM (Chinese Standard Time GMT+8).
You can easily search for train stations by typing the destination's name in English. It also has a check box to search for high-speed trains only. Except for train tickets booking, 12306.cn also provides ticket endorsement (if tickets available) and refund services. Endorsement means to change the date of travel, train number, or seat/berth. However, the food ordering and delivery service of China high-speed trains is not available on the English version yet.
3. Book at a Train Station in Person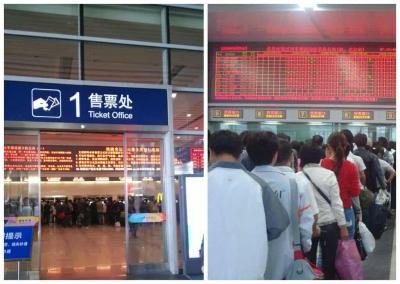 If you are already in China, you can go to the train station to buy tickets at ticket counters (售票窗口) inside the ticket office (售票厅). China train stations sell tickets 28 days before train departure. Most of the railway stations in China open 24/7. But a few modern rail stations that only operate daytime high-speed trains don't open after 10:00 PM.
There are English-speaking ticket counters in train stations in big cities like Beijing and Shanghai, but don't expect English service in small cities and towns. So it's a good idea to write down train information in advance.
Tips:
Remember to bring your original valid passports.
Expect very long queue in front of every ticket window, especially during national holidays.
Train stations in China accept Chinese RMB cash. And many train stations accept payment by China UnionPay debit cards, Wechat and Alipay. Foreign credit cards are not accepted.
Foreign passport holders CANNOT buy or collect tickets from automatic ticket machines at the station.
4. Book at a Local Train Ticket Agency
There are many authorized China train tickets agencies/outlets distributed all over city. If you read Chinese, you can search for all the authorized tickets agents in China. If you can't read Chinese, it might be hard for you to locate one whiling traveling in China on tight schedule.
You can check with your hotel receptionist, or copy this picture of China train tickets agencies onto your phone, or copy "火车票代售点" (the Chinese characters for China train tickets agencies), and show it to the locals.
Train tickets agencies in China also sell tickets 28 days before train departure. A train ticket agent charges RMB 5 per tickets as service fee. The advantage is you don't have to go far to the train station and wait in a long queue. But don't expect the staff at train agencies speak English.
5. Book by 12306 Mobile App
If you read Chinese very well, you can download 铁路12306, the official China Railway ticket booking app, for train ticketing booking, changing, cancelling, food ordering, China train information searching, etc. The app is in Chinese only and operates daily from 05:00 AM to 11:30 PM (Chinese Standard Time GMT+8).
6. Book by Telephone 95105105
If you understand and speak Chinese well, and you are already in China, you can also dial 95105105, the China Railway telephone ticket booking hotline, to buy China train tickets. English speaking service is not available.
Its working hours are from 06:00 AM to 11:30 PM. You can buy train tickets by telephone 30 days prior to the train departure. After you've successfully booked the tickets by telephone, you must collect the paper tickets at a train station within 24 hours.
Related Reading about China Trains