All You Should Know How to Take a Train in China
China Train Travel All You Should Know How to Take a Train in China
There are many good reasons to travel by train in China – the high speed train is comfortable, punctual, affordable and super fast. But train travel in China can be confusing for foreigners if you don't understand Chinese. This blog has been put together to list all the things you should know before take trains in China, from the newly implemented E-ticket to the steps how to take a train in China.

Blue and Red Travel Tickets
Now you have the train tickets at hand, please read it carefully. There are two types of train tickets: blue magnetic ones and red paper ones.
Blue tickets: a type of magnetic tickets in light blue color, which are a little harder than those light red tickets, similar to subway tickets. The blue train ticket is marked with train number, seat number, fare and other information on one side, and the back side is printed with the instructions for boarding trains. Passengers can have their tickets self-checked on automatic fare gates and enter the platform. In this way, the train stations can save the labor costs and make things more efficient. With the adoption of new anti-interference and anti-counterfeiting technologies, the blue tickets are more durable and reliable than the old paper ones. Therefore, it is more and more widely used in the country.
Red train ticket: a type of paper tickets in a light red (pink) color, first adopted in 1990's. Similar to the blue tickets, they have all the necessary information back and front. But there is no magnetic stripe on the back of red tickets, so these tickets have to be manually checked by the station inspectors. Currently only few remote and small stations or ticketing offices are still installed with the old ticketing systems, issuing the paper tickets. Possibly it will disappear in the near future.

E-tickets
In late 2018, some rail routes began to adopt the e-ticket system. Now it is widely implemented on all the high-speed train stations. According to the official rules, the passengers who intend to purchase e-tickets should have the identity documents identifiable by the system, such as China ID card, Permanent Resident ID Card for Foreigners (Green card), Resident Permits for Hong Kong, Macao and Taiwan Residents, Mainland Pass for Hong Kong and Macao Residents, and Mainland Resident Pass for Taiwan Residents. These people can go through the self-service gate to verify and enter or exit the station. Currently international travelers can't use e-tickets, but the regular ones (e.g. the blue magnetic tickets or red paper tickets).
How to Take a Train in China - Getting on a Train
After you have the tickets in hand and get ready to board the train. Here below are some crucial tips for how to take a train in China:
1. Figure out which station the train will depart. It is common to see 2 or 3 stations in one city. For example, there are 3 stations in Guilin. They are Guilin station, Guilinbei Station (North Guilin Station) and GuilinXi Station (West Guilin Station), respectively. If you can't make it clear, then you may miss the train as they are located far from each other. So it is very important to know the exact name of the station and go to the right one to board your train.
2. After confirming the name of train station, then you should know how much time to go there by car or public transport. Usually passengers are expected to arrive at the train station at least 45 minutes before departure. In some big cities like Beijing, Shanghai, Chengdu and Guangzhou, the stations there can be very busy in certain periods like the National Day holiday and the Spring Festival travel season. Then you need to arrive at the station 1-2 hours or earlier before the train departs. For different trains and stations, passengers are allowed to enter the platform from the waiting lounge at different timeframes, varying from 10-30 minutes before the departure. 5 minute before departure, the station will close the fare gate. Then passengers can't board the train anymore.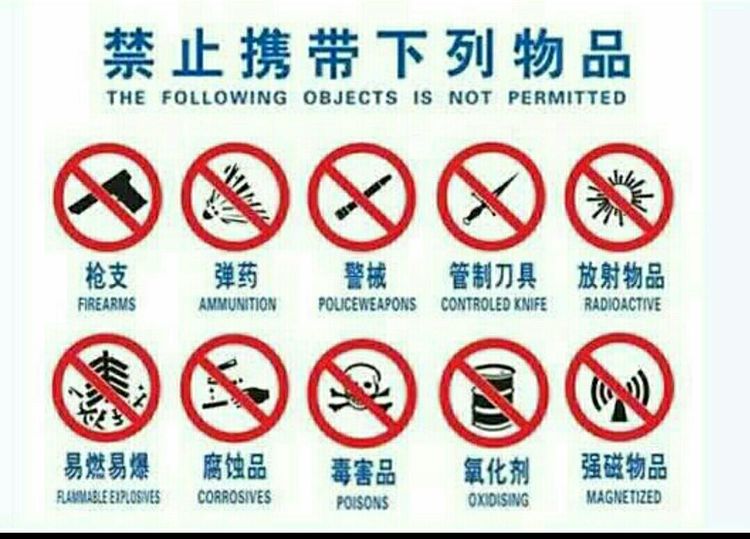 3. At the entrance of a train station, you will be required to show your ticket and passport for checking, and go through the security checkpoint for the luggage X-ray screening. Comparatively the rules are not as rigid as that of the airports in China. Here below is a list of the objected prohibited on board:
4. After entering the train station, you need to find the right place to wait for your train. Different stations have different designs, there could be different waiting lounges for different trains, or there is a huge waiting hall with many gates connecting the different platforms. Unlike that at the airports, the English broadcasting service is not available in most of the train stations. You have to read the indicator board and schedule screen carefully. If you have the blue magnetic ticket, then you can go through the automatic fare gate yourself. If the red paper ticket, then you need to wait in a side queue, where your ticket will be checked manually. In big stations, the escalator will take you down to the platform, while in small ones, passengers may have to walk up and down to the platform.
5. When you stand on the platform, the train has not arrived (high speed train). You need to know where your carriage will stop at. There are usually 3-4 color blocks with carriage number painted on the ground, indicating the spots that different trains will stop at. If you don't have enough time to find your carriage, then simply get on the train first, then you will find your seat anyway after boarding.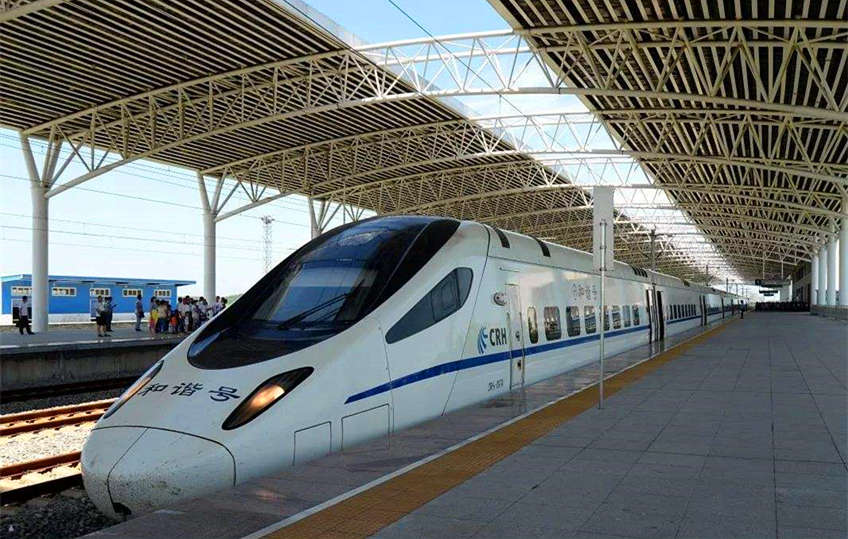 How to Take a Train in China - On board
1. After finding out where to sit, you need to put the ticket away. Don't drop it as the train conductor may check your ticket on board, and it is required to be checked again when you go out of the destination station.
2. You can lift your carry-ons and small cases/bags on the overhead rack, which cannot stretch out of the rack much. If you have a big and heavy case, it can be placed at the space behind the last row of seats. In certain models of carriages, there is a luggage closet at one end of the carriage. Since the suitcases are out of your sight, please don't leave any valuables in them.
3. Every train has a dining car if it is a long distance ride, usually located in the middle of the train. Possibly 2 dining cars (5th and 13th carriage) can be seen on some 16-carriage high speed trains. But there is a big difference between the high speed trains and conventional trains. On conventional trains, the dining car is like a real sit-down restaurant. You can sit at a table and order Chinese dishes from a simple menu. Western food is not available. During the mealtime, it can be quite busy, and sometimes the carriage is filled with a strong mixed smell from kitchen, alcohol, even smoke. As to the dining car on high speed trains, it is simply a counter selling food, snacks and beverage, such as boxed meals, instant noodles, crisps, soft drinks and beer. Please note that you need to prepare some Chinese cash money as international bank cards and foreign currencies are not accepted on board.
4. Before boarding a train, you'd better bring some tissue paper with you. On new high speed trains, disposable toilet seat covers and toilet paper are available in one restroom of each carriage (take yours if you care about the paper quality). Another restroom is in Chinese squat style. You can use the restroom all the way long, while on conventional train, it is not allowed to use the restrooms when it will stop at a station. The restrooms are locked during the period. The toilet paper is usually not available inside.
5. Usually there is a water sink next to the toilets. The water is not potable, but for washing face and hands. Anyhow, you can find a hot drinking water supply at the vestibule of 2 carriages. When the green light of the electric boiler is on, it indicates that the drinking water is ready, you can use for infusing tea and preparing an instant noodle meal. The water is boiling hot, you have to be very cautious.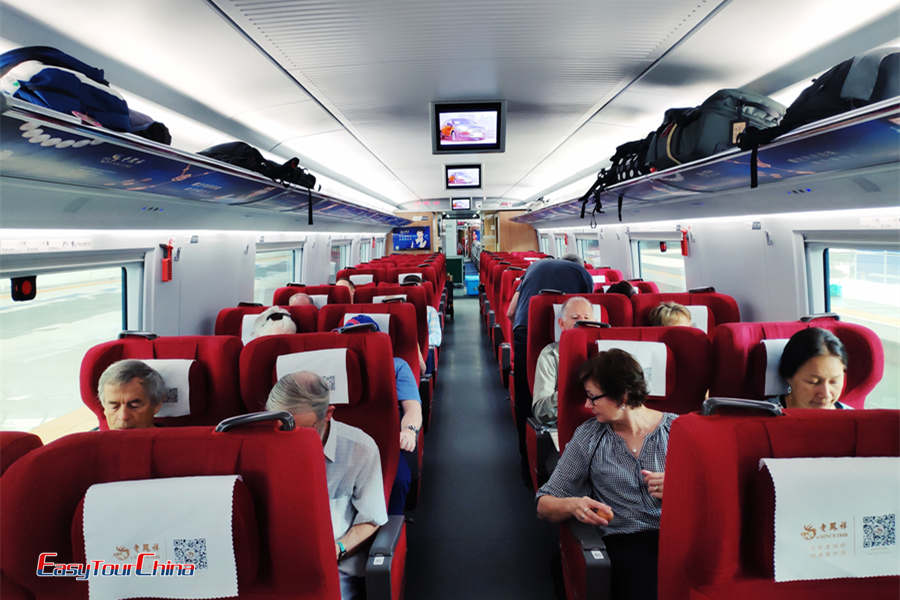 6. If you are at a sleeper carriage on a conventional train except "Z" ones, passengers are required to change your ticket into a card with the train conductor within 1 hour after boarding. Before you get off, he/she will change it back.
7. On high speed trains, smoking is totally banned. Passengers can only smoke on the platform when the train stops at a station. The duration is merely 2-4 minutes at smaller stations, so please make sure to get back before the train leaves. On most of conventional trains, smoking is prohibited in the carriage, but allowed at the vestibule between 2 carriages, usually with a sign of "Smoking", even this is an air-conditioned train. In recent years, some conventional trains began to adopt non-smoking mode on the whole train.
How to Take a Train in China - Getting off a Train
1. On some high speed trains, Chinese/English bilingual announcement is available. If not, and you will have to get off at an intermediate station, then you need to keep in mind the arrival time, and confirm with the train conductor or your Chinese companions sitting next to you by showing them your ticket. When you hear the train is approaching to the destination, please take all your belongings and wait in line to get off since the dwell time at an intermediate stop can be as short as 2 minutes only. Don't forget the suitcase left at one end of the carriage, you may simply get off at that door close to your luggage. Comparatively, the conventional trains may stop a little longer at a station. If you are at the sleeper carriage, the conductor will come and change the ticket back. You can take your luggage to the door when the train is fully stopped. Don't leave your wallet, mobile phone and charger cord on the train.
2. After getting off the train, you can follow the crowds of the passengers to go out of the station, usually via pedestrian underpass. Then present your train ticket to go through the automatic fare gate at the exit if the blue tickets, or have to be checked manually if the red ticket.
3. After going out of the station, you can follow the signs to go to the taxicab stand/station, metro station, or bus station. Please don't talk to those guys, who intend to take you to somewhere to get into a so-called taxi. In fact, they are illegal ones without a government license and will charge you much more than the actual rate.
Further reading: