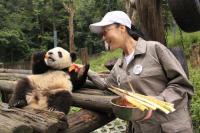 Bifengxia Panda Base is situated 8 kilometers from Ya'an City, 150 kilometers from Chengdu. Occupying an area of about 60 square kilometers, the base has been long enjoying the fame for the vast forest coverage, grand waterfalls, clear rivers and breathtaking landscapes. It is the first scenic spot in China that combines natural scenic spot and eco-zoo together, including sightseeing, leisure, vacation and entertainment.
Bifengxia Panda Base is composed of 3 parts: Bifengxia Mountain Park, Bifengxia Wildlife Park, and Bifengxia Panda Bears Research Base Center. Bifengxia Mountain Park is famous for the gorge or canyon, as well as beautiful waterfalls. Hiking about 3-5 hours in Bifengxia Mountain Park is an incredible experience for backpackers. Since its opening in 2004, Bifengxia Panda Base has become home to 68 pandas. They live life in the quite luxurious environment; villas equipped with air-conditioners, toilets, independent water supply systems and sport areas.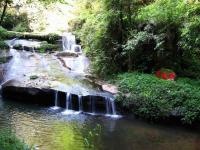 Being selected as China's latest giant panda protection base, Bifengxia has taken on the important responsibility of leading the world in protecting and raising the endangered species. These pandas will be returned to nature after relevant training in simulated wild environment. If you want to have a close contact with the pandas and explore their natures, it is better to join the volunteer tour programs from 2 days to more than 30 days in Bifengxia Panda Base. There you can work with the scientists and feed the pandas, clean the pandas' houses and record their activities.
The ticket is Wildlife World: 100 RMB; Bifengxia scenic spot: 80 RMB (include Giant Panda Base and traditional local show of Mosuo people). Chengdu Xinnanmen Tourist Bus Station offers regular bus to Bifengxia Panda Base for 2 hours bus driving on the Chengya Expressway.
More Attractions in Chengdu
Recommended China Tours Including Bifengxia Panda Base Chengdu