Trek from Ganden Monastery to Samye Monastery
China Hiking Tips Trek from Ganden Monastery to Samye Monastery
Tibet is regarded as one of the hiking paradises all over the world, and hiking from Ganden Monastery to Samye Monastery is one of the most popular trails in Tibet. This trail connects two classic and influential monasteries in Tibet, which is also the most famous route of pilgrimage. For centuries, robed monks and pilgrims have walked the rolling valleys of the Tibetan plateau in the intense sun or cold air to reach their faith. Now, most travelers who want to witness the holiness or peace their mind, follow the footsteps of generations of monks and Tibetans to create their own experience among these marvelous mountains and rivers in the plateau.
It's also an interesting and attractive trail, which takes 4 or 5 days. Those who are primary hikers could hardly ignore the challenge of the trek because you have to avoid high altitude sickness at first then conquer the hiking about 80km. You will go up and down at least two mountains with winding passes, and need to go through Ganden Monastery at 4180 meters, Shogu-La Pass at 5250 meters and finally reach Samye Monastery at 3540 meters. But every traveler will enjoy the joy of camping, seeing twinkle stars in the sky, and the excitement of viewing wild animals from distance. During the trek, there are beautiful sceneries and varied terrain with blue holy lakes, snowy mountains, herds of yaks and sheep, herders' tents with Tibetan dogs, antique monasteries and villages, etc. Trekking will be the best way of steeping into beautiful nature and experiencing local cultures.
Check more Tibet hiking or China hiking tours from here...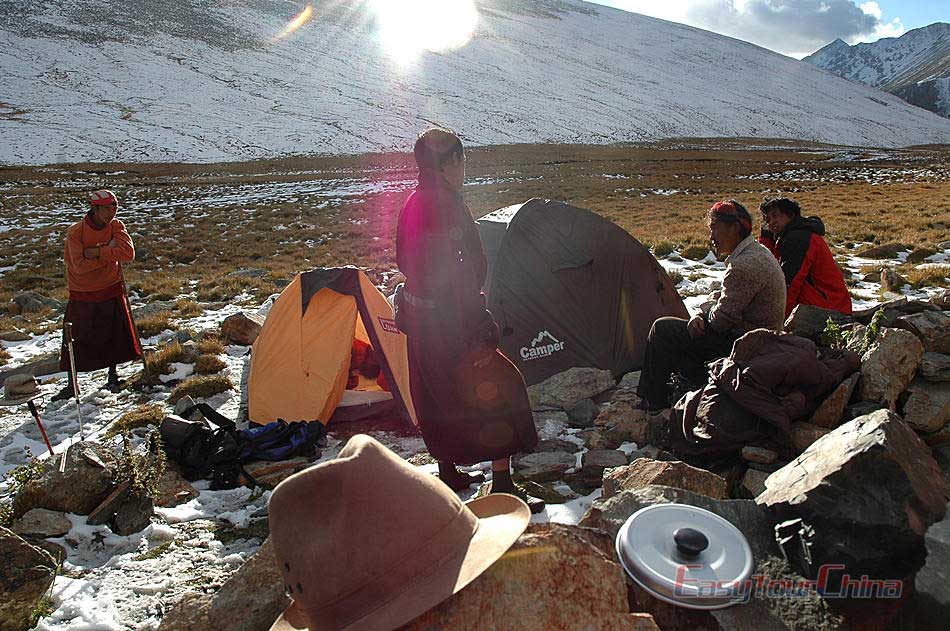 Highlights
-Entrance fee: RMB40
-Opening time: 09:00 – 16:00
Ganden Monastery is a special one of the six major temples of yellow religion. It was built by Tsonkhapa, the founder of Tibetan Buddhism, in 1409. So it is the earliest and original monastery of Dge-lugs-pa (yellow religion). Ganden Monastery still preserves the remains of more than 90 pagodas of the successors of Ganden Dharma master in past dynasties; Master Tsongkhapa died in Ganden Monastery and left the pagoda of his remains here; and houses many cultural relics and artifacts from Ming dynasty.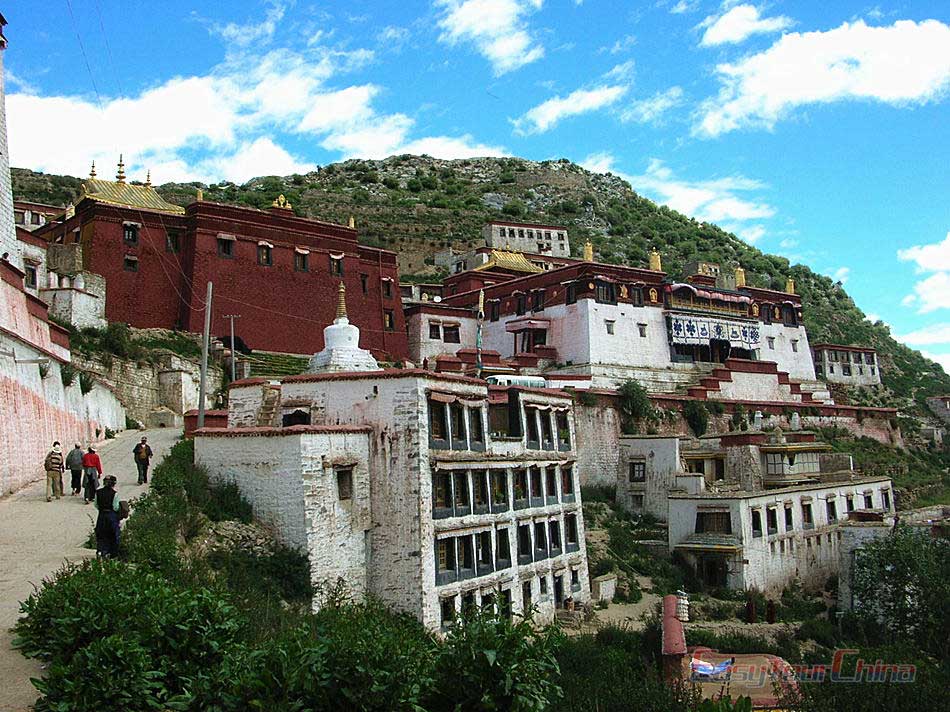 7-day grand celebration during traditional Sho Dun Festival (Yogurt Festival) in Tibet will be held in every summer. Besides feasting and yogurt, the most primitive and grand activities are to bask the Buddha's portrayals, sculptures and the sutras. The main purpose is to facilitate long-term storage, and the second is for pilgrims to do worship. And now, the Sho Dun Festival is enriched the activities with Tibetan opera shows, equestrianism shows, Tibetan clothes shows, so forth. To commemorate Master Tsonkhapa's death, another important festival is held in December, called Lighting Festival. You can witness a more devout worship ritual.
Samye Monastery
-Entrance fee: free for the scenic area, RMB40 for the main palace
-Opening time: 09:00 – 16:00
Known as "the first monastery in Tibet", Sangye Monastery is the first Tibetan Buddhist temple in the history and fully contains the three treasures of temples including Budda, scriptures and monks. It was first built in 762 by Padma Sambhava, located at the birthplace of Tibetan king of Trisong Detsen. Surrounded by dense trees and canals, it is a national religious scenic spot. Samye Monastery with its large scale of scattered towers, pagodas and high pavilions, is the fusion of Tibetan, Han and India styles of architectures, exquisite wall paintings, wooden or stone carvings and Buddhist knowledge. In the middle of 9th century, it was once closed by Pugyel government. After it reopened, Samye Monastery had become a center monastery of red religion (Rnying-ma-ba). And now, it's repaired and well protected as a national heritage of China.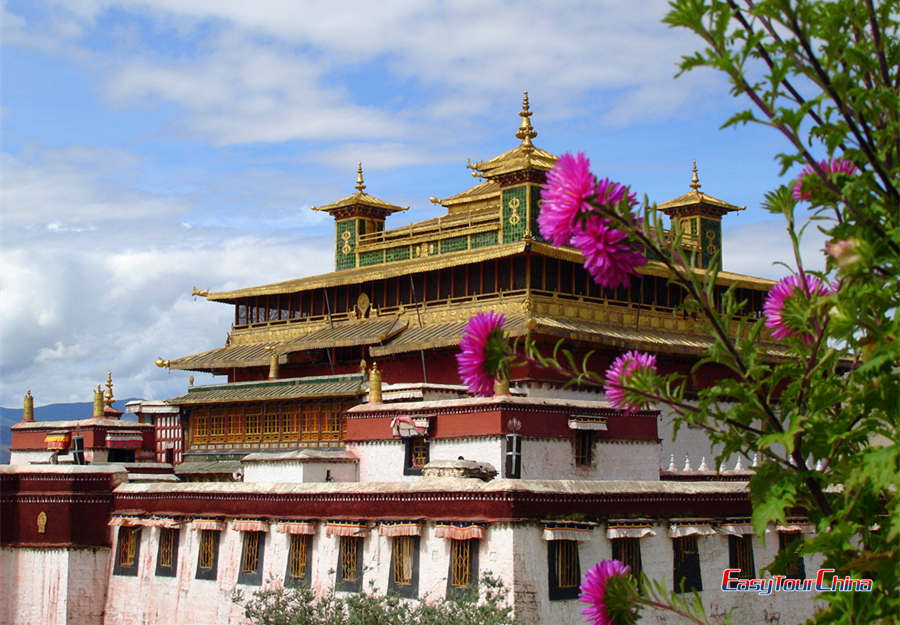 The religious festivals and dances at the Samye Monastery have long history. Weisang Festival and mask dance of King Kong are two featured and popular religious rituals in Tibet. Weisang Festival is usually taken place in May or June when grains mature to pray for prosperity of the nation, peace and healthy life. King Kong mask dance will be held in Samye twice a year in February and June. This kind of mask dance can banish demons and devil, pray for peace. The scene is shocking but full of mystery.
How to Get there
To start the hiking, you need to take a vehicle from Lhasa to Ganden, go across the mountain valley from the Ganden Wangpo Mountain on the side of Lhasa River; pass through plateau wetlands; visit small village and pastoral area; explore the ancient Yarlung Zangpo River and finally reach Samye.
Situated in the west of Lhasa, Ganden Monastery is about 45km away from Lhasa. Many buses running between Jokhang Temple Square in Lhasa and Ganden Monastery can take you to the beginning. It takes about 2hrs and RMB20. If you trek with a guide, he will lead your way from Lhasa to Ganden.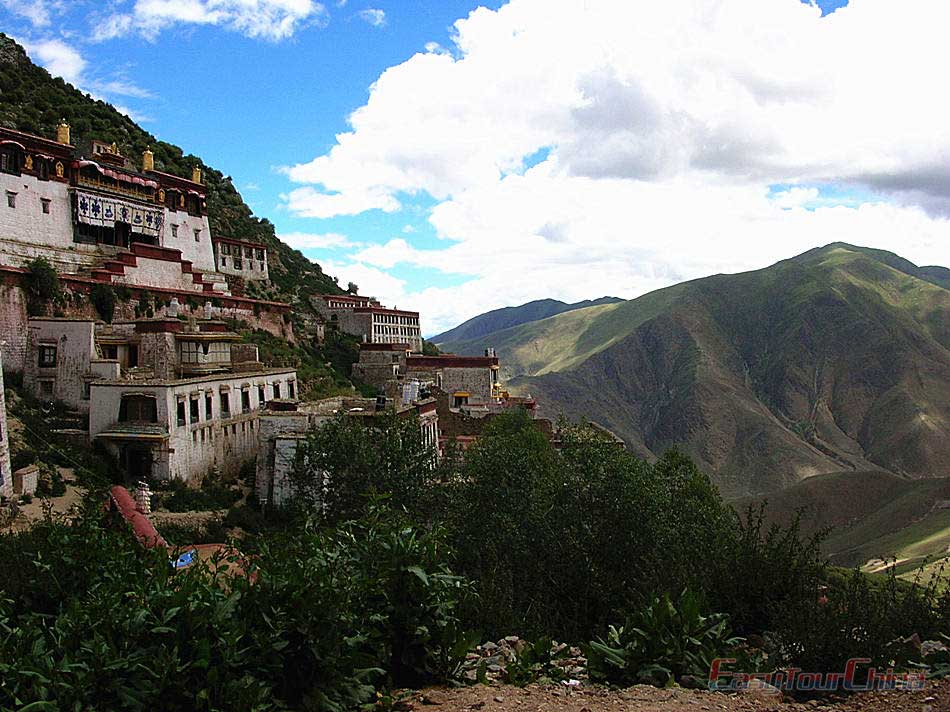 When you finish the trck at Samye Monastery, you can easily go from Samye to Tsedang, the third largest city of Tibet. The most common way is take ferry to cross Yarlung Zangpo River from Samye (north bank) to the south bank, and then take a bus transferred to Tsedang. It takes about RMB20 per person for around 50km. after that, you can continue your Tibet Journey from Tsedang.
Suggested Trekking Ganden Monastery to Samye Monastery Itinerary
-Distance: 80km
-Starting point: Ganden Monastery (4180 meters)
-Ending point : Samye Monastery (3540 meters)
-Accommodation: camping
-Meals: brought or cooked on your own
We suggest you can arrive in Lhasa (3660 meters) one day in advanced at least before hiking, so that you will have time to adjust the condition of high altitude and get a taste of local life. Furthermore, you can take a comfortable and pleasant shower, after all, you won't have chance to clean yourself after the hiking begins. The most important, buy some foods, drinks and equipment you need.
Day 1 Transfer to Ganden Monastery, and walk to camping base by passing Black Cloth Village.
After breakfast, hop on the bus from Jokhang Temple Square to Ganden Monastery. On the way, make your body get used to the altitude with the winding mountain roads, and you can enjoy the beautiful scenery of countryside and overlook the city. When you reach the mountain top seeing Tibetan architectures with red and white walls, that is Ganden Monastery! You can "Kora" around the monastery like a local pilgrim. After visit, let's start your 6-hrs walking. The first day will be a little hard to walk on high mountains with stone slopes but the mountains of wild flowers will put you in a good mood. When you hike to Black Cloth Village, you can have some rest, and another one hour later, you will reach the camping base.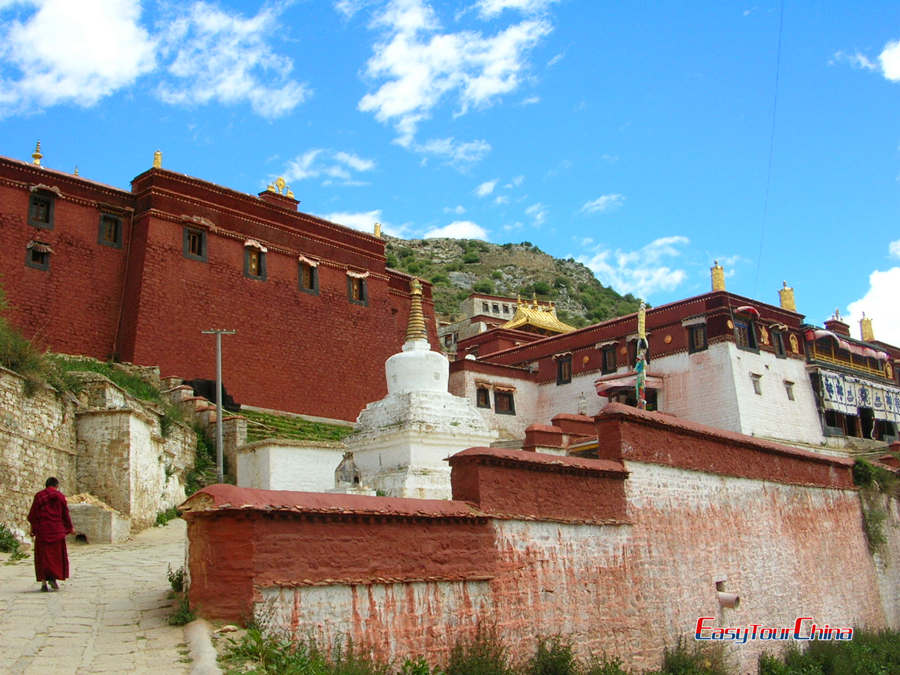 Day 2 Go through Shug-la Pass.
Shug-la Pass is at 5284 meters, you have to trek through a rocky way to climb the mountain. It's more easily to get down the pass. Walk along the path in the afternoon, the sunshine glows golden from a small river below. Hike in the fields with yaks, the camping base is near a lake. You will enjoy a beautiful night after a tiring hiking of 7 or 8hrs. Looking at the stars in the mountains is a fantastic thing.
Day 3 Go through Chitu-la Pass
Hiking for an hour, you will reach Chitu-la Pass at 5228 meters. Look at rolling mountains and find the holy lakes white like milk when white clouds are reflected on the lake. This is the best shooting place to catch the three holy Tibet lakes. Get down the mountain and walk for another 5hrs, the vegetation grow prosperous along the path. Walking along the river, you will get to the camping base.
Day 4 Village trips from Changda Village to Longguo Village, reach the end – Samye Monastery.
Walk along the river valley, get a great sip of natural scenery. Visit and experience local Tibetan life in Changda and Longguo Village, you will reach Samye Monastery in the afternoon. Seek the difference here, after that, take bus to Tsedang.
Welcome to contact us! We can customize a hiking trip for you based on your preference.
Best Time to Trek
As the high altitude, the temperature difference between day and night can be huge, so warm summer will be the best time to do the hiking. Though summer is rainy and wet, it is the most beautiful and pleasant season, flowers will pave the way for you and you won't feel frozen at night. July is the best recommended, because if you are lucky, you will have chance to join some of the religious events or celebrations in Ganden or Samye.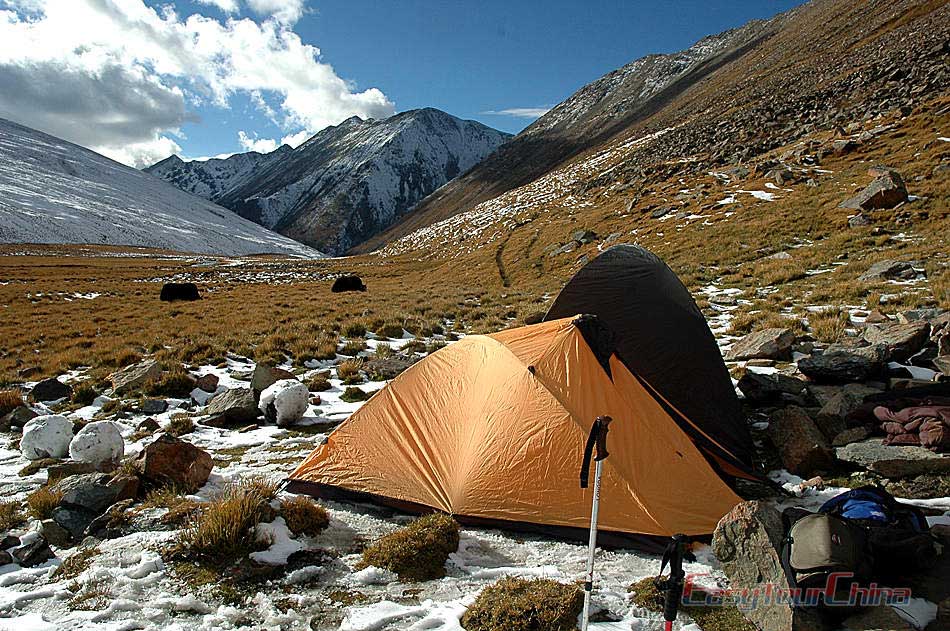 What to Pack
1. You will spend some nights in a tent, so you need to prepare some toiletries, bottle, warm clothe, waterproof coat, bag and camp wares.
2. Professional hiking shoes will make your trip more comfortable.
3. Medicine to treat stomach, cold, small wound and high altitude sickness. Anti-mosquito oil and sun cream are also useful.


Pay Attention
1. You have to confirm you are in good condition without any illness that couldn't do any high altitude activities.
2. Keep away from Tibetan dogs. They won't attack you initiatively, but if you want to play with them and get attacked, the owner of the dog won't be responsible to you.