Best Great Wall Hiking Routes: How to Walk the Great Wall
China Hiking Tips Best Great Wall Hiking Routes: How to Walk the Great Wall
As an old Chinese saying goes, conquer the Great Wall to be a real man. Hiking on the Great Wall of China has become more and more popular and common for professional hikers and normal visitors. With being rated as a new wonder of the world, Chinese Great Wall is now a must-see highlight when visiting Beijing. So why not challenge yourself and witness the miracle of the ancestors? Let's check the top Great Wall hiking routes in Beijing, finding the best fitting you!
>> Recommended Guided China Great Wall Hiking Tours
3-day Great Wall Trekking Camping Tour
Route 1: Jinshanling to Simatai (金山岭-司马台)
Distance: 11km
Hiking time: 5hrs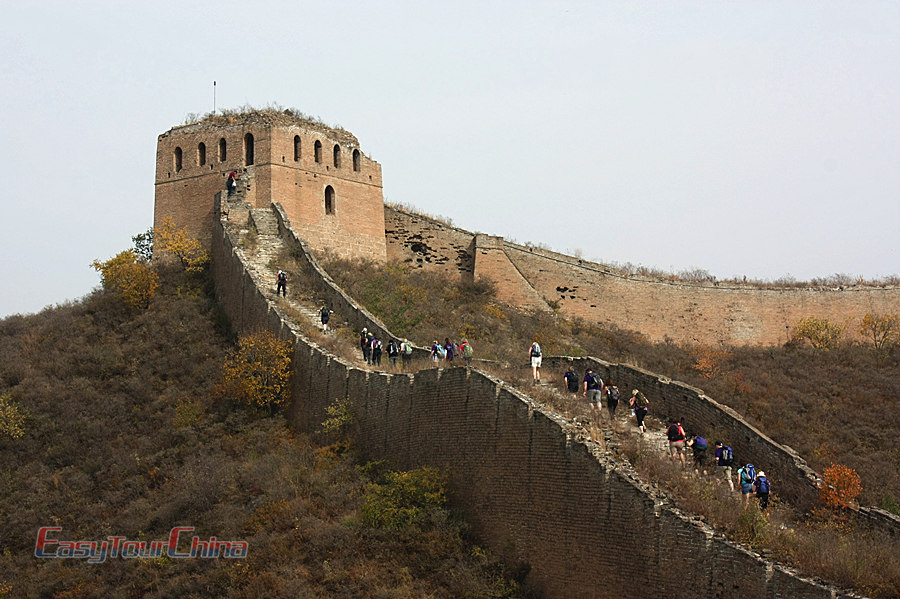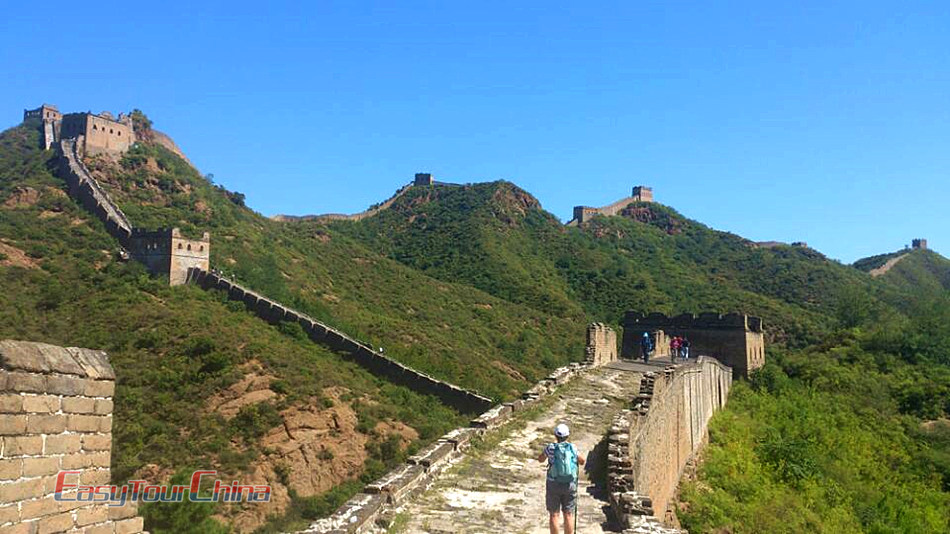 Except Mutianyu Great Wall, Jinshanling Great Wall is one of the most handsome sections; and Simatai Great Wall is the most breathtaking and thrilling one. Hiking from Jinshanling to Simatai Great Wall has become the best route with marvelous sights and exciting challenge.
If you want to walk in original and wild Great Wall, Jinshanling Great Wall is your best choice. Ruined walls, bricks with words carving and stones of resisting horse are the three features here, and have become the paradise of photographic lovers. Some parts are ruined but some are restored; it will be something challenging but safe. You will pass 15 towers and 2 forts on the hiking.
As for Simatai Great Wall, it's well known for its distinctive, unique and thrilling shape. The Great Wall winds along the high mountain's ridge, like a huge dragon on a cliff. With 14 towers lied closely, you have to climb ladders of vertical 85 degrees to get there.
Wild apricots scatter over the hillside; in winter, it's an interesting snow picture, but in spring, it's a lovely view that flowers bloom. With ups and downs, you can enjoy the hiking in this period!
>> How to get there?
Take a coach at Beijing Liuliqiao Station to Chengde, and stop at Jinshanling, walk a while to the starter; or you can take train to Gubeikou Station, and then change a taxi to Jinshanling Great Wall. After the walking, you can take your time relaxing in Gubei Water Town.
Route 2: Around Mutianyu (慕田峪)
Distance: 5km
Hiking time: 2hrs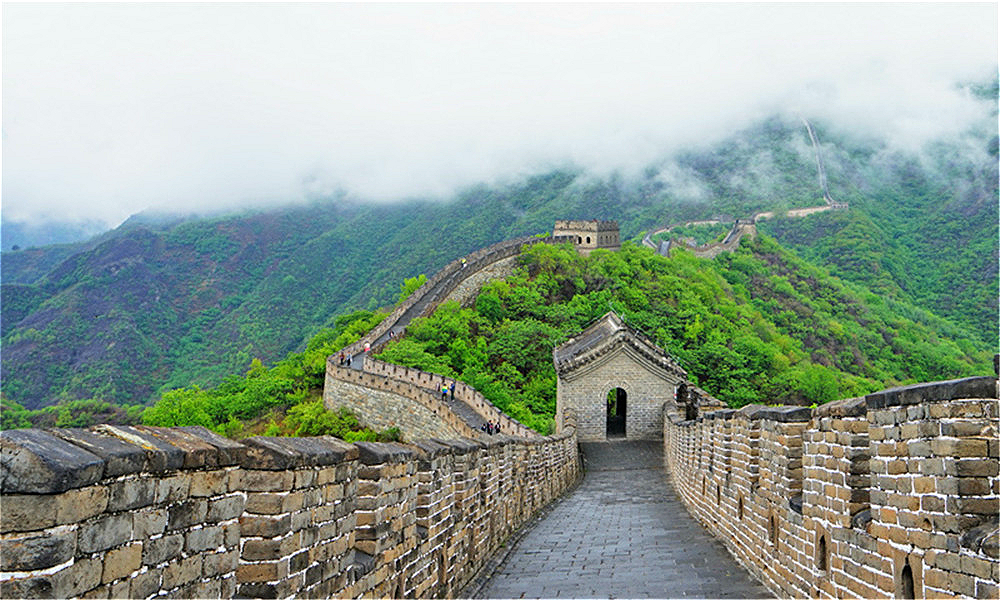 The history of Mutianyu Great Wall can be traced back to the Northern Qi dynasty, much older than that of Badaling Great Wall. Because of its important location of military, it was rebuilt and expanded twice during the Ming dynasty, and now Mutianyu Great Wall is the best-preserved and longest section of the Great Wall, well showing the essence and classic appealing.
It will be easy and enjoyable short strolling in Mutianyu Great Wall. It has been restored and repaired for most part; it won't be difficult to walk with stairs and paving slabs. And Mutianyu section is regarded as the most beautiful Great Wall with high vegetation coverage of over 90%; you can enjoy different colorful views in different seasons.
It's also an ideal place those who just want to catch the sight of the splendid Great Wall; you only need to walk a short period and easily get cable cars up and down.
>> How to get there?
Drop on the Bus H23 or H24 at Huairou District to Mutianyu Huandao Station, then walk for 3km to the scenic spot. There are 2 formal walking routes for hikers, one is north trail from the 8th tower to 10th tower, and the other is south trail from the 6th tower to 8th tower. But you can also find a route to walk the entire period from the gate to the 20th tower.
Route 3: Huangyaguan to East Qing Tomb(黄崖关-清东陵)
Distance: 6km
Hiking time: 3-3.5hrs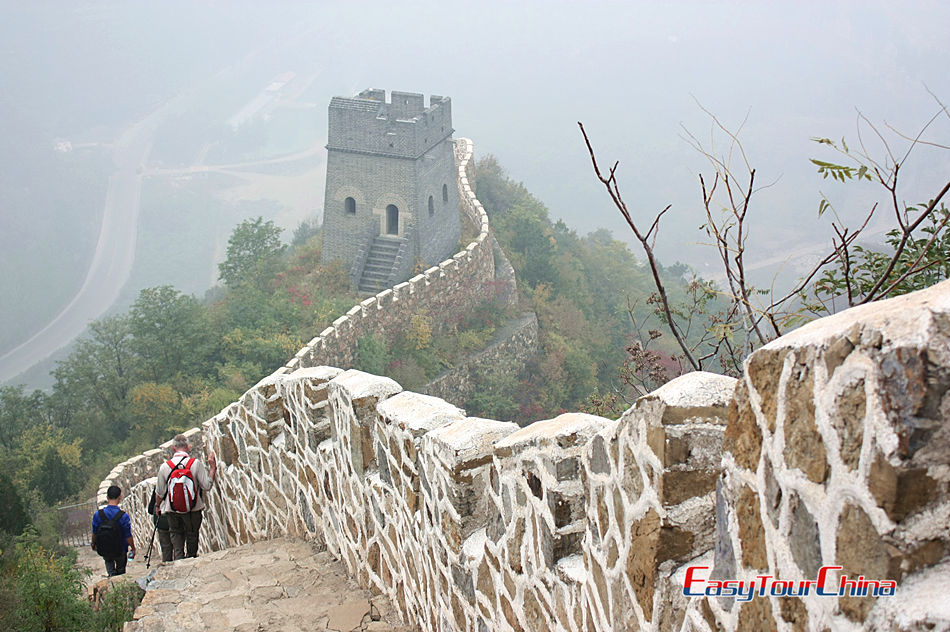 This is easy hiking route that almost every visitor can do because it doesn't have a lot of slopes. Huangyaguan is one of the most important strategic passes in the past, so it was well built, you can learn more design and function about the Great Wall. You can walk through repaired and wild Great Wall at a time.
You can also visit the East Qing Tomb on the way. East Qing Tomb was first built in 1661; it is the largest existing imperial mausoleum complex in China with the most complete system and most appropriate layout.
>> How to get there?
Huangyaguan Great Wall is located in Tianjin, so you need to take a train from Beijing to Tianjin, and then change a taxi to get there. Or you can drive to Huangyaguan Great Wall from Beijing's Hotel, it will take about 3hrs.
Route 4: Jiankou to Mutianyu (箭扣-慕田峪)
Distance: 10km
Hiking time: 5hrs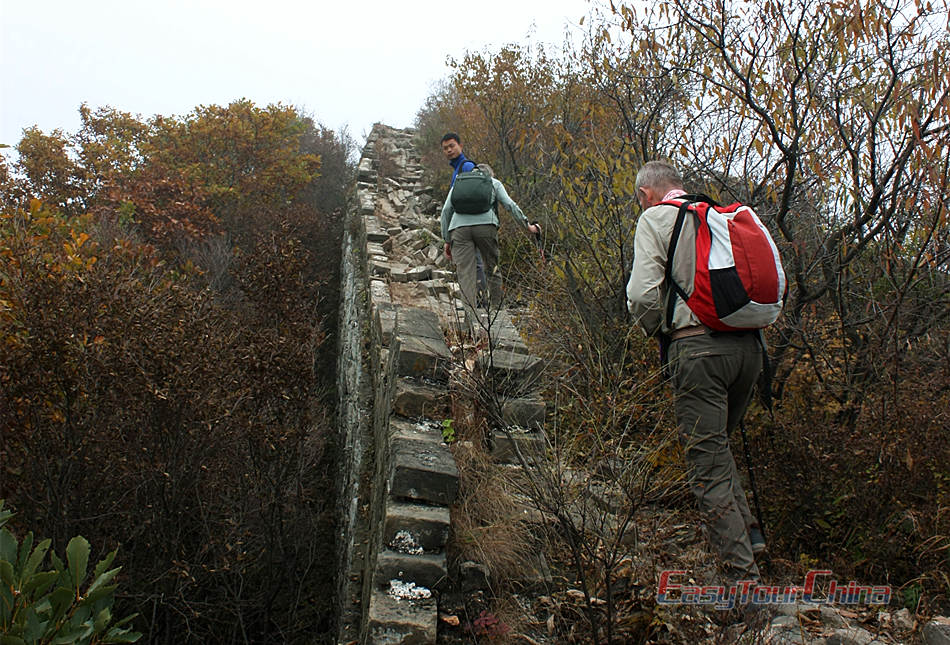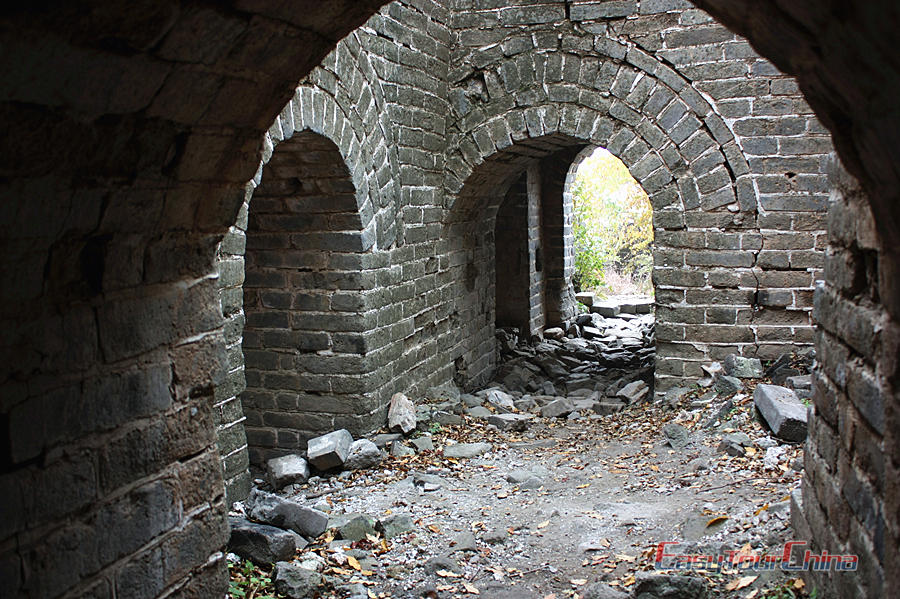 This is a magical hiking route, contenting you with thrilling wild Great Wall and handsome repaired Great Wall. Jiankou Great Wall was first built in Tang dynasty, and expended in Ming dynasty. Because of the steep mountain, the wall of natural weathering seriously, it attracted many explorers. The Great Wall leans against the mountains full of varieties; it got its name for the shape like a bow.
In the south of Jiankou Great Wall, the hills are extremely steep, almost straight up and down vertically, so you'd better hike there with others. In the north, it will be much flatter; you can easily walk to the towers without using hands.
>> How to get there?
Take a shuttle bus from Huairou District to Tianxianyu Village. Walk through Sleeping Buddha Villa and the tea house of Hongzun Fishery; go along the path to the mountain; it's easily to find the right way by following the signs left by former explorers. After nearly 1 hour's walking, you will come to the foot of Jiankou Great Wall. It's the lowest point, called Jiankou(涧口). Passing the first tower, you will come to a half-ruined tower called Little Potala Stone Ladders; some place is vertical, so you have to climb it with your hands. Then you will pass Zhengbei tower and Niujijiaobian in turn, and finally reach Mutianyu Great Wall.
Route 5: Gubeikou to Jinshanling (古北口-金山岭)
Distance: 10km
Hiking time: 5hrs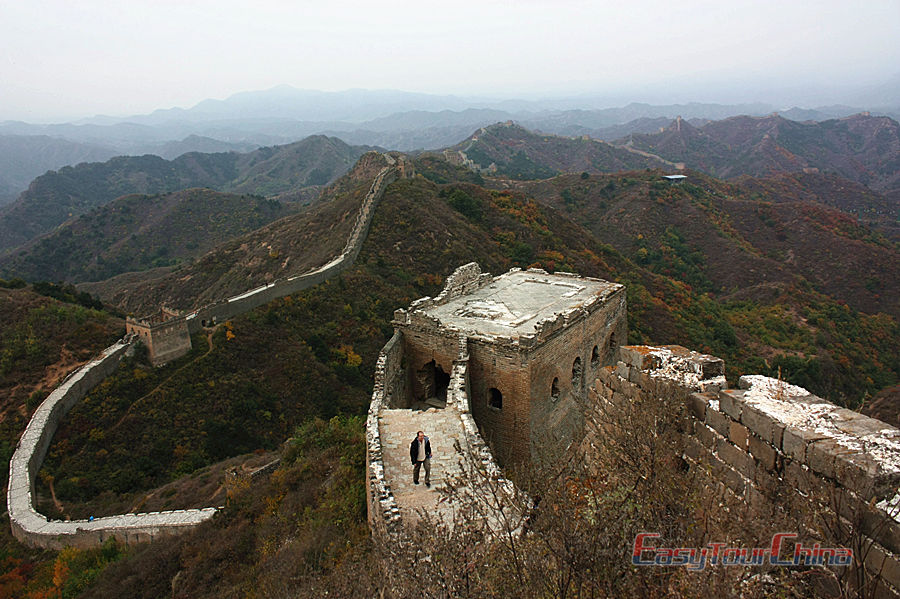 Hiking from Gubeikou Great Wall to Jinshanling Great Wall is an exciting trekking adventure. The mountains in Gubeikou are steep and ridges are craggy. After it experienced war in the Ming dynasty, it hasn't been repaired or restored so far, so it is simply an original and wild Great Wall. The highlights of Gubeikou Great Wall are that there are many historical relics left around. The entire area is full of vicissitudes.
Walk through this historical Great Wall, you will come to Jinshanling Great Wall. It is a half of ruined and a half of repaired, you can you choose the route according to your fitness.
>> How to get there?
Take a coach from Beijing to Luanping or Chengde, and get off when the coach passes by Gubeikou. Or you can take a highway coach to Miyun Bus Station, then drop on a taxi or minibus to the foot of Gubeikou Great Wall. It is a small village, ask the villagers for the way. You will need to go through a corn field first, and then reach the starter. With both hands and feet, let's begin your hiking adventure in Gubeikou Great Wall!
Route 6: Around Wohushan (Crouching Tigers) (卧虎山)
Distance: 8km
Hiking time: 3hrs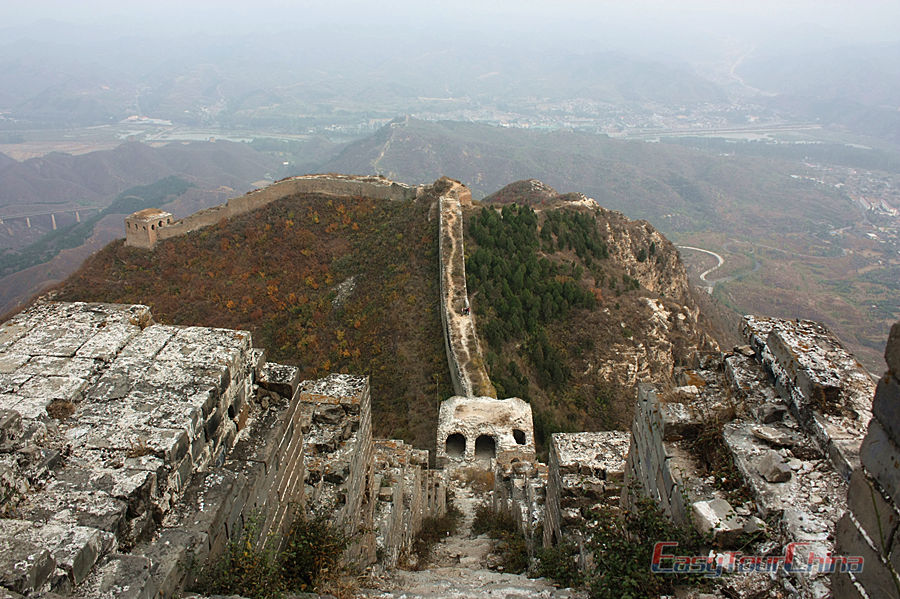 Wohushan (Crouching Tigers) Great Wall was first built in Ming destiny; and there are dozens of cultural relics nearby. On the way, you can visit Lvzu Temple built by Emperor Qianlong, Mosque and an old town, Gubeikou West Village. No less than 10 watchtowers of various shapes and condition is also a highlight in this route.
Wohushan Great Wall is situated on the west of Gubeikou Great Wall. It's the highest section of all the Great Wall, this makes it more magnificent. The entire trail is approximately 8km; the highest altitude is 665.2 meters, relative height of 450 meters. It got its name by the shape of steep mountains and winding trail, looking like a pair of tigers guarding the capital. The view is wider here than that of Simatai Great Wall. When you climb up to the main peak, Wuling Mountain is in the east, hiding in the fog; Ant Hill is in your west; the south is the Miyun Reservoir, peaceful like a mirror; the forest on Tao Hill is in the north…
>> How to get there?
You can start from River West Village, and walk along the goat path for about 40 minutes to get to the top. And hike in the Wohushan Great Wall for 4.8km, it will take 2hrs. In the end, go back to the village.
>> Recommended Guided China Hiking Tours to the Great Wall
14-day China Hiking & Biking Tour Combo from Beijing
16-day China Walking Adventure Tour
You may also be interested in: