The heat is fading, and the cool and pleasant autumn is on its way to embrace us. This is a good time to have a China Hiking Tour.
Perhaps you have already read some recommended common hiking routes on travel websites or travel magazines, such as Great Wall hiking tour, Yangtze Gorges walking travel, Tiger Leaping Gorge hiking trip, Motuo trekking tour, etc. But today, I would like to recommend China's top 10 walking routes to you, which are carefully selected from numerous hiking routes by senior trekking experts. According to their years' hiking experiences, each of trekking trails is breathtakingly beautiful and classic.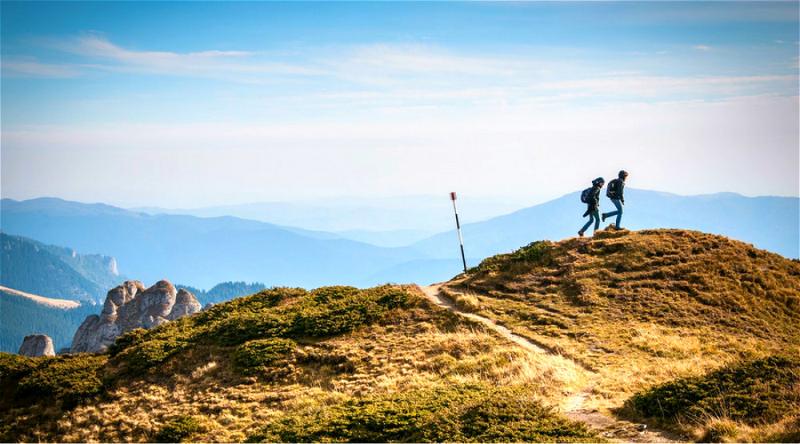 Besides, these walking routes may or may not be tough, and they have their own typical characteristics, generally, there will always be a trail that suits you. And if you can motivate yourself to finish all these 10 walking routes, i bet that you will also become a hiking specialist, eventually!
The following top 10 walking routes are arranged in order of increasing difficulty:
No.1 Li River Walking Tour --- Guilin's Scenery is the Best in the World
Guilin landscape tops the world, but Yangshuo landscape tops Guilin. The essence Li River walking route starts at Yangdi Dock of Yangshuo and ends in Xingping Town. A journey of tens of kilometers can be completed in half a day. Along the way, you can have zero distance contact with nature, feel the real beauty of "Best in the World", and make yourself relaxed from the bottom of your heart.
Recommended China Walking Tour Including Li River:
>China Hiking & Biking Tour Combo from Beijing
Guilin Hiking Tour of Li River and Longji Rice Terraces
Duration: 1 day
Duration: 1 day
Route: Yangdi – Xingping
Difficulty: ★
Landscape: ★★★★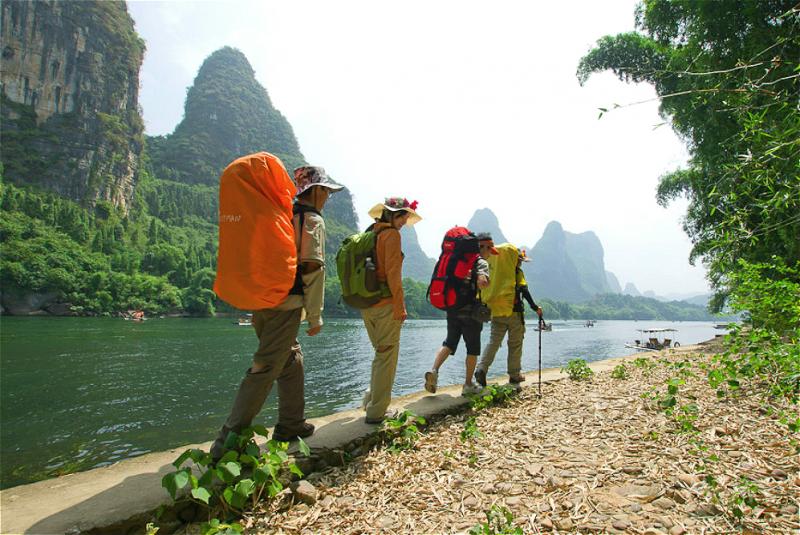 No.2 Xinjiang Kanas Hiking Tour --- Intoxicated in the Romance of Autumn
"Autumn in Kanas is gorgeous!" Everyone who travels back from Kanas will issue such a praise and emotion. The most distinctive highlights of Kanas are the dense White Birch Forests, the crystal clear Kanas Lake and the mysterious Tuva Village. Moreover, September and October are the most beautiful seasons in Kanas. What a perfect time to hike!
The most classic hiking route starts from Jiadengyu, walk through Hemu Village and Black Lake, eventually reaches Kanas Lake. It will take about 3 days to complete this circle trail. You can choose to ride a horse or hire a guide to help you identify the right direction. And the camps are in Hemu Village and Black Lake. Along this journey, the beautiful scenery of Kanas will be fully come in your sight, and you can experience the hardships and joys of hiking.
Duration: 3 days
Route: Jiadengyu – Hemu Village – Black Lake - Kanas
Difficulty: ★★
Landscape: ★★★★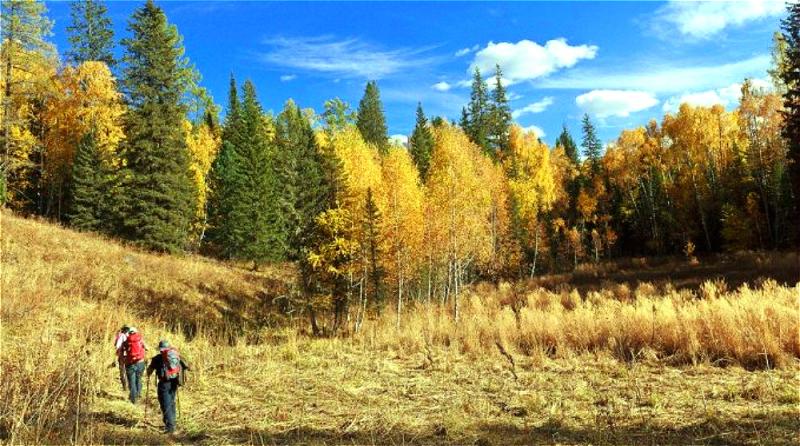 No.3 Taihang Mountain Hiking Tour --- Walking in a Place Where God Loves
Taihang Mountian is a very large mountain range. It spans Beijing, Hebei, Shanxi and Henan, which is an important mountain and geographic boundary of eastern China. The road hangs on the cliff, and the glass bridge on eastern face of Taihang Mountain are waiting you to challenge.
Among all the hiking trails here, Taihang Mountain Grand Canyon is the most wonderful choice. The high mountains and deep valleys formed by crustal movement and wind & rain erosion, giant waterfalls, and rare animals and plants resources will make your hiking tour full of surprises.
Especially the southern part of Taihang Mountain, it looks like a place where god loves. The water resources are abundant here, which formed a rich breathtaking landscape. So you will experience the majesty of northern mountain and the exquisiteness of southern mountain in the meantime in your hiking tour.
Duration: 5 days
Route: Shuangdi Village - Taxus Chinensis Grand Canyon – Mawu Stockaded Village – Baodu Village – Xiyagou – Cross Ridge – Wangmang Ridge – Guoliang Village
Difficulty: ★★★
Landscape: ★★★★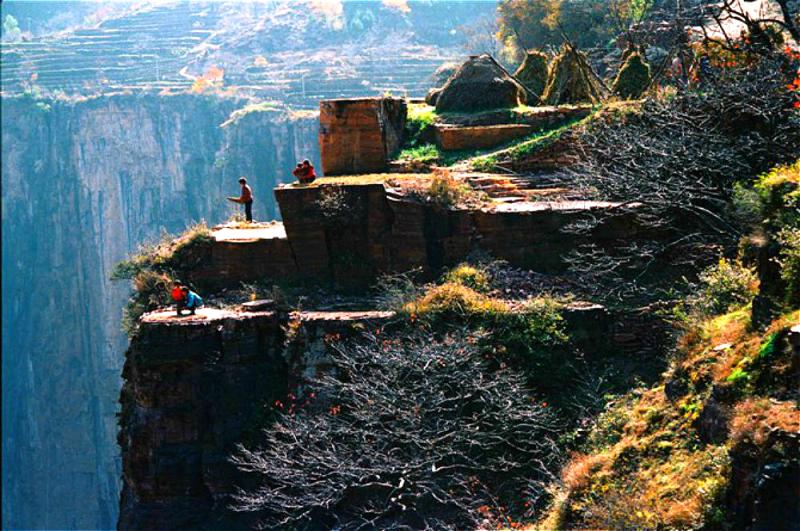 No.4 Four Girls Mountain Hiking Tour --- Alps of the Orient
Four Girls Mountain is famous for its steep and magnificent ridges. Thousands of wildflowers bloom in spring, thick woods and grass in summer, the leaves start to color in autumn, the pure white snow covers everything in winter, and the high meadows are gorgeous throughout 4 seasons, all of these beautiful sceneries here have a kind of Southern European style. No wonder the Four Girls Mountain is known as the "Alps of the Orient".
It is worth mentioning that Four Girls Mountain is not very far from the Downtown, so it will be less tough to hike. The hiking route starts from Rilong Town, walk through Changping Village, Ya Village, Bipenggou. The whole journey will cost you 3 days, which is the best choice for hikers.
Duration: 3 days
Route: Rilong Town – Changping Village – Ya Village – Bipenggou – Li County
Difficulty: ★★★
Landscape: ★★★★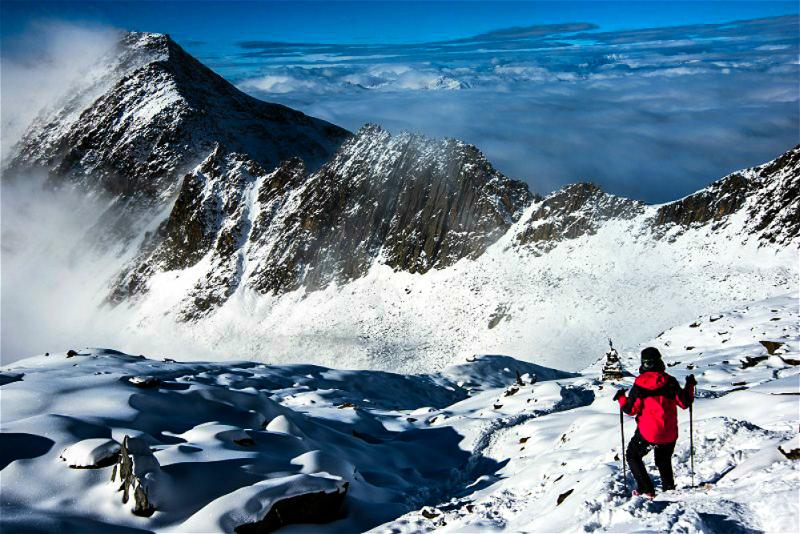 No.5 Kangrinboqe Walking Tour --- A Holy Pilgrimage to the Heart
The Gandise Mountains lie from east to west in the south of Tibet. And Kangrinboqe is the main peak and the highest point (6721 meters above sea level) on the Gandise Mountains, which is also regarded as the center of the world by Tibet Buddhism, Hinduism and the Bon.
While you hike here, you will find that the whole mountain seems to be made of crystal, especially when the sun is shining.
Duration: 2 days
Route: Darchen – Zherepu Temple - Drolma La Pass – Renzhutun Temple - Darche
Difficulty: ★★
Landscape: ★★★★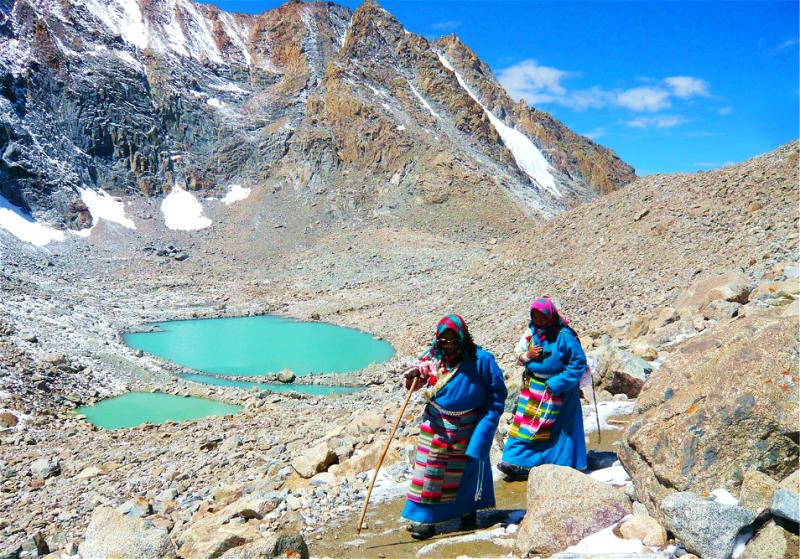 No.6 Meili Snow Mountain Trekking Tour --- A Sacred Mountain in Tibetan's Heart
Meili Snow Mountain is believed to represent the mind emanation of Buddha. Trek around the mountain will not only feast your eyes on the holy views, but also help you relax completely both physically and psychologically.
If you wake up before dawn, you will have a chance to capture the Meili Snow Mountain at its most beautiful moment – the first golden sunlight of day breaks over the dramatic snow-capped peaks. At this time, you will feel your mind so much clearer than ever.
The most trekking route starts from Feilai Temple to Yubeng Village. Along the way, you will encounter breathtaking scenery and have a chance to and experience the Tibetan culture, which will add lots of fun to your trekking tour.
Recommended Meili Snow Mountain Trekking Tour:
Meili Snow Mountain & Yubeng Village Trek Tour
Duration: 4 days
Route: Feilai Temple – Xidang Hot Spring – Yubeng Village – Base Camp – Ice Lake – Holy Lake – Holy Waterfall – Ninong – Xidang – Feilai Temple
Difficulty: ★★★★
Landscape: ★★★★★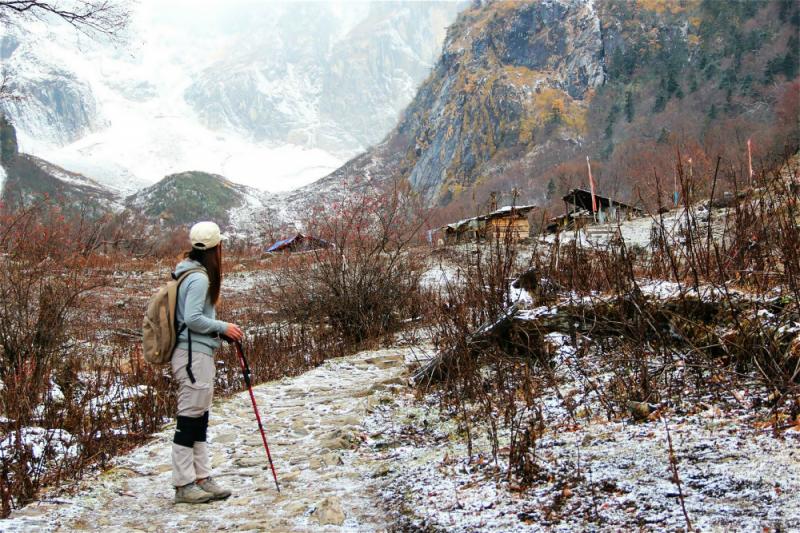 No.7 Trek through Gongga Mountain – Close Contact with "The King of Sichuan Mountains"
Gongga Mountain means "the highest snow mountain" in Tibetan. The main peak is 7556 meters above sea level. And around the main peak are 145 ice-covered peaks, each of them is 5 or 6 kilometers above sea level. What a magnificent sight!
Gongga Mountain is a world famous mountaineering exploration holy land, but it is also the most difficult mountain to conquer. It is much more difficult to reach the summit than Everest. The death rate of mountaineering is far higher than 14% of Everest and 30% of K2, ranking only second to Meri Snow Mountain.
However, this tough trekking tour is full of marvelous sceneries and colorful ethnic customs. For example, the various shapes of ice formed during melting, like ice bridges, ice mushrooms, ice animals, etc. dozens of crystal clear plateau lakes, numerous temples, and unsophisticated local minority culture. So, after you complete this trekking tour, you will find out that the difficulties and challenges on the way are all worth it.
Recommended China Walking Adventure Tour Including Chengdu & Lijiang & Kunming:
Duration: 5 days
Route: Old Yu Wood – Riwuqie Pass - Kung-k'a Temple – Zimei Pass - Shangmuju
Difficulty: ★★★★
Landscape: ★★★★★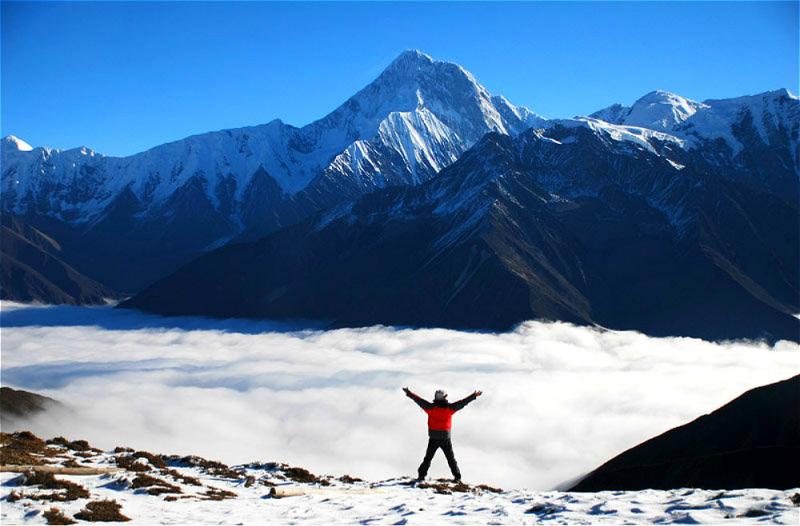 No.8 Xiate Ancient Path Trekking Tour – Cross the Steep Mt. Tianshan
The Xiate Ancient Path starts north from the Xiate pasture of Zhaosu County in Ili Kazak Autonomous Prefecture to south from the Pochengzi of Wensu County in Aksu Prefecture. It connects the north and south of Mt. Tianshan, with a total length of 120 kilometers, which is a shortcut for Ili leading to the southern border, and the most dangerous ancient path on the Silk Road.
On your trekking way, the changing broken glacial lakes, glaciers, ice channels, crevasses, and the tempestuous Muzhaerté River will all be great threats to explorers. Besides, there's also a physical challenge: horses can't pass the small trail, so you have to carry all your backpacks by yourself. In general, this is a total tough trekking tour.
Duration: 4 days
Route: Xiate Hot Spring – Muzhatedaban – Muzhate Glacier – Muzhaerté Valley – Jade Ore - Aksu
Difficulty: ★★★★★
Landscape: ★★★★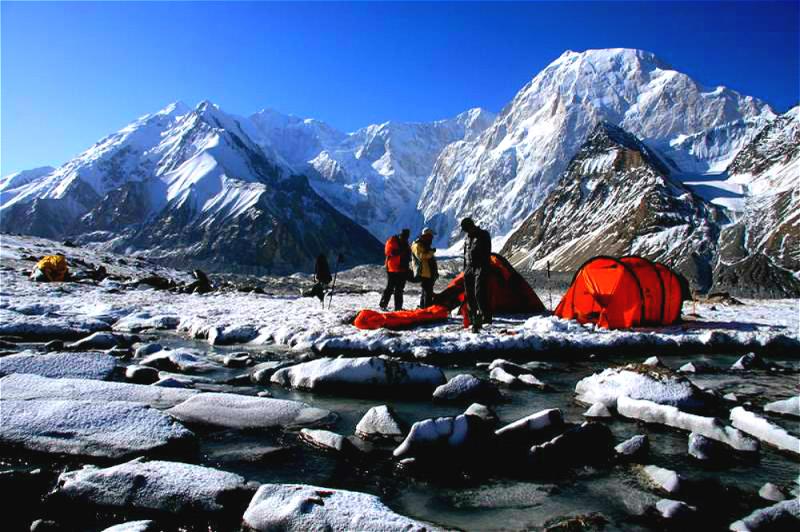 No.9 Namjagbarwa Mountain Trekking Tour – Explore the Most Beautiful Snow Mountain of China
Soar 7782 meters above sea level, Namjagbarwa Mountain ranks 28th of the highest mountain in the world. Its huge triangular peak is covered with white snow all the rear round, mist-shrouded all the time, never show up its real feature easily, so it is also called as "the Shy Girl Peak".
In Tibetan language, Mt. Namjagbarwa has various explanations, like "the burning thunders", "a spear piercing into the sky" and "stone fall from the sky".
While you trekking, you will find that the peak reflects an obvious vertical landform, so you can explore a following sequence of ecological systems from frigid to tropical, which seems so much fun!
Duration: 5 days
Route: Pai Town – Chibai Village – Jiala – Base Camp – Nalacuo – Pai Town
Difficulty: ★★★★
Landscape: ★★★★★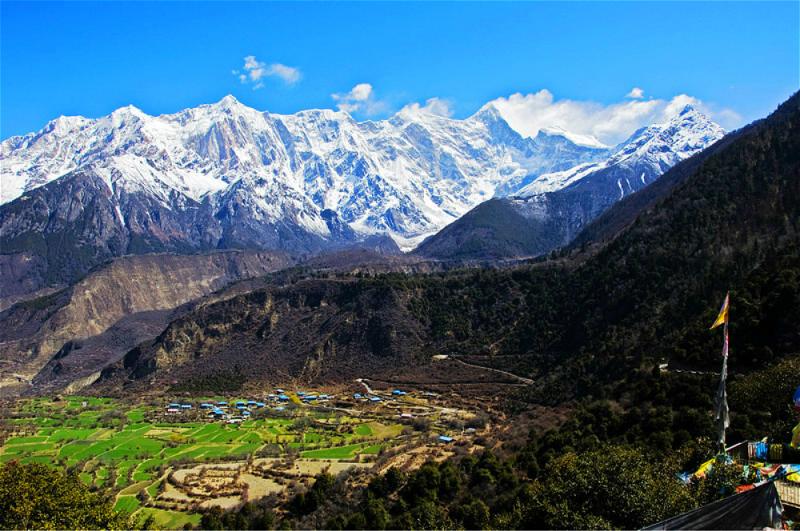 No.10 Eastern Slope of Everest Trekking Tour – Look Up at the Top of the World
Everyone has a desire of reaching the world's highest peak, but mountains of difficulties can hold most people back. That is to say, not everyone can successfully climb onto the peak of the Everest and realize the dream in heart.
Gamagou is considered as the most beautiful valley in the world. There're 3 snow mountains on the upper section of the valley, and each one is over 8000 meters above sea level. They are respectively Everest, Lhotse and Makalu. There're a number of hiking trails for you to choose, but the most worthwhile one is the Eastern Slope of Everest Base Camp Trekking. The whole hiking tour takes 7 days back and forth, and along the way, you will meet a certain degree of challenges while enjoying the gorgeous and varied natural scenery.
Duration: 7 days
Route: Qudang Village – Xiaowucuo – Zhuoxiang – Tangxiang – Oga - Eastern Slope of Everest Base Camp – Cuoxuerenma - Qudang Village
Difficulty: ★★★★★
Landscape: ★★★★★
There're much more China's hiking routes than all those mentioned above. Just choose one that you want to go the most, pack up your luggage and start your wonderful hiking tour!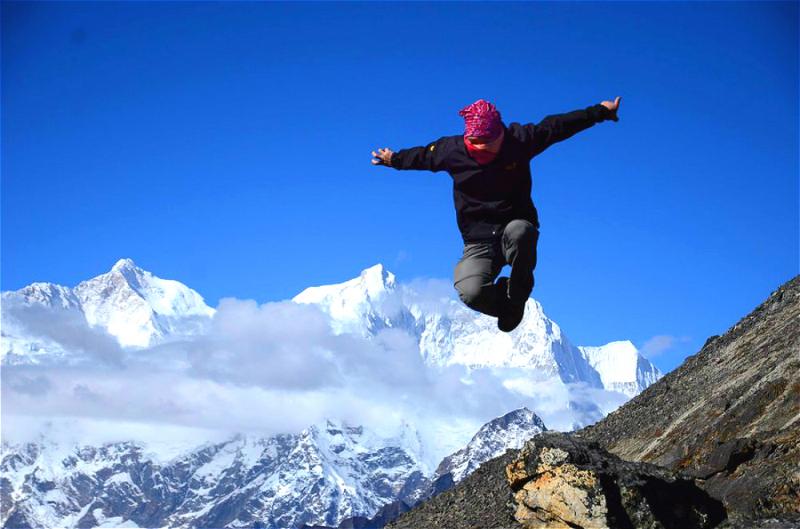 Further Reading: