On an ETC's China tour from Germany, explore venerable Terracotta Army and the Great Wall to piece together the history of a civilization five millennia old.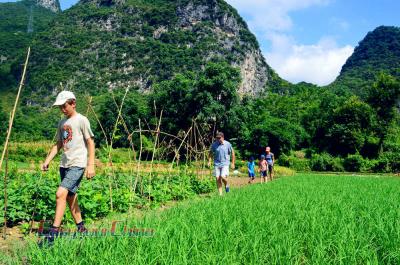 China is a diverse experience for German tourists. The mystique and splendor of China, its history, religions, art and culture, food and natural beauty, have beckoned numerous travellers from Germany, who come unveil the many faces of this ancient oriental kingdom. Let us whisk you to the magnificent Forbidden City and Temple of Heaven in Beijing to delve into China's cultural treasures. Sailing the beautiful Li River or the Yangtze River is truly relaxing and intoxicating. The up-close observation and contact with the giant pandas in Sichuan bring every German traveler fun and happiness. Planning to visit the timeless Potala Palace in Lhasa? Discuss with the destination travel expert of ETC for a tailor-made Tibet adventure.
Rundreise China with ETC, we will customize your trip for real China discovery.
Why a private China tour package with ETC?
Easy Tour China is a pioneer specializing in private China tours since 1999 and has assisted a lot of German travelers in their trips to China. So we understand better your needs, preference and travel style.
Booking a personalized itinerary, you'll get a flexible trip, customized to your departure dates, interests, with hand-picked hotels and restaurants that fit your taste.
We'll arrange for you German-speaking guides in big cities and English-speaking guides in remote areas of China. Our guides are local residents in each destination who are friendly, professional and knowledgeable. Some of them have first aid qualifications after being trained.
We're local agent and experienced insiders in China, meaning you will enjoy special access to the local people, family, back streets, off-the-beaten-track places, unexplored scenery and hidden gems.
Where to go – recommended destinations for German travelers
When it comes to a classic China tour for history and culture experience, travel to

Beijing

,

Xian

and

Shanghai

, the "cultural golden triangle" of China, and visit all big-name attractions and iconic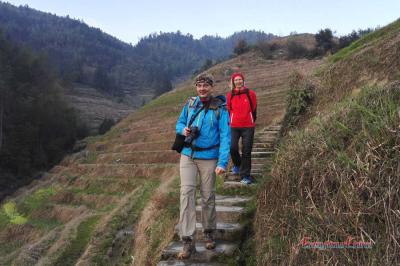 landmarks.

Suzhou

with its classical gardens,

Hangzhou

with the UNESCO-listed West Lake and pristine tea villages, and ancient water towns (e.g. Tongli, Wuzhen, Zhouzhuang) nearby Shanghai, are also highly recommended.
China is a paradise for adventure and hiking lovers from Germany. You will never forget your time spent in

Zhangjiajie

,

Huangshan

,

wild west Sichuan

and

Tibet

, riding through the deserts, glaciers and ancient ruins on

the Silk Road

, hiking Tiger Leaping Gorge from

Lijiang

to

Shangri-La

, rock climbing in

Yangshuo

.
If your interest lies in the minority culture of China, go explore

Guizhou

and

Yunnan

, known as China's minority kingdom, inhabited by over 50 tribes who still retain their original characteristics, showcased in their dwellings, clothes, language, custom, festivals, arts and handicrafts.
Looking for a food adventure to China? It's hard to surpass

Chengdu

, panda's hometown,

Hong Kong

, with a fabulous blend of east and west cuisine, and

Guilin

, where you may take a cookery lesson at local farmer's house.
China Real life experience and thrilling adventures on your China tour from Germany
Hike and camp on the Great Wall of China, watching the sun rise and set, sleeping under the stars, while tracing China's powerful dynasties in history.
A pedicab tour of Beijing winding through the hutong alleyways is a perfect introduction to the traditions, customs and Beijinger's life.
Ride a jeep or sidecar traversing the high-rises of Shanghai to discover the old city areas.
Join the panda volunteer program to be a panda keeper.
Enjoy tea, coffee and local brewed beer at the quaint tea house, unknown café and street stalls.
Join the locals wandering the night market to discover a wide spectrum of street foods, and witness the interesting gastronomic scenes. German travelers should not miss the crispy pork knuckle and homemade sausages in China.
Experience the exciting and trilling glass skywalks in Zhangjiajie.
For an unforgettable family China holiday from Germany, parents and kids are suggested to take some cultural class and active activities, like drawing Beijing opera facial masks, making a mini terracotta warrior, learning Chinese calligraphy/painting, hiking/biking in Yangshuo countryside, bamboo rafting down Li River…
Recommended China Tours from Germany for First Timers
Guided China Hiking Adventures for German Travelers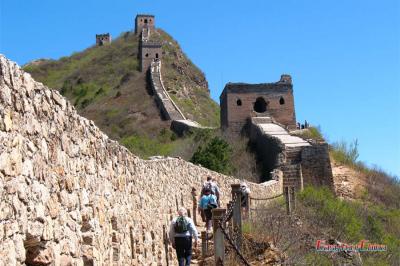 Destinations:
Beijing - Xi'an - Guilin - Longsheng - Yangshuo - Hangzhou - Huangshan - Shanghai
For many German travelers, there's no better way to explore China on foot. Experience the country's culture and nature, as you hike an authentic section of the Great Wall, experience people's life at Longji Rice Terraces, hike Li River with surreal limestone peaks on both banks, discover a tea planation village in Hangzhou, climb the beautiful Yellow Mountain…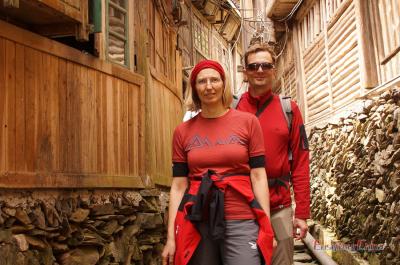 Destinations:
Beijing - Xian - Guilin - Longsheng - Yangshuo - Hong Kong
Travel from the historic capitals of China to the bucolic countryside and back to the bustling, modern metropolis. Hike to reach the iconic architectures, such the Great Wall and Xian old city wall. Hike and bike through rural farmlands and terraced fields to discover hidden villages and meet tribal hill people. Hike Hong Kong's Dragon's back trail is also an exciting experience.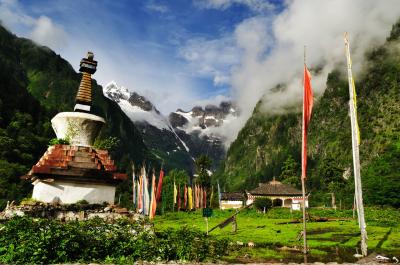 Destinations:
Lijiang - Shangrila - Deqing - Yubeng Village - Cizhong Village - Tacheng - Lijiang
Escape the tourist trails and crowds, and discover the truly hidden trails in Yunnan China – German hikers looking for the wilderness and authentic Chinese towns and villages should never miss this active adventure. After trekking Tiger Leaping Gorge, head for the real Shangri-La and further the remote isolated Yubeng Village. Hike around for Meili Snow Mountain and snub-nosed monkey national park.
Suggested China Culture Adventures for German Travelers
Practical Tips on Tours to China from Germany
China Visa Tips for German Citizens
Where to Apply for China Visa in Germany?

All German passport holders require a visa before travel to China. To make your trip to China from Germany an easy and pleasant one, you are kindly advised to consult the local Chinese Embassy or Consulates-General for the Chinese visa. Ordinary German passport holders can apply for a Chinese tourist visa at Chinese Visa Application Service Center (CVASC) in Berlin, Frankfurt, Hamburg, Munich, Duesseldorf. Please make an online appointment first.

The Chinese Embassy and CVASC in Germany:

◎Embassy of China in Germany
Website: http://www.china-botschaft.de
Email: chinaemb_de@mfa.gov.cn
Add: Markisches Ufer 54, 10179 Berlin, Germany
Office Hours: 08:30-12:30, 13:30-17:00 Monday-Friday
Tel: +49-30-27588-0
Fax: +49-30-27588221

Consular Office
Office Hours: 09:00-12:00, Monday-Friday
Tel: +49-030-27588525 (Manned Service between 15:00-17:00 Tuesday, Thursday), 27588525
Fax: +49-030-27588520

◎CVASC in Berlin
Address: Invalidenstraße 116, Berlin, Germany
Business hours: Monday-Friday (except, Saturdays and Sundays, Chinese and German public holidays)
Application Submission: 9:00AM-3:00PM
Payment and Passport Collection: 9:00AM-4:00PM
Tel: +49(0)30979920000 (9:00AM-3:00PM )
Fax:+49(0)30979920001
E-mail: berlincenter@visaforchina.org

◎Consulate General of China in Frankfurt
Add: Stresemannallee 19-23,60596 Frankfurt am Main
Office Hours: 08:30-12:30, 13:30-17:00, Monday-Friday (except holidays)
Website: http://frankfurt.china-consulate.org/det/

Consular Office
Fax: +49-069- 75085530
Tel: +49-069- 75085543
Note: The above telephones are available between 14:00-16:00 on Monday and Wednesday.
Email: consulate_frankfurt3@hotmail.com
Office Hours: 09:00-11:30 (for submission of visa application, passport, Notarization and Authentication)

Consular Districts: Nordrhein-Westfalen, Rheinland-Pfalz, Hessen, Baden-Württember and Saarland.

◎CVASC in Frankfurt
Address: Bockenheimer Landstraße 51-53, 60325 Frankfurt am Main
Tel: +49-069-26919130
Fax: +49-069-269191350
E-mail: frankfurtcenter@visaforchina.org

◎Consulate General of China in Hamburg
Add: Elbchaussee 268, 22605 Hamburg
Email: chinaconsul_ham_de@mfa.gov.cn
Website: http://hamburg.china-consulate.org/det

Consular Office
Tel: +49-040-82276000 (for Visa)
+49-040-822760 18 (for Passport, Travel Document)

Note: Above telephones are only available between 14:00-16:00 on Tuesday and Thursday.
Fax: +49-040-82276022
Office Hours: 09:00-12:00, Monday-Friday (except holidays)
Consular Districts: Hamburg, Bremen, Niedersachsen, Schleswig-Holstein

◎CVASC in Hamburg
Address: Willy-Brandt-Strasse 57, 5.OG, 20457 Hamburg
Tel: +49-040-323106000
Fax: +49-040-323106001
E-mail: hamburgcenter@visaforchina.org

◎Consulate General of China in Munich
Add: Romanstrasse 107, 80639, Munich
Website: http://munich.chineseconsulate.org/ger/
Tel: +49-089-17301618
Note: Above telephones are only available between 15:00-17:00 on Monday and Wednesday.
Fax: +49-089-17301619
Office Hours: 09:00-12:00, Monday-Friday (except holidays)

Consular Districts: Bayern

◎CVASC in Munich
Address: Lutzstraße 2, 80687 München
Tel: +49-089-58927460
Fax: +49-089-589274628
E-mail: munichcenter@visaforchina.org

Practical Travel Tips for Germans traveling in China
What about drinks?

A: Local tea is commonly served with meals and there is a variety of soft drinks, local and imported beers and wines available for purchase. German travelers should not drink the tap water, bottled water is inexpensive and readily available. If you like a 'cuppa', you may like to bring along a small supply of tea bags, coffee and milk powder. Most rooms have electric jugs or thermos flasks of boiling water to make hot.

What are the toilet facilities like on China tour?

A: All of our hotels picked for your China tour package have western style bathrooms and toilets. Obviously in the more remote areas where some German travelers would like to take an adventure, the guesthouses may be a little more basic, but clean and simple is common. Whilst sightseeing, toilet facilities at restaurants and local tourist sites can vary and we would recommend that you carry tissues, wet wipes or disinfectant gel with you, "just in case".

What should I pack?

A: Casual clothing is appropriate at all times although clothes that are too revealing are still frowned upon in all over China. Try to pack lightly as your trip may involve an amount of personal baggage handling as porters are often not available except in larger hotels. For security reasons it is essential that your baggage can be locked whilst during air transportation between cities. At times, you may not be able to check into your hotel room immediately or be able to access your main bags. To ensure your comfort, a change of clothes in your hand luggage to coincide with local weather conditions is always handy. All personal toiletries should be taken with you and small packets of tissues or wet wipes are recommended. A small medical kit containing medication to alleviate common ailments is suggested. Prepare your hiking boots if you're taking a hiking tour in China.

Clothing suggestion for Germans traveling to China:

Spring (Mar – May) with temperature of 50 - 71.6F: Western suits, jackets, sports coats, woolen jackets, long sleeve shirts and travel shoes

Summer (Jun – Aug) with temperature Above 71.6 F: T-shirts, short sleeve shirts, skirts, sandals, caps, rain wear

Autumn (Sep – Nov) with temperature of 50- 71.6 F: Western suits, jackets, sports coats, light woolen sweaters, rain wear and travel shoes

Winter (Dec – Feb) with temperature Below 50 F: Overcoat, thick woolen sweaters, lined coats; In northern China, cap, gloves and cotton-padded shoes are required

What credit cards can I use?

A: At present the Bank of China accepts Master, American Express, Dynasty, Visa, JCB, and Diners Club cards. German travelers may use these cards to draw cash over the exchange counters in China's banks, make purchases or pay bills at large department stores, restaurants and hotels in more than 100 major cities in China. A surcharge of 2% is always charged for card transactions.

Where can German get consular assistance?

A: In China, the German tourists can obtain consular assistance from the:

◎Embassy of the Federal Republic of Germany in Beijing
Add: No.17, Dong Zhi Men Wai Da Jie, Chaoyang District
Tel: +86-10- 85329000
Fax: +86-10- 65325336
E-mail: embassy@peki.diplo.de

◎Consulate General of the Federal Republic of Germany in Guangzhou
Add: 14/F, Yuehai Tianhecheng Mansion, No. 208, Tianhe Road, Tianhe District
Tel: +86-20- 83130000
Fax: +86-20- 85168133
E-mail: info@katon.diplo.de

◎Consulate General of the Federal Republic of Germany in Shanghai
Add: No.118 Yongfu Lu
Tel: +86-21-34010106
Fax: +86-21-64714448
Website:http://www.shanghai.diplo.de/Vertretung/shanghai/zh/Startseite.html

◎Consulate General of the Federal Republic of Germany in Chengdu
Add: Level 25, Western Tower, No.19, 4th Section, Renmin Nan Lu (Renmin Road South), Chengdu
Tel: +86-28-85280800
Fax: +86-28-85280865
E-mail: zreg@cheng.diplo.de

◎Consulate General of the Federal Republic of Germany in Shenyang
Address: 21/F, China Resources Building, No. 286, Qingnian Street, Heping District
Tel: +86-24 83899100
Fax: +86-24 83899199

Direct Flights from Germany to China
The distance from Germany to China is 7,242 kilometers and it takes around 10 hours to fly between the two counties. Passengers can fly from Berlin, Frankfurt, Munich and Dusseldorf to China. The air carriers are Lufthansa, Air China, China Eastern, China Southern, Cathay Pacific and Hainan Airlines. More direct flights are expected to be opened in the future, so your Germany trip to China will be getting easier and easier.
Departure cities in Germany: Berlin, Frankfurt, Munich, Dusseldorf
Arrival cities in China: Hong Kong, Beijing, Shanghai, Guangzhou, Shenzhen, Nanjing, Shenyang, Qingdao
Looking the best way to book air tickets for your China trip from Germany? Based on feedback from our German guests and our own travel experiences, we've found the following online search engines to be very helpful for investigating and ticketing airfare to and from each of our trips.
Lufthansa: http://www.lufthansa.com/cn/en/Homepage
Air China:
Deutsch: http://www.airchina.de/de/index.html
English: http://www.airchina.de/en/index.html
https://www.wego.com/flights/de/cn/cheapest-flights-from-germany-to-china
https://www.united.com/en-de/flights-from-germany-to-china
https://www.skyscanner.net/routes/de/cn/germany-to-china.html
https://www.farecompare.com/