Jiankou Great Wall is the most famous authentic wild Great Wall in Beijing, and one of the best trails for Great Wall of China hiking tours. It is located in the northwest of Huairou District in the suburb of Beijing, about 30 kilometers away from Huairou County, and Mutianyu Great Wall is just to the east of it. Jiankou Great Wall is located in a steep section of the mountain, which has not been artificially renovated. Due to the serious natural weathering, it has great sense of historical vicissitudes. Jiankou Great Wall is one of the most famous precipitous sections of the Great Wall in Ming Dynasty, many classic publicity photos of the Great Wall were taken here. However, for protection of the cultural relics and safety, tourists are not allowed to climb without the permission of relevant departments. Jiankou Great Wall starts from Nine-Eye Tower in the north and ends at Ox Horn Edge in the south via Beijing Knot, with a total length of more than 20 kilometers.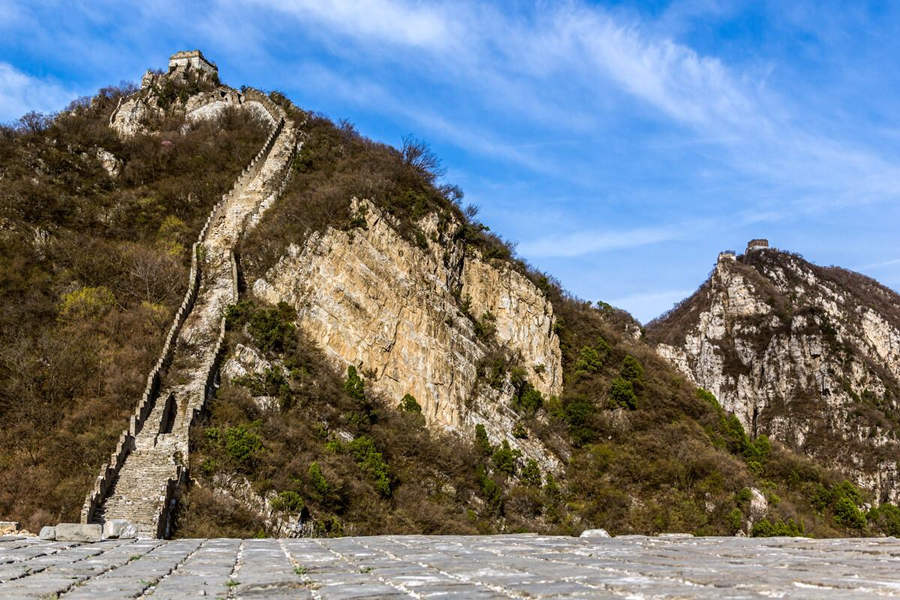 Jiankou Great Wall Facts
-Chinese name: 箭扣长城
-Location: West Zhazi Village, Yanqi Town, Huairou District, Beijing
-Time needed: at least half a day
-Entrance fee: not officially open to public, but local villagers may charge 20 yuan per person
-Suited to: experienced hiker
-Best Time to visit: September to October
7-day China Wild Great Wall Hiking Tour from Huangyaguan to Mutianyu
What to See at Jiankou Great Wall
Jiankou Great Wall can be divided into three sections. The north section is from Nine-Eye Tower to Beijing Knot, the middle section is from Beijing Knot to Jiankou Spot, and the south section is from Jiankou to Ox Horn Edge. The middle part is the most essential part of the view, such as the Beijing Knot, Eagle Flies Facing Upward and Sky Ladder. The south part of Jiankou Great Wall is extremely steep, it almost straight up and down. Famous scenic spots include Little Potala, Zhengbei Tower, Shrink Neck Tower, etc. Little Potala is the most famous scenic spot, which is suitable for photographing the steep terrain of the Great Wall. The north section is much easier, and you can see the magnificent Great Wall without too much difficult trekking. Jiankou Great Wall is a extraordinary place to go for your Beijing tour.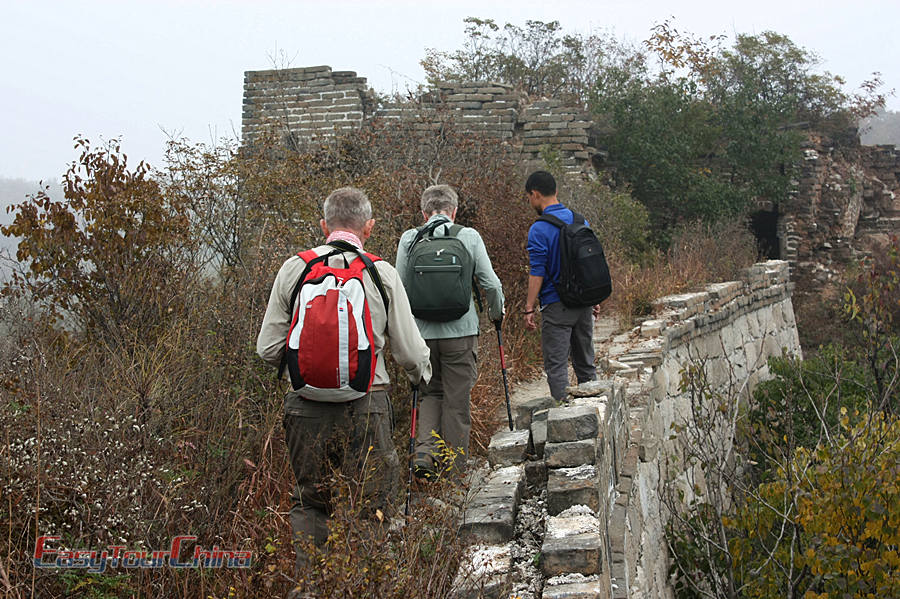 Major Jiankou Great Wall Attraction
Ox Horn Edge
The Great Wall stretches straight from the mountainside to the top of the mountain. After setting up an enemy tower on the top of the mountain, it suddenly descends, turns down to the mountainside, and suddenly rises again until it reaches an altitude of more than 940 meters. It makes a big bend. The shape is similar to the horns of an Ox, and it is vigorous and powerful. People call it "the Ox Horn Edge".
Zhengbei Tower
Zhengbei Tower is the largest and most complete watchtower in Jiankou Great Wall at present. Although it is not the highest watchtower in Jiankou, it is definitely the best viewing platform. However, some physical strength will be required to climb up to Zhengbei Tower because the rough roads. In recent years, many walker will choose to camp in the Zhengbei Tower, or climb up to the Zhengbei Tower for shooting the beautiful sunrise.
Sky Ladder
The Sky Ladder was built on a very precipitous mountain, with angle of elevation is 70 to 80 degrees. The narrowest part is only 60 cm wide and the steps are 40-50 cm high. It is necessary to climb with hands and feet. The more you climb up, the narrower and steeper the road is, you may need to use ropes to ensure your safety.
Eagle Flies Facing Upward
"Eagle Flies Facing Upward" is the most famous dangerous section of the Great Wall in Beijing, people who have been to Jiankou Great will use the word "Eagle Flies Facing Upward" to describe the precipitous and danger of the Great Wall. In recent years, the Jiankou
Nine-Eye Tower
Nine-Eye Tower was originally a square double-layer building, it got this name because there were nine lookout holes on each side of the watchtower. It is also called Wangjing Tower because people can see Beijing city on it on a sunny day. Nine-Eye Tower has only one floor now, which is around 7.8 meters high and 13 meters on each side. The lookout hole is 1.65 meters high and 0.5 meters wide, and there is a 1.2 meters wide circular path for soldiers to visit. Nine-Eye Tower is not only the largest watch tower on Great Wall, but also has very important strategic significance in military defense. At present, there are still relics of stove and living room, and there are relics of horse farm, horse drying farm and military camp nearby.
>> You may also be interested in The 13 Best Places to Visit the Great Wall of China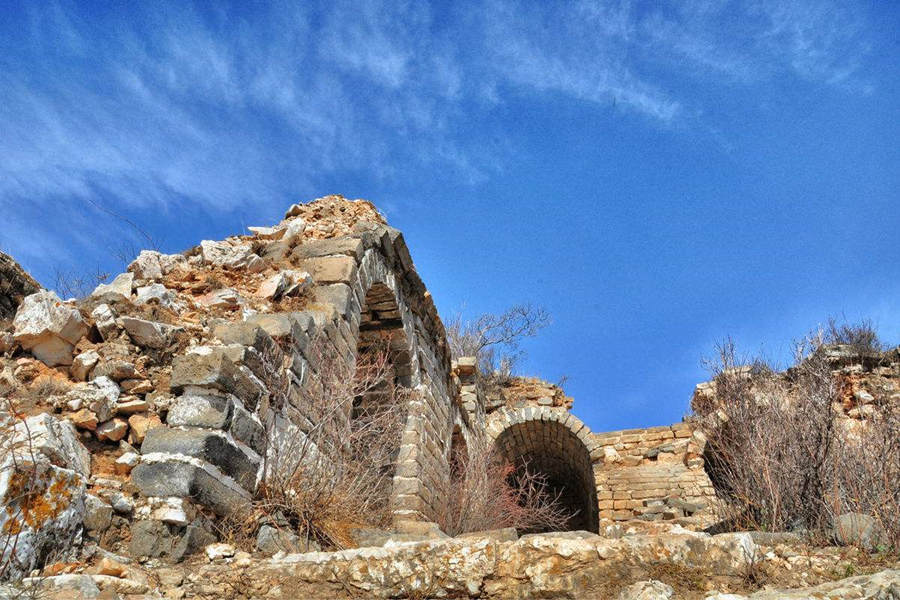 How to Get to Jiankou Great Wall
1. Bus: Take No.916 bus from Dongzhimen Hub to Huairou North Avenue (Huairou Beidajie), From there, change to bus No. H36 bus to Tianxianyu and then walk to the entrance to Jiankou Great Wall.
2. Private car: Easy Tour China can arrange private Beijing trip to Jiankou Great Wall which will be more comfortable and convenient.
Further reading
Recommended China Tours Including Jiankou Great Wall Beijing