Beijing Cuisine
People also call Beijing Cuisine the Capital City cuisine. Beijing was the capital city for the Liao, Jin, Yuan, Ming, and Qing dynasties. Except for the Ming Dynasty, all the rulers of these dynasties were from northern nomadic tribes. For those 500- plus years, the dishes available from Beijing's catering trade were dominated by meat dishes, which corresponded to the eating habits of the ruling class. The Mongolian rulers of the Yuan Dynasty were especially fond of mutton, and 80% of the dishes in their palace were made of mutton. These meat dishes still are made today, like the most famous Dong Lai Shun Hot Pot Mutton, Kao Rou Ji Restaurant (barbecue).

The Qing Dynasty rulers ate pork before moving to Beijing from Shenyang in northeastern China. Their cooking methods were stewing, roasting, and boiling. Pork and mutton have been equally represented in Beijing cuisine since the Qing Dynasty as a result of the dietetic influence of the Manchu. Roast and stewed pig, pork dishes, and pig's offal stewed in ceramic pots offered by the Shaguoju Restaurant (ceramic pots restaurant) were the first to be offered to suit the eating preferences of the Manchus.
Beijing cuisine is famous for its hundreds of dishes with special flavors that are unmatched by any other cuisine. Beijing cuisine does not emphasize on strangeness or uniqueness, only delicious food made from common ingredients with tastes that are very agreeable.
Beijing was the gathering place of the literati and officials, and many skilled chefs followed these people to Beijing. These chefs brought the different cuisines to the capital and greatly enriched the flavors of Beijing cuisine. The Shandong, Huai-Yang, and Jiangsu-Zhejiang cuisines all strongly influenced Beijing cuisine.

• The quick-frying techniques of the Shandong cuisine and its use of onions greatly influenced Beijing cuisine. For example, quick-fried mutton, a popular, common dish, is a typical Beijing dish that uses the cooking skills and flavoring methods of the Shandong cuisine.

• Literati and officials placed high expectations on restaurant food, and many even created dishes. The chefs in Beijing all boasted of being able to create the dishes of the southern cuisines.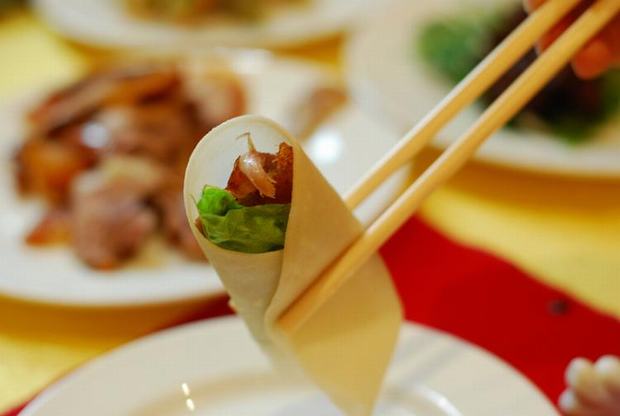 Beijing Local Specialty Foods and Dishes

The most famous Beijing dish - Peking Roast Duck was originated at that period. Quanjude Roast Duck Restaurant founded in 1864 is the best place to enjoy the delicacy. >> Find more Roast Duck restaurants in Beijing
Noodles with soybean paste: a traditional Chinese noodle dish and an iconic food of Beijing. It is now popular in Beijing, Tianjin an Heibei Province.
Deep-fried dough stick (jiaohuan) is an authentic breakfast in Beijing, and a perfect match for fermented soya-bean milk. For breakfast, many old Beijingers like to drink bean juice, eat jiaohuan, together with a small bowl of small pickles.
Sesame buns is a traditional buns and a favorite flavor of the old Beijing.

Cooked tripe of sheep or swine can be dated back to the reign of Qianlong Emperer of Qing Dyansty and are mostly sold by Hui people in Beijing in the late autumn and early winter.
Sugar-coated haws on a stick is a famous candied fruit to eat on winter and spring nights. You're suggested to buy it from the street Vendors.

Stir-fried pig's liver is a famous snack of Beijing breakfast and a unique culinary treat. Every morning, the shop that sells fried liver is numerous and everywhere.

>> Recommended 5-day Beijing Food Tour - Eat Like a Local Beijinger

Popular Beijing Food Markets and Streets
Guijie in Dongzhimen - This is the capital's most famous food street, and was initially formed in 1997. As the street became more popular at night, the people called it "ghost street". Spicy dishes such as spicy crayfish and spicy meat crab are the most popular foods of Guijie.The street, no more than 1.5 kilometers long, is packed with nearly 200 restaurants of different styles and tastes, offering you an authentic taste of the country's eight major cuisines.
East Square - "Big Food Generation" Food Street - There are all kinds of foods and snacks from home and abroad, from ice cream, candy, Ajisen Ramen, masabi, Korean barbecue, etc.
Xingba Road Food Street (also a bar street) - The restaurants opened by some celebrities are very popular there. In addition, there are Sichuan and Yunnan restaurants, as well as a variety of Japanese cuisine, Korean cuisine, and southeast Asian cuisine, Italian cuisine, African cuisine restaurants.
Fangzhuang Food Street - The famous restaurants which have stores in the busy areas have branches here.The restaurants here are special and diverse, with both Chinese and western foods.
Qianmen Food Street - Qianmen street has a collection of the capital's many time-honored restaurants. Although the popularity of this place is not as hot as other food streets, it represents the food culture of Beijing, and a must-visit place for travelers.
Beijing Restaurants Guides for Muslim, Indians & Vegetarian

Muslim Restaurant:
Hongbinlou Restaurant
Add: 82 West Chang'an Ave.

Tel: 86-10-6603 8460

Hongyunlou Restaurant
Add: A2 Hujialou Beijie

Tel: 86-10-6506 3291

Kaorouji Restaurant
Add: 14, Qianhaidongyan, Di'anmen Dajie

Tel: 86-10-6404 2554

Muslim Baikui Century-old Restaurant
Add: 158 Jiaodaokou Dajie, Dongcheng District

Tel: 86-10-6404 096

Muslim Mansion Restaurant
Add: B5 Dongheyan, Andingmenwai, Dongcheng District

Tel: 86-10-6426 2990

Indian Restaurant:

The Taj Pavilion Indian Restaurant
Add: China World Trade Center, L-116 West Building, #1 Jianguomenwai Dajie
Tel:( 86-10) 65055866/65052288 (Ext: 80116)
Fax: (86-10)65055866

Tandoor Indian Cuisine (Inside Zhaolong Hotel)

Add: #2 Gongti Beilu, Chaoyang District

Tel: (86-10) 65972211 (Direct)
65972299 (Ext: 2112)
Spices
Add: 2/F New World Courtyard (near Marriott Beijing), # 3C Chongwenmen Wai Street, Chongwenmen District, Beijing

Tel: (86-10)67081188 (Ext: 2210)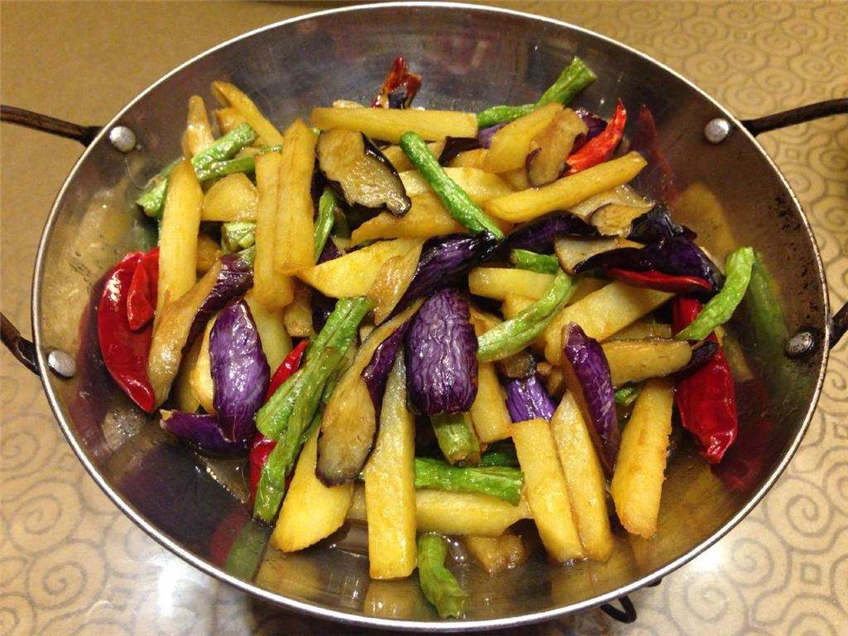 The Taj Pavilion

Add: Holiday Inn Lido, Lido Place, Level-3, Jiachang Road, Jiang Tai Road.

Tel: (86-10) 64367678/64376688

Fax: (86-10) 65055866
Omar Khayyam

1/F Chengyuan Plaza,

#9 Jianhua South Street (Opposite Friendship Store), Jianguomenwai

Tel: (86-10) 65675311/65675364

Mirch Masala
Add: 60-2, Nan Luo Gu Xiang, Dongcheng District

Tel:(86-10) 64064347

Vegetarian Restaurant:

Gong De Lin Vegetarian Restaurant

Add: 158 Qianmen Nandajie

Tel: 86-10-6702 0867
Pure Lotus Vegetarian
Add: 6 Jiangtai Rd, Chaoyang, Beijing, China
Tel: +86 10 6437 6688
Bodhi Vegetarian
Add: China, Beijing Shi, Chaoyang, Jiuxianqiao Residential District
Jiaheyuan
Add: Deshengmen W St, Beitaipingzhuang, Haidian District, Beijing, China
Tel: +86 10 6226 1846
Lin's Dining Lounge
Add: 2/F, New Grand Dynasty Hotel, 58 Maizidian Street, Chaoyang District, Beijing.
Tel: +86 10 6500 6266
King's Joy
Add: 2 Wudaoying Hutong, Dongcheng District
Tel: +86 10 8404 9191