Beijing with Kids: Top Things to Do & Family-friendly Activities
China Family Travel Tips Beijing with Kids: Top Things to Do & Family-friendly Activities
The modern and ancient capital of China, where history can be felt at every turn, Beijing is a perfect destination for family with kids of all ages. You will feel lucky enough to travel to Beijing with kids, as the city has all the ingredients for a knowledge-widening and fun-filled family holiday: admire the timeless history icon - the Great Wall, plus Great Wall hiking that keeps energetic teenagers happy; at Forbidden City, listen to the fantastic or pathetic stories of Chinese emperors; and discover the many flavors of local cuisine and snacks.
So if you're planning a Beijing family tour, and eager to know top things to do in Beijing with kids, see below our recommendations.
1. The Great Wall: Walking, Picnic, Camping, Sunrise/Sunset
When you think of the Great Wall, you think a magnificent historical military engineering. Actually it is much more than that, and offers a unique, huge playground for children. For one hand, it reveals to parents and kids the three-thousand-year-old Chinese civilization, and for the other hand, there are so many family-friendly activities to do on the Great Wall.
A, Walking/hiking -- best for family with teenagers. The suggested sections are Mutianyu and Jinshanling, with less tourists, light/moderate intensity and great views. Walk on the giant Great Wall on the mountaintop and view the world from another prospective.
B, Picnic. It is super cool to have a picnic inside a beacon tower of the Great Wall. Enjoy the yummy foods and snacks, while savoring up the nature and history.
C, Camping on the Great Wall and watching the sunrise/sunset promise unforgettable happy family vacation in Beijing.
D, Mutianyu toboggan -- a slide down brings fun and excitement for kids.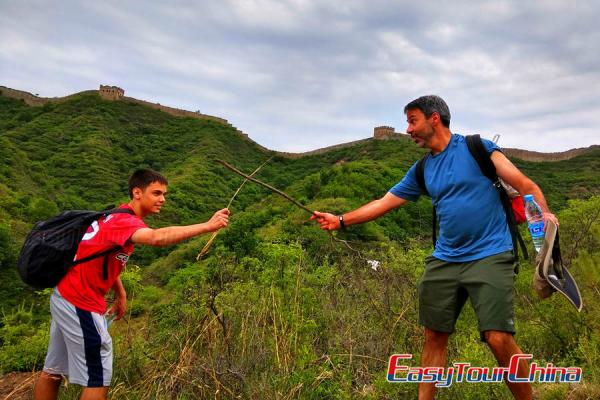 2. Forbidden City & Jingshan Park
While Beijing has an infinite number of historical sites, Forbidden City is the most famous and interesting one. For a family vacation in Beijing with kids, Forbidden City, or named Palace Museum today, is where you and children can enjoy the treasure hunting game -- there are numerous valuable cultural relics, let alone the architecture of the palace itself. The boys must be very interested in the kings' story, while the girls may be enchanted by the imperial concubine's lifestyle.Outside the Forbidden City, walk for minutes and enjoy a bit of hike up the Jingshan Park, and find a small temple on the top, and get a full view of Forbidden City.
Tips: it is suggested to visit Forbidden City in the afternoon, especially if you travel with kids, since there are normally less tourists and less busy, therefore, making your visit more enjoyable.
3. Hutong Walking Tour
A relaxing walking tour through hutong lanes crisscrossing the old Beijing areas makes for a perfect Beijing tour with kids. There are a lot to see, experience and play: buy a little dress at one of the small shops, visit the traditional quaint courtyard houses, and learn Chinese painting / calligraphy /paper cutting; outside the courtyards, the local seniors chat together and play chess; your children may also learn to play diabolo (Chinese yo-yo, a traditional Chinese game), - definitely a kid-friendly activity.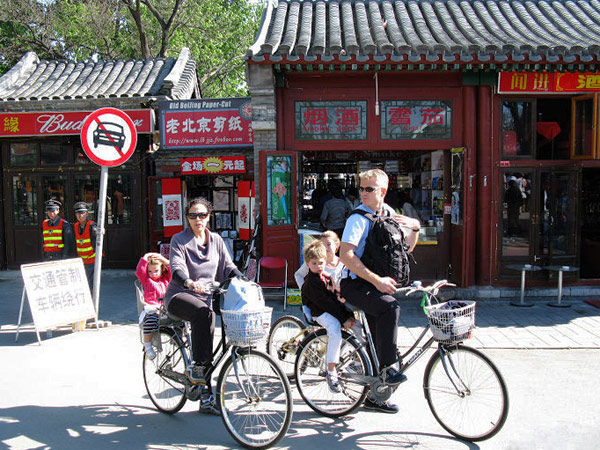 Apart from the cultural experience, your family are also encouraged to sample the traditional breakfast at the historical neighborhood of hutong, such as soybean milk and fried bread stick, fried pancake, steam bun…
Enjoy more foods like locals if you travel in Beijing with kids. In addition to the breakfast, there are more local delicacies to taste, such as the sugar coated haws on a stick, Beijing Roasted Duck, noodles with fried bean and meat sauce, shredded pork with sweet bean paste, etc., -- which are all kid-friendly foods.
However, be cautious about the street snacks such as Chinese BBQ, as some of the food material may not be fresh enough, and not friendly to the weak stomach of a child.
5. Temple of Heaven: Flying Kites, Tai Chi Exercise
A holy temple for the kings to offer sacrifices to gods of heaven and earth in Ming and Qing Dynasty, the marvelous architecture clusters of Temple of Heaven today gathers local common people, who do morning exercise, dance, play chess and practice Tai Chi in the park. For your family trip of Beijing, there are also family-friendly activities. Flying kites will surely cheer up kids. And learning from a master to practice Tai Chi unveils the parents and children the secrets of Chinese Kung Fu.
6. Kung Fu Night Show
Every boy, and even girl, has a Kung Fu dream. So after Tai Chi training, now it is time to witness the miracle of Shaolin Kung Fu, known as the origin of Chinese martial arts. The Kung Fu show on the Beijing Red Theater has the real monk masters from the Shaolin Temple to show their skills. Both parents and kids will be amazed and fascinated by the Shaolin Kung Fu moves, strength and grace.
Beijing Red Theater:
Tel: (+168) 010-67142473
Add: 44 Xingfu Street, Dongcheng District, Beijing
7. Boating at the Summer Palace
West of Beijing city center, established beside the Wanshou Hill and Kunming Lake Summer Place was a scenic palace for the imperial family to cool off in summer back in the day. You and kids can enjoy a bit walk up and down to take in the views of islets, temples, pavilions, towers and visit historical halls, which make up "the Museum of Royal Garden". The best thing for a family holiday with kids at the palace is the boating trip on Kunming Lake, which is also amazing for pictures. In winter, when the lake is frozen, there are more kid-friendly activities, such as skiing, local style dogsleding.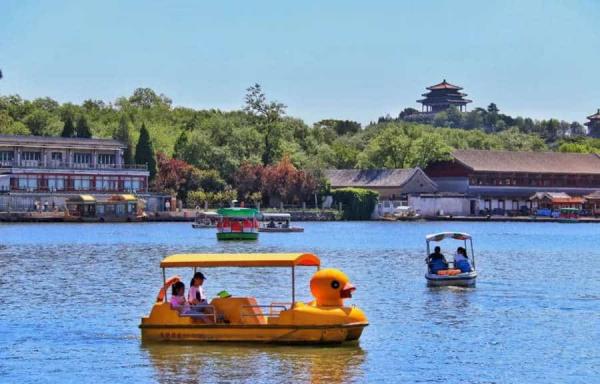 8. Beijing Zoo
It is one of the best things to do with kids in Beijing. The zoo is one of the biggest zoos in China, with the largest number of animals. Giant pandas are definitely the stars at the zoo, and make a good substitute if you don't go to the giant panda bases in Chengdu. But try to get there early, as they are quite an attraction, and busy.
9. 798 Art District
Converted from old factories, 798 has become a new artistic and cultural icon, and also a top thing to do in Beijing with kids. There is a massive contemporary art galleries, artists' studios, design companies, etc, with inspiring masterpieces of art, which combines traditional Chinese culture, historical elements and modern art. The kids will love to wander around to see what kind of interesting/odd/fantastic treasures they can discover.
With the cafes and restaurants at the district, you can always take a rest, enjoy some foods and drinks, and then continue your exciting family trip.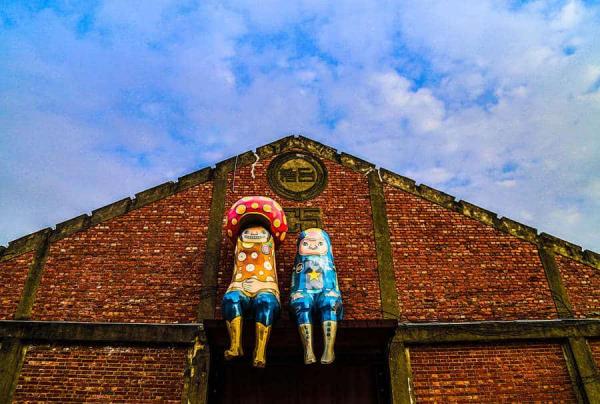 Further reading: