Right next to Splendid China, the folk culture park dazzles with the histories and mysteries of the country's ethnic groups. Scattering around the 180,000-sqm park are 24 villages built in 1:1 ratio, inhabited by real ethnic people who present their traditional arts, customs, languages and cuisines. Traditional culture performances are held there every day.
In the villages, you will have the chance to see the typical architecture of ethnic minorities and join them in celebrating various festivals. Also, In the China Folk Culture Village, you will be attracted by the folk dances, ethnic snacks and handicrafts. There are many souvenirs of diverse designs that you can choose from.
Coming at right time, you will have the chance to experience some of the unique festivals of the ethnic groups, such as the Water-splashing Festival, Dragon-boat Contest, Torch Festival, Knife Bar Festival, etc. A leisure strolling around the villages will surely reward you with a greater understanding of the culture of Chinese ethnic groups.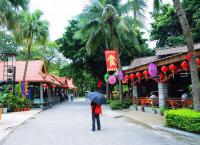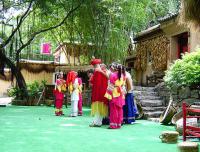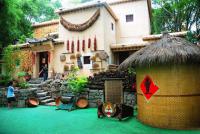 More Attractions in Shenzhen
Recommended China Tours Including China Folk Culture Villages Shenzhen