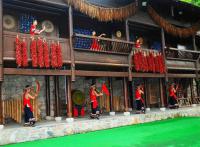 Best Travel Time Shenzhen
Around 1 hour from Guangzhou by train, Shenzhen shares the same subtropical marine climate with Guangzhou. Weather in Shenzhen is mild with plentiful sunshine and rainfall all the year round. Generally speaking, May to December are the months which are influenced by typhoons, so the best travel time to Shenzhen is really October to April next year.
Shenzhen Safety Tips
Shenzhen is a rather safe city and the main crimes are pick pocketing and scams. Be careful in crowded shopping centers, subway trains, buses, stations and around the scenic spots.
Be alert for people who touting for business, massage, watches, shoes or even taxi service.
Watch out the both sides when crossing the street, even the green lights on
Shenzhen Shopping Tips
Shenzhen is not a good tourist city to buy traditional crafts or souvenirs, but it is a nice destination to find basic commodities to high quality brands. Electrical appliances, fashionable and reasonable clothing, jewelry and seafood are some of the best choices for you to buy in Shenzhen.
Eating at Shenzhen
Shenzhen cuisine are similar the same in Guangzhou, featuring the characteristic of Yue Cuisine; when traveling in Shenzhen, try to morning tea as well as delicate dim sum, and taste some Cantonese dishes. But these are not the only choices you got; in fact, hot and spicy Sichuan dishes, cold dishes of northeast china even Japanese and Thai food are booming in Shenzhen city.
Where to eat in Shenzhen? Check the recommended Shenzhen restaurants.
Nightlife / Entertainment in Shenzhen
Bar and clubs are popular within young locals and many of them relaxing and spend night time in this way; Shenzhen has two famous streets noted for their large number of bars and clubs. One street is located in Huaqiao City. The bars on this street are popular with young people. The other street is located in the Sea World Square of Shekou District of Shenzhen. There are more than a dozen bars and cafes here, many of them catering to foreign visitors.
Shenzhen Festivals
China Electronics Fair is the largest and most comprehensive exhibition of information industry in China. Held in April 9-11th in Shenzhen, it is a great venue to witness the transition and development of China's electronics and information industry.
Shenzhen Litchi Festival is held on June 28th to July 8th every year; it is the most interesting and popular festival in Shenzhen, with various activities themed with litchi. And the locals will gather and pick the ripe litchi at the litchi park nearby.
Recommended Shenzhen Tours