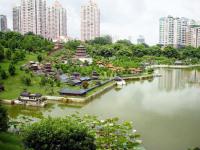 Shenzhen is a coastal city, close to Hong Kong, in South China. Its longitude lies between 113.46 and 114.37 degrees east, and its latitude is between 22.27 and 22.52 degrees north, with a total area of 1,952.84 square kilometers. Sitting south of the Tropic of Cancer, it is in the south of Guangdong Province. Demarcated from Hong Kong by Shenzhen River to the south, it is bordered by Dongguan and Huizhou to the north, Daya Bay and Dapeng Bay to the east, and Lingding Sea and the mouth of the Pearl River to the west.
Shenzhen has a 230-kilometer-long coastline rich with maritime life and products. To the east lie the popular beach resorts of Dameisha, Xiaomeisha and Dapeng Bay. To the west lie scenic areas, including Mangrove Nature Reserve, Inner Lingding Island, and Water Resort. Shenzhen has a beautiful, natural environment. The green area of the city, with 16.01 square meters of greenery per person, covers 45 percent of the urban area. Forests cover 47.6 percent of the city's total land area. The city has 442 parks totaling 240.40 hectares.
As Shenzhen embraces the world, concomitantly it is becoming internationalized. As China's first special economic zone, Shenzhen began to open up to the rest of the world in 1980, becoming one of the country's major channels of communication with the outside world. Shenzhen has 17 sea, land and air ports, including China's largest land passenger port and land cargo port. In 2011, the 26th Universidad will be held here, which will make Shenzhen the youngest city in history to host the Games.
Shenzhen is a city with deep cultural roots that sit in tandem with its creative and modern ethos. It is said to have a history of 5,000 years, but was only founded 27 years ago. Since its foundation, Shenzhen has created a migrant culture and an innovative spirit of "encouraging innovation and pursuing excellence".
The major tourist attractions in Shenzhen include China Folk Culture Villages, Splendid China, Minsk World and Safari Park, etc.
Recommended Shenzhen Tours