As the largest park in Guangzhou, Yuexiu Park covers 93 hectares including some well-known attractions like the Sculpture of the Five Rams, the Zhenhai Tower. More than one million trees have been planted over the Yuexiu Hill including cypresses, pines, kapoks, manoglias and some other 600 varieties of trees. The park also puts on chrysanthemum shows and flower exhibitions every spring and autumn.
The Sculpture of the Five Rams built in 1959 is the symbol of Guangzhou. It is said that long ago five celestial beings wearing robes of five colors came to Guangzhou riding through the air on rams. Each carries a stem of rice, which they presented to the people as a suspicious sign from heaven that the area would be free from famine forever. Therefore, Guangzhou got another name from the myth - City of Five Rams or just Ram City.
Standing on the top of Yuexiu Hill, the 28-metre-high five-story tower, the Zhenhai Tower (also known as the Five-Story Pagoda) was built under the orders of Zhu Liangzu, the Yongjia Marquis of the Ming Dynasty (1368-1644), to flaunt his power and the obsession that he was able to shake the seas and mountains. A magnificent building, it commands a bird's-eye view of the whole city. The tower now houses the City Museum; its exhibits chronicle the history of Guangzhou from Neolithic times till the early part of the 20th century.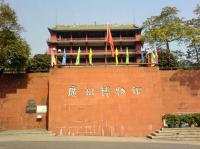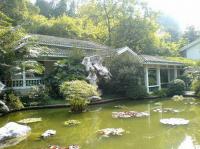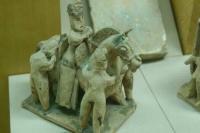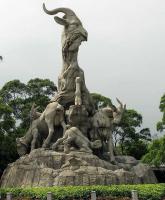 More Attractions in Guangzhou
Recommended China Tours Including Yuexiu Park Guangzhou