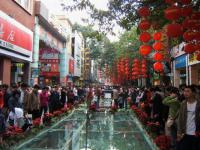 Known also as Canton, Guangzhou is the capital of Guangdong province and one of the most prosperous cities in China. The city is located at the north of the Pearl River delta, covering an area of over 16,000 square kilometers. It has a history of more than 2,800 years, with the longest history among the international trade port cities in the world.
The Chinese Export Commodity Fair
(Canton Fair) has been held twice a year in the city since 1957.
Guangzhou enjoys a mild sub-tropical climate with plentiful rainfall all year round, which makes it a beautiful city with evergreen scenery and flowers blooming all the year round, hence reputed as "Flower City". It's also known nationally as the "Hometown of Fruit" for its rich variety of fruits. One interesting legend concerning its past says that five gods riding on five goats brought the first grain to the city, so it is also known as the City of Five Goats.
The spoken language of Guangzhou is Cantonese - the same as Hong Kong, which sounds quite different from Mandarin. Canton cuisine is one of the four major food styles of China.
Guangzhou is a historical and cultural city; here and there stand monuments of the city's democratic and revolutionary past. Nowadays, efforts have been made to build Guangzhou into an international metropolis functioning primarily as the biggest financial, high-tech and light industrial, as well as communication and transport center in South China.
Recommended Guangzhou Tours