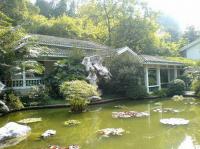 Best Travel Time Guangzhou
Climate in Guangzhou is generally warm and humid, featuring high temperature, abundant rain and sufficient sunshine. It has long and hot summer and the highest temperature will up to
39C (102F) and winter in Guangzhou are short. The best time to visit Guangzhou is between April and may or October and November since summer would be hot and humid with occasional Typhoon. And the Canton Trade Fair take place annually during the 3rd and 4th weeks of April and October, so finding accommodation at those times can be difficult
Guangzhou Safety Tips
Guangzhou is known among China for its relatively high crime rate compared to other cities like Guilin. It is a city attracting thousands of people from other province for finding jobs. Pick-pocketing are active in the city and armed robberies also reported during the past years.
Do not flash your valuables in public, do not wander around by yourself late at night and remain alert at all times. Use only official taxis and get advice from the government-run tourist office.
Be care when at bars or night clubs since foreigners have been targets of physical assaults.
Traffic accident rates in Guangzhou are higher than other countries so use extra caution when crossing streets even use a pedestrian with green lights.
Emergency numbers are: Police: 110; Fire: 119; Medical: 120; Traffic accident: 122.
Guangzhou Shopping Tips
Recommended local specialties in Guanghzou are Wanglaoji Herbal tea, canton sculpture, canton enamel, canton Embroidery and Canton Bacon.
Shangxia Jia Lu Pedestrian Street at the Liwan District is the most popular and prosperous commercial districts, with over 200 stores as well as brand restaurants available.
Zhuangyuan Fang on Renmin Nan Lu attracts locals or buyers who interested in Japanese or Korean style clothes, ornaments or small stuff that popular within young people.
Hualing Jadeware Street, Wende Calligraphy and Painting Street are the nice places to find the traditional Chinese style articles like jade jewelry, calligraphy and paintings.
Yide Lu Seafood market is the home for dried seafood, like shark's fin, oyster, abalone and cuttlefish are available there.
Eating in Guangzhou
Guangdong cuisine, characterized as blend of color, fragrance, taste and presentation, is one of eight cuisines in China.
Cantonese cuisine is well-known for its blend of color, fragrance, taste and presentation, and it is ranked among the top four in the country. In particular, dim sum, a delicate pastry, is famous for being simple yet delicious. Local customs have also played a major role in the development and diversity of Cantonese cuisine, as it is often said that Cantonese people eat everything that swims except a submarine, everything that flies except an airplane, and everything with four legs except a table. Do not ever be afraid of ordering too much - almost every restaurant in Guangzhou will have a takeaway option, just ask to da bao (take-out) and your leftovers will be packaged up in a sealable, microwavable container to be eaten at home.
Nightlife / Entertainment in Guangzhou
There's a well-known saying in Chinese "Eating in Guangzhou", showing the great appealing of Guangzhou cuisine or Yue dishes. It is characterized with a blend of color, fragrance, taste and presentation; dim sum, always served in kinds of restaurants of teahouse of Guanghzou, is a kind of Cantonese pastry known for its wide range of varieties, delicious flavor and beautiful color.
Canton Fair Guide
Lots of businessmen come to attend the Guangzhou Canton Fair (CIEF) every year and we've provided many safe and sound Guangzhou business trip for our clients. From our experiences, there are a list of key things you should know (or you want to know) when planning your canton trip. In that spirit, we create a Canto Fair Guide section to serve you with the latest updated Canton Fair information, helpful advice, and deep discounts on Canton Fair hotels.
Recommended Guangzhou Tours