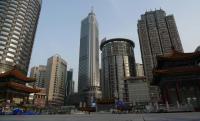 Liberation Monument Shopping Area is the commercial heart and financial center of Chongqing, which is also a symbol of the prosperous Chongqing. As the busiest shopping center in the city, it is popular among local people for the ideal shopping, entertaining and dining facilities.
The large pedestrian shopping plaza is centered on the 27.5-meter-high Chongqing People's Liberation Monument, which was built in 1945 to commemorate the victory over the Japanese in WWII. It is not only the symbol of Chongqing's civilization but the evidence of the city's history.
In 1997, Jiefangbei Pedestrian Commercial Street was built around the monument by the Chongqing City Government, which is the first commercial pedestrian street in China. The shopping square covers an area of 22,400 square meters (6 acres) was completed at the end of 1997, it is 400 meters (437 yards) from east to west, and 350 meters (383 yards) from north to south, Around the square are a lot of stores, bookstores, theaters, hotels, restaurants, banks, markets, malls, plazas and office buildings around it. A snacks street located to the east of the Chongqing People's Liberation Monument is 300 meters away where people can go to eat. A large Carrefour supermarket that resembles an American Walmart is less than 200 meters away. Maison Mode, Daduhui Shopping Mall, Chongqing Department Store, and Carrefour are recommended.
There are two ways of getting to the Liberation Monument Commercial Area: First, take Bus No. 271, 181A, 348, 361, 371, 402, 405, 462, 465, 502 (Air Condition) or 602 and get off at Jiefangbei stop; Second, take Light Rail Line 2 and get off at Linjiangmen station.
More Attractions in Chongqing
Recommended China Tours Including Liberation Monument Shopping Area Chongqing