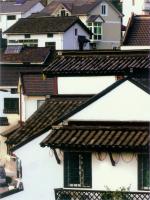 Surrounded by green mountains and tea fragrance, Meijiawu Village is a famous production base of Longjing Tea at the hinterland of WestLake Park in Hangzhou City. It used to receive many world-renowned celebrities from around the world and a number of state leaders from many other countries and regions. You can enjoy the special tea culture, the beautiful village scenery and original natural environment when you are visting Meijiawu Tea Plantation.
Meijiawu Village was only a poor village with over six-hundred-year history until the local farmers started to plant tea. Now it is one of the four famous habitats for Longjing Tea and the largest production base of Longjing Tea in Hangzhou. Covering an area of more than 800,000 square meters, Meijiawu Village is the tourist area for sightseeing, combining farmhouses and tea culture, which attracts millions of tourists from home and abroad come to visit every year.
Meijiawu Village is reputed for its history of serving exquisite tea. It features 160 tea houses, in which travelers can learn about the history and culture of Meijiawu Village and appreciate the whole process of Chinese Tea Ceremony. When you visit there, people will introduce the history of tea, process of making tea and the functions of tea for you. In addition, there are also tea ceremonies. Every spring, visitors can pick tea leaves by themselves, learn tea culture and experience the rural life of tea farmers. Here elaborate tea taking ceremonies are held, you will be able to understand why partaking in tea ceremonies is of such importance for Chinese. Mingqian Tea before Pure Brightness, Yuqian Tea before Grain Rain, Sanchun Tea before Beginning of the summer and Sichun Tea one month later is four times for local farmers to pick tea.
The Premier Zhou Enlai Memorial Hall, Langdang Mountain and Ligeng Hall are the cultural demonstrative venues in the village. The stone bridge represent the traditional Chinese cultural atmosphere in Meijiawu as well. You can taste Longjing Tea and view the tidily juxtaposed residential houses of the Southern Yangtze River Region besides the tea plantation in this ideal place.
More Attractions in Hangzhou
Recommended China Tours Including Meijiawu Tea Plantation Hangzhou