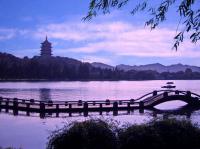 Strategically located in northern Zhejiang Province of East China, it is the capital city of the province famous for its natural beauty and historical & cultural heritages. Founded about 2200 years ago during Qin Dynasty and served as the south tip of Grand Canal in history, now it has become a regional political, economic and cultural center.
Hangzhou covers a total area of 16596 square kilometers with a population of 6.4 million, including 683 square kilometers of city proper area and city population of 3.9 million people. 6 districts, 2 counties and 5 county-level municipalities are under its jurisdiction. It enjoys a subtropical monsoon climate with distinctive four seasons.
Hangzhou have long been a popular tourist destinations for hundreds of years, in 13th century, when Marco Polo was here, he highly praised the city in his descriptions: "Kinsai (i.e. Hangzhou) is without doubt the finest and most splendid in the world…". The West Lake undoubtedly ranks the top of all the attractions in Hangzhou, noted for the scenic beauty that blends naturally with many famous historical and cultural sites. Besides, Lingyin Buddhist Temple (Temple of Soul Retreat), Dragon Well Tea Plantation, Liu He Pagoda (Six Harmony Pagoda) and Mausoleum of General Yue Fei are also frequently visited by the tourists.
Some high profile museums are also erected in the city demonstrating the essence of Chinese culture. For examples, the National Silk Museum and Tea Museum can provide you with all the knowledge of these Chinese traditional products.
Recommended Hangzhou Tours