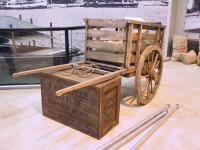 Hong Kong Museum of History, formerly called the Hong Kong Museum, is located in Tsimshatsui, Kowloon. The Hong Kong Museum of History was established in July 1975 when the City Museum and Art Gallery was split into the Hong Kong Museum of History and Hong Kong Museum of Art. The new Museum and the neighboring Science Museum together form a museum complex of a harmonious appearance and color scheme.
Covering a gross floor area of 17,500 m, the Hong Kong Museum of History is a comprehensive state-of-the-art museum which is designed by the P&T Architects and Engineers Ltd., based on the architectural concept of Mr E. Verner Johnson. It is currently managed by the Leisure and Cultural Services Department of Hong Kong Government. The permanent exhibition of this museum shows 'The Story of Hong Kong,' which portrays in a lively way the natural ecology, local customs, historical developments and traditional culture.
The Hong Kong Museum of History has held more than 60 thematic exhibitions since its establishment, such as Fifty years of Hong Kong archaeology, Living history: protecting the historical architecture of Hong Kong, Hong Kong money, Hong Kong historical materials, Hong Kong postage stamps over 150 years, etc. The Museum currently has over 45,000 objects in its collections, which are divided into archaeological, local history, people's history, and natural history. Collections relating to people's customs include fishing equipment and models of fishing ships, traditional clothes, village furniture and daily articles, items relating to local customs and beliefs, dolls, entertainment items and so on. Archival photographs are an important historical resource and the Museum collection is rich in these, with the earliest dating back to the 1860s.
More Attractions in Hong Kong
Recommended China Tours Including Hong Kong Museum of History Hong Kong