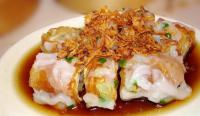 Gourmet Paradise
Hong Kong people are very proud of their culinary taste and the exotic fusion of Easter and Western flavors.
If you're a food lover, you haven't lived until you've tasted Hong Kong. Something delicious awaits you 24 hours a day. Don't miss a chance to enjoy dim sum, the tasty collection of bite-size delicacies served in bamboo steamers, or crisp Peking Duck carved at your table. Decisions, decisions... where to dine in a territory that has more than 6,000 licensed restaurants-the highest number of eating establishments per capita in the world! Try Jumbo Restaurant, the world's most luxurious floating restaurant. Or perhaps Ocean City Restaurant and Night Club, the world largest indoor Chinese restaurant, seating more than 4,800 people.
If seafood is your passion, you'll want to take a trip to Sai Kung or Lei Yue Mun, where you can buy snappers, prawns, crabs and scallops fresh from fishing boats and then take them to one of the many nearby restaurants to be cooked to your specifications.
Hong Kong is the world capital for Cantonese cooking. The local people become very finicky when it comes to the freshness of their food. Even the amount of time taken for a live, swimming fish to be placed on a plate is kept to a minimum. Cantonese cooking is somewhat lighter than most regional Chinese cuisine. Preparation methods usually involve stir-frying in shallow water or oil in a wok. As cooking time is short, the flavors and nutrition of the food is preserved. Vegetable and fish dishes are often steamed without the use of too much oil. Sauces made from ingredients like ginger, garlic, onion, vinegar, and sugar are complemented to enhance flavors.
Other Cuisine
Apart from Chinese cuisine, Hong Kong does cater to the different tastes of both its local and foreign populations. There are myriad restaurants specializing in Asian cuisine, such as from India, Japan, Malaysia and Thailand along with western food.
For more food information, please check with the following websites: http://www.discoverhongkong.com/eng/gourmet/search/index.jsp http://www.hongkongfoodguide.com/eng/index.shtml